Are your employees 'fit to fly?' (or should we say …unfit from flying?). It's no secret that business travel can be disruptive to employees' regular sleep, exercise and eating routines–all of which can take a toll on their overall health and well-being. Unhealthy travel habits can also lead to less productive employees and can hurt your organization's bottom line—in fact, the CDC's research suggests productivity losses linked to absenteeism cost employers 225.8 billion dollars each year.  If your employees are engaging in poor travel health habits, it's important to address these risks before they take a toll on your travelers (and your organization). We share our advice for fostering a "fit to fly" culture— and helping to ensure traveling employees are happy, healthy, and productive.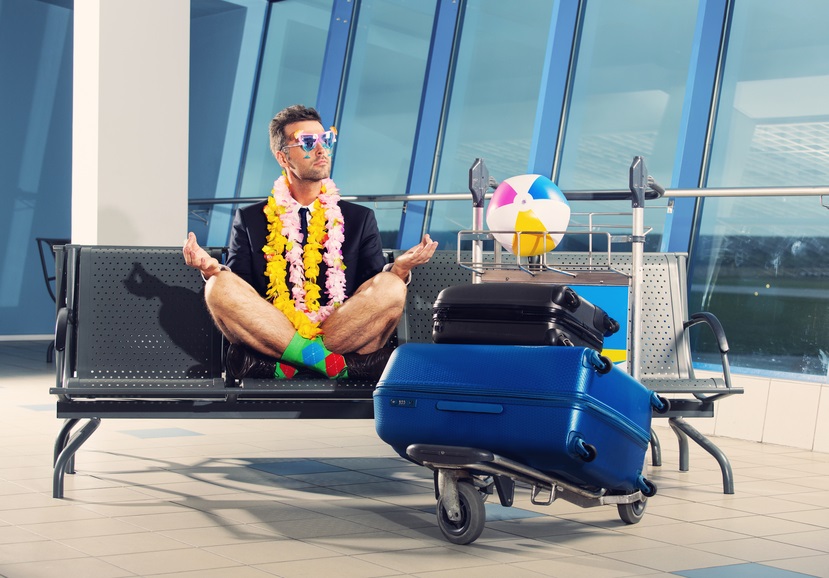 1. Keep it Moving: Stress brought on by business travel can encourage the use of caffeine, fatty foods, or cigarettes to curb anxiety, none of which are conducive to overall employee wellness. And while employees may be tempted to "forget" their gym clothes altogether, staying active can reduce stress levels and give them the energy and stamina they need to help them through their long travel days. Rather than micro-managing employees when they travel, emphasize office wellness programs such as a walking club or health insurance benefits that reward an individual's fitness. If your company works with a local gym, arrange for a trainer to meet with employees to talk about how they can fit their workouts in on the road. A few tips include: bringing a set of resistance bands or collapsible dumbbells (which are light and easy to pack) scheduling workout times in advance (and sticking to them like one would any other business meeting or appointment!) and finding safe running/walking routes in proximity to their hotel rooms.
2. Get Plenty of Sleep: Most adults need at least 6-9 hours of sleep per night to effectively function. Lack of sleep can make employees drowsy, dizzy, and sluggish – not exactly the best recipe for professional success! And while encouraging employees to get enough sleep is important, it's even more important to actually motivate them towards the goal of getting enough sleep. For example, does your travel policy permit employees to choose reasonable departure and arrival times for their flights—even when the (ahem) unfavorable times are cheaper? Are they able to delegate certain projects and tasks to their colleagues if they will be relatively out of pocket for the duration of their trips? Is it frowned upon to catch some shut-eye during long-haul or red-eye flights?
3. Combine Work and Play: Another popular approach to preventing employee burnout is a concept known as "bleisure"—which is the idea of combining work and personal vacations. This is often achieved by adding vacation days to the beginning or end of a work trip and can be a win-win for both employees and employers alike. However, if employees are hopping on the bleisure bandwagon, it's the organization's responsibility to provide a transparent travel policy that makes a clear distinction between when work ends and vacation time begins. Employees who are constantly "on call" during their vacations can sour the bleisure balance and lead to increased stress, thus defeating its original purpose.
4. Eat Well, Be Well: One of the largest benefits of eating a healthy, well-balanced diet is that it helps prevent illnesses. However, since dietary requirements and preferences vary so widely from individual to individual, promoting specific food choices and an "eat this, not that" mentality can get a little tricky in a corporate setting. Consider hosting a healthy eating seminar to educate your travelers about making better dietary choices when they're on the road. Many not-for-profit health associations, hospitals, health care providers, and/or public health agencies provide onsite programs on healthy eating and weight management as do local dietetics professionals (Use the "find a nutrition professional" service on the American Dietetic Association web site www.eatright.org). Lunch and learns, onsite cooking demos and even group grocery store tours are also a great way to promote healthy behavioral modification and provide employees with real-world advice that they can take with them on the road.
5. Educate: To help reinforce these healthy travel behaviors (and others!), consider hosting a travel health workshop at least once a year. At the workshop, be sure to provide a checklist for travelers with helpful reminders such as visiting their doctors (or travel medicine specialists) at least 8 weeks prior to travel to determine if any vaccines are necessary, bringing extra supplies of medications/prescriptions in case of emergencies and/or delays and packing a travel first aid kit for those times when a drugstore isn't immediately accessible. Advice for combating other common travel health ailments such as jetlag and deep vein thrombosis should also be shared to provide a well-rounded informational session for traveling employees.
Promoting sound travel health habits is just as good for your business as it is for your employees. For more information on travel health and holistic travel risk management, contact us today.