Is your upcoming business trip making you anxious? Recent research from the Carlson Wagonlit Travel Solutions Group found that people traveling for work can lose almost seven hours on a trip due to stress—meaning the time was not used for work or rest. The hassles that come with traveling can be particularly stressful, so we've come up with five ways to stress less before your next business trip.
Pack Efficiently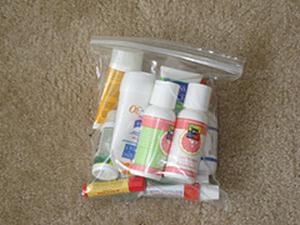 Save yourself long waits at check-in and baggage claims by packing efficiently and strategically planning your outfits so they fit in one carry-on bag. Save space with travel-sized toiletries, and be sure to wear those clunky sneakers on the plane so you can avoid jamming them into an already-full suitcase. For maximum packing space without exceeding size limits, try bringing a medium-sized shoulder bag as your "personal item" in addition to your rolling suitcase.
If you did check a bag, there is no bigger headache than arriving at your destination, making your way down to baggage claim and realizing your luggage has been lost. Talk about stress! Take these preventative measures when it comes to keeping your bags intact:
Take off any old tags from previous trips as these might confuse the person responsible for directing the luggage.
Make sure that when you check in for your flight, the person checking your bags attaches the correct destination tags to all of your bags.
Put your name and phone number on the outside and inside of your luggage.
Use something to differentiate your suitcase, such as a colorful ribbon, to help avoid someone with similar-looking luggage from grabbing it by mistake.
Prepare for the Airport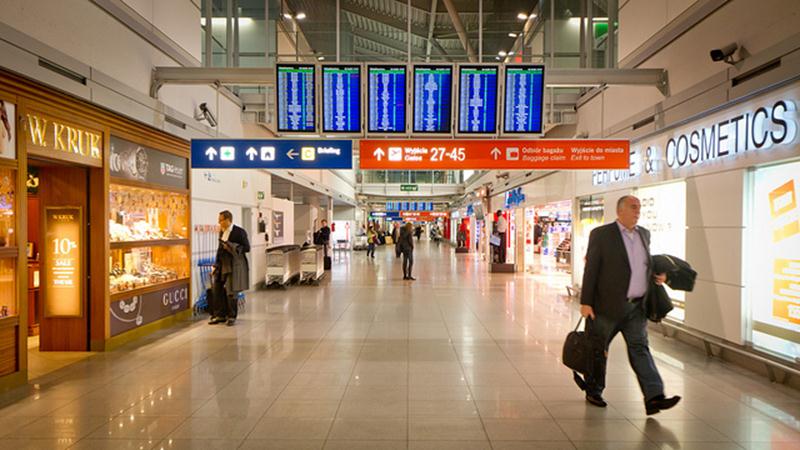 When it comes to business travel, advance preparation can only improve your experience. This may be especially true at the airport, where annoyances like flight delays or lost luggage can really impact your trip. To avoid stressful situations such as these, try to take nonstop flights whenever possible, which will decrease your chances of delayed or canceled flights. If you can't avoid layover(s), try not to book flights with tight connections (less than two hours). You can also dodge a chaotic airport and long security lines if you book your flight during off-peak times (airports are busiest on Mondays and Fridays with flights departing or arriving between 7 and 9 a.m. and 4 and 7 p.m.)
Avoid Culture Shock
Don't let the differences in foreign business etiquette put you in an uncomfortable situation during a meeting or business dinner. Simple steps like packing culturally-appropriate business attire will help you make a good impression. (Your wardrobe may regularly consist of jeans and a t-shirt back at your office, but that may not be appropriate in your destination.) If you'll be attending a business dinner overseas, learning the country's dining etiquette can be crucial in helping you avoid an embarrassing moment. For example, you will be expected to eat with chopsticks in most restaurants in Asia, so start practicing! If you want more pointers on international business etiquette, be sure to read our full list of tips on how to best avoid culture shock while traveling.
Stay Organized
Invest in a travel wallet, which will keep all of your important travel documentation, such as your passport and airline tickets, in one place. Store a few extra business cards in your travel wallet as well – you never know who you may run into during your journey! Keeping all of these important items in one place will keep you from fumbling around for flight schedules, hotel addresses and phone numbers, and other information you'll need on hand during your trip. It's also best to make a checklist of things you'll need to bring with you, such as your presentation saved on a USB drive (bring extra copies, just in case!), or any company brochures or materials you'll use during your trip.
Keep a Healthy Outlook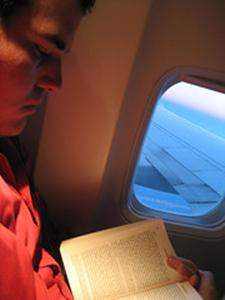 There's no use in worrying about things beyond your control, such as a delayed flight. Pack a book of crossword puzzles, a good novel or your MP3 player to use while waiting to board or while in the air. If screaming kids or chatty passengers keep you from relaxing on your flight, consider a set of noise-cancelling headphones. Believe it or not, the stress of traveling makes the body dehydrate very quickly, so it's best to stick to water and avoid caffeine and alcohol at the airport and during your flight. You'll be much more energetic once you arrive at your destination! It's also a good idea to set aside time for a workout before your trip or even after you arrive at your hotel, as exercise is a natural stress-reducer. Check out our post on staying fit on the road for some great ideas to keep you moving during your business trip, such as bringing fitness DVDs with you to use in the privacy of your hotel room.
Whether you're gearing up for your next business meeting across the country or on the other side of the world, traveling for work does not have to be stressful! With the right preparations, your experience will likely be a positive one.
How do you de-stress before a business trip? Leave us a comment with your advice!

Safe Travels!

Image Credits
TSA 3-1-1 Rule by JavaBoa
Warsaw Chopin Airport by Nicola since 1972
Reading on the Plane to California by Smart Destinations