Aching limbs, swollen feet, disrupted sleep, limited food choices…these are just a few things that make long-haul flights tough on our bodies. While most of us don't exactly look forward to long flights, they don't have to be debilitating either. Here are 6 tips for surviving that long-haul flight in good health, whether you're flying coach or first class:
1.  Upgrade (if you can): While coach, business and first class amenities vary greatly from one airline to the next, it's safe to say that if you can advance through the cabin ranks, your body will thank you. Carlson Wagonlit Travel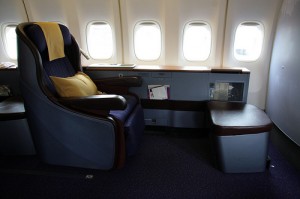 did an interesting study  where they surveyed 6,000 business travelers around the world to understand what triggers stress during a typical business trip. Can you guess one of the main stress drivers reported by the respondents? Flying economy class on a medium or long-haul flight. While we can't disagree, not every company can spring for the additional expense. For those flying on a budget, check out: First Class for Free: How to Get an Airline Upgrade.

2.  Choose Your Seat Wisely:  If upgrading isn't option, use SeatGuru  to find the best coach seat. The website lists color-coded seating charts for hundreds of aircrafts. It tells you which seats have more legroom, as well as which seats to avoid because they don't recline, are narrower than usual and so forth. Also, make it a point to check-in 24 hours before departure as many airlines open up their premium seating options, like the exit row and bulkhead, for purchase during this time.
While we're on the subject of seating—don't forget that the more stuff you have under the seat in front of you, the less legroom you'll have. So pack light and use those overhead bins that the airlines have ever so graciously offered to us.
3.  Eat Well and Eat Often: We all know that eating a healthy, balanced diet gives us the nutrients we need to keep our hearts beating, brains active and our muscles working. But did you know that eating more frequently (5-6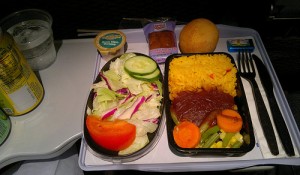 small meals a day) can help regulate your blood sugar, control cravings and keep hunger at bay? Sounds like a win-win! While almost all long-haul flights include meals at a sensible frequency, do some research on your flight's meal and snack offerings before you go. Most airlines will accommodate your health needs by offering low-fat, vegetarian, gluten-free, low sodium, etc. foods. You could also consider bringing meals and snacks (avoid foods that are high in sodium, which make you retain water) with you from home or from the airport terminal. Read Healthy Eating While Traveling: Before You Arrive to learn more.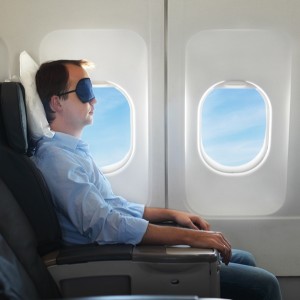 4.  Get Some Shut-eye: While jetlag is inevitable when crossing time zones, the better rested you are, the easier it will be for your body to reset. Neck pillows, eye masks, earplugs, noise-cancelling headphones, toys and books to keep the kiddos occupied—anything you need to make sleep happen, bring it.  Set your watch to your destination's time zone before you depart and if you're flying east, make every effort you can to sleep on the plane while it's night time at your destination.
For those planning to use a sleep aid, such as Melatonin, talk to your doctor before you do. Once you get the green light, it also couldn't hurt to test it out at home to avoid potential adverse reactions while you're in the air. And whatever you do, don't get on the plane tired! You could be setting yourself up for a world of misery (and jet lag) if you can't sleep for whatever reason. Trust us, you will be on the plane long enough to at least catch a few winks even if you're somewhat rested.
 5.  Prevent DVT: Deep Vein Thrombosis (DVT) is the formation of a blood clot in a deep vein, predominantly in the legs. There are many causes and traveling in cramped quarters being one of them. Make sure you're frequently getting up off your seat and walking, stretching your legs, or simply flexing your ankles in an up and down motion at least once every 90 minutes or so. You should also dress in comfortable, loose-fitting layers (cabin temps can range from stifling hot to an arctic chill)—no skinny jeans, tight socks, or anything that could impede blood flow or cause your ankles to swell. You might also want to consider investing in some compression socks. Aside from the fact that may help prevent DVT, they stop your feet swelling and keep your toes and legs warm.
6.   Stay Hydrated: Dehydration not only increases the risk of DVT on long-haul flights, but it can also lead to a dry throat, exhaustion and even infection. Water strengthens the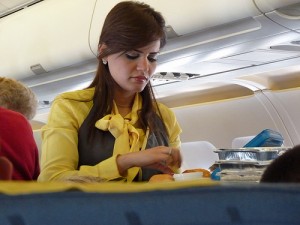 immune system by transporting oxygen to cells, moving nutrients to our tissues and organs, and flushing out toxic impurities. Our body is made up mostly of water, and when we're not drinking enough of it, our immunity barriers are increased and it opens the door to infection.
One of the biggest mistakes we can make is to count on the small cups of water intermittently handed out by flight attendants. Instead, aim to drink about 6-8 ounces of water each hour you're awake. That may sound like a lot, but if you're drinking frequently, you'll be forced to get up and use the bathroom, thus stretching and moving around. Carry your own water bottle with you and ask the flight attendant to fill it when they serve meals or snacks. Also, avoid consuming alcohol and other diuretics such as caffeinated coffees, sodas and teas.
What are your long-haul flight tips? We'd love to hear them!
Safe Travels!
Image Credits: 1) http://www.flickr.com/photos/richardmoross/2211308689/ 2) http://www.flickr.com/photos/[email protected]/8615756846/ 3) Owned 4) http://www.flickr.com/photos/[email protected]/8589082289/