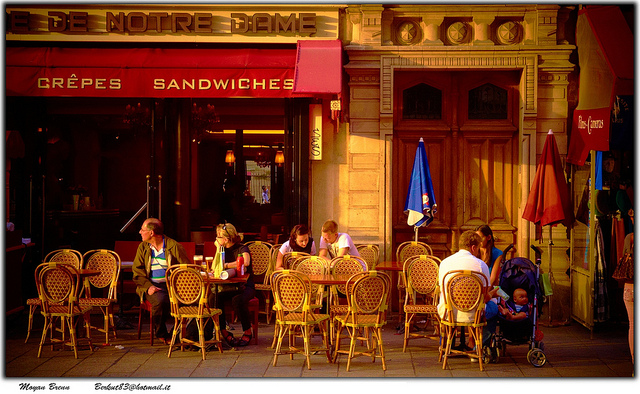 "The journey of thousand miles begins with a single step." – Lao Tzu
Traveling for the first time can seem a bit daunting, especially if your journey takes you thousands of miles away. While excited for new possibilities you may also be a little nervous about the unknown.  Not to worry – we've come up with some suggestions to help ease your mind and get you ready for your trip.
1)     Pack Appropriately –Over pack and you'll be dragging an unnecessary load through airports, hotels and new cities. If you can get away with a carry-on bag instead of having to check larger pieces of luggage, kudos to you!  Below are our top sanity-saving packing tips, appropriate for any time of the year:
Wear your heaviest items, such as your coat or jacket, on the plane to create more space in your luggage. This applies even in the summer months as it tends to get chilly on airplanes from time to time.
Use compression bags. Many people already use these in their homes, but did you know they also make them sized for travel? They are especially useful for chunky items, such as sweaters and blazers. No vacuum required – just put the item inside the bag, zip the bag closed and roll it up.
Go easy on accessories. When it comes to gloves, scarves and hats, recite these three words: warm, waterproof and thin.
If you can choose items that perform multiple functions, such as keeping you dry AND warm, you'll be much better off. Ladies, for instant polish without a lot of effort, pack a cute scarf in a bright color that is easy to match to various outfits.
Bring pieces you can easily mix, match and layer to create a variety of different outfits. Depending on where you're headed, pack two basic sweaters (if in a warmer climate, one should do the trick), one blouse or button-down shirt, two tees or tops, two pairs of jeans or pants, a dress or skirt and a pair of comfortable shoes. First time business travelers, take note: less is more! To avoid going overboard, check out our post: How to Pack Like a Pro on Your Next Business Trip.
2)     Be Organized for your Flight – Airport officials suggest arriving at the airport two hours before domestic flight departures and three hours before an international flight. Prepare for airport security lines by having your boarding pass and ID/passport easily accessible and making sure any liquids in your carry-on bag are in a zip-top plastic bag and adhere to the 3-1-1 rule: liquids or gels limited to 3-ounce or smaller containers that can fit in a one-quart-size clear plastic zip-top bag; one bag per passenger.  (For more advice on navigating airport security, check out our post on How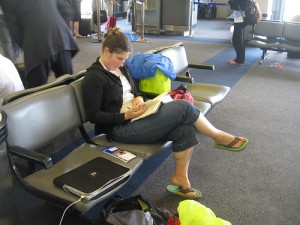 to Get Through Airport Security Faster.) It's also a good idea to bring something to keep you busy, such as a good novel or crossword puzzle book, in your carry-on – this will come in handy while you're waiting to board or already in flight. A set of noise-cancelling headphones can help create a quiet flight atmosphere, and if you're really in need of some rest, consider taking melatonin. Melatonin is a natural hormone, also sold as an over-the-counter supplement,  known to safely help nudge your body toward sleep. Also, don't forget to do some research on your flight's meal and snack offerings before you go – it's important to eat healthy, well-balanced foods (such as apples, dried fruit and nuts) before and during your flight to avoid hunger pangs and even jetlag. Check out our post on healthy eating while traveling for more tips.
3)     Respect Local Customs – Manners are universal; use them. Score some extra politeness points by learning a few key phrases and words in your destination country's language. Use them often – it's a great way to show respect, break down barriers and start conversations with locals. Common phrases include "Excuse me" and "How much is this?" Never complain that the people of the country you are visiting do not speak English – remember where you are. Good manners will also help you when you're dining out, but if don't know your country's dining etiquette it's easy to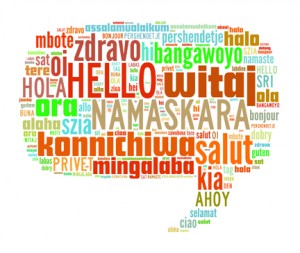 commit a faux pas. Take Japan—did you know when pouring a drink from the shared sake at the table, you should always serve others and never yourself? (Your host, or someone else at the table, will fill your glass for you.) It's also a good idea to research your host country's dress code before you travel and bring clothing considered respectful of the local culture. Learn about local religions, to better understand other peoples' beliefs and customs. Following these simple steps will help you leave a good impression of your own culture on the place you are visiting.
4)     Enroll in Travel Assistance – Even the most seasoned travelers should be prepared for major emergencies and even minor inconveniences.  No one expects a broken leg or a lost prescription while on vacation, but both can happen no matter where you go. Luckily, with travel assistance, you're covered any time you travel more than 50 miles from home—domestic or abroad.
Pro Travel Tip: Keep copies of travel documentation – such as your passport and travel assistance membership card – in your carry-on bag, along with any medication. This will give you easy access to these important items in case of a lost luggage mishap.
5)     Keep an Open Mind – It's perfectly normal to feel a little uncomfortable in a new setting (especially in a new country). Be flexible and try new experiences; it's the best way to adapt and grow. Sample different local dishes (escargot in Paris… why not?) and visit smaller, less crowded cafes instead of chain restaurants. If you're traveling to a popular tourist hot spot, like Paris or Rome, you'll want to see the city's main tourist attractions – after all, that's why those spots are famous! However, you may also find yourself behaving as you would at home instead of following local customs and experiencing adventures you can only have in your destination. Try to make time during your trip to visit a small town outside of a major metropolitan area to meet local residents and get a feel for how things are outside of the big city. You'll likely gain an even deeper understanding of local culture just by trying something new and off the beaten path. Not bad for a new traveler!
Safe Travels!
Photo credits:
Sidewalk cafe from Moyan_Brenn
Packed suitcase from _Fidelio_
Waiting at the airport from redjar