The holidays can be a stressful time for everyone, but they can be particularly stressful for business travelers. Travel takes a toll on their bodies and minds, and a recent study showed a 20% drop in work ethic due to lack of sleep. Whether your employees are traveling for business or pleasure this season, help spread some cheer with these helpful, sanity-saving holiday travel tips.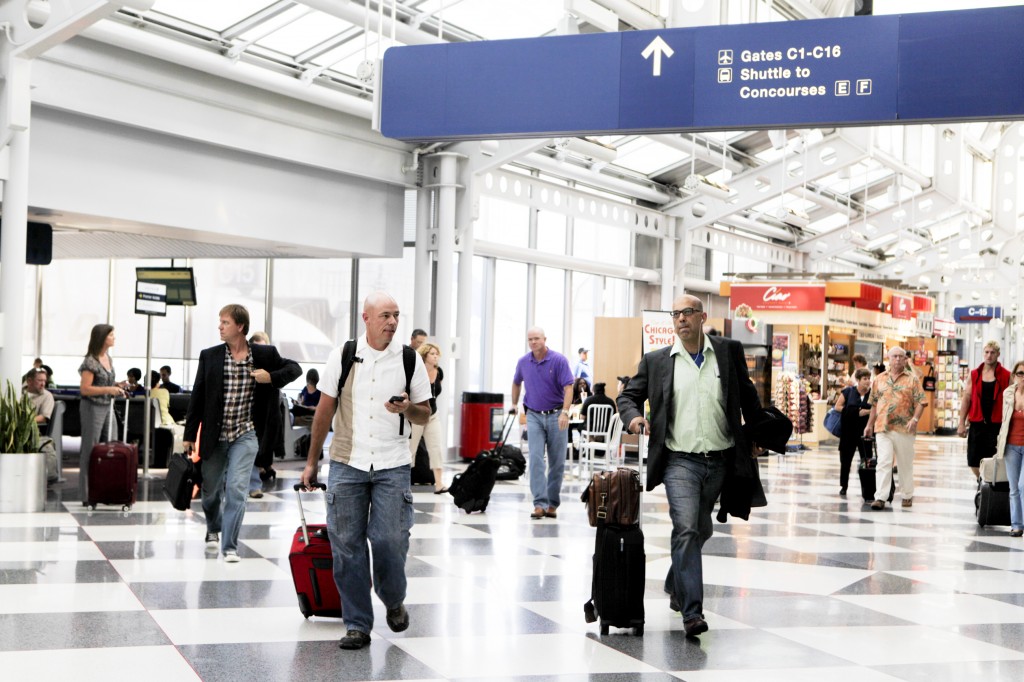 Plan for Delays: It's always a good idea to leave some extra time, but it's especially important around peak travel dates such as Thanksgiving and Christmas week. If possible, plan to arrive the night before. With unpredictable weather, crowded airports and flight delays, it is better not to leave anything to chance if you simply must be at your destination on a certain day. An unexpected delay or missed flight could mean missing an important business meeting or being a day too late for your holiday meal.
Pack Lightly: If you only have a few meetings or are taking a short trip, pack as little as possible. Take only the essentials in your carry on. Many travelers are bringing gifts to their loved ones and may already have them wrapped. This can cause long delays in the security line if the gifts must be unwrapped and inspected and may leave you rushing through the airport to catch your flight. Skipping a checked bag will save time and the added stress of a potential lost bag.
Find a Smart(er) Route: Look into alternative routes to get to and from the airport. The typical route may not be the smartest when the airports are packed. Research nearby, alternative airports that are likely to be less crowded; or, get creative and take a train, Uber or cab to your final destination if it will save you stress in the long-run. Avoiding major airports, busy roads and long security lines will give you extra time to relax before you arrive.
Stay Hydrated and Healthy: Although it's tempting to have a drink or two in-flight, this will only contribute to exhaustion. While you're rushing through airports and hopping from plane to plane, it's easy to get dehydrated. Skip the alcohol, coffee and sugary drinks. Instead, drink lots of water so you can stay as alert as possible. Avoid the temptation of fast food and stick to lighter options as heavy foods will weigh you down and contribute to fatigue.
Be Savvy: To save time at the airport, check in online and track your flight information. Many airlines will text or email you if there are changes to your flight and websites like Flightaware can also help you stay on top of delays. If you're a frequent traveler, consider enrolling in TSA Precheck. Once you're approved, you'll typically get through security faster than other passengers. If your flight is delayed, find a way to use your downtime wisely.  Catch up on some work or organize your meeting materials. Need a break from work? Read, rest or play a game on your phone.
Know Your Hotel: It's hard to get a good night's sleep while traveling for business, especially if you're on an airplane for half the trip. Without sleep, your performance is reduced and your body suffers. Book accommodations early as hotels will fill up quickly during the holiday season. Select a hotel you're familiar with or ask your colleagues for recommendations. You can also research hotels on sites like TripAdvisor or Hipmunk.
Be Kind: It's important to remember that airport employees are doing their best to get you to your destination as quickly as possible. Be cooperative with TSA agents and patient with your fellow travelers. Many holiday travelers are not familiar with the ins and outs of airport travel and may hold up lines. Try to keep your cool, even if you are stressed about missing your plane or making it to your destination on time. A little kindness and understanding goes a long way!
Safe Travels!