Planning to visit your in-laws across the country for Thanksgiving or making your way to New York to experience the holidays in Manhattan? You're not alone! According to the U.S. Department of Transportation, the number of long-distance trips increases by 54% during the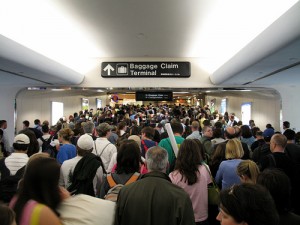 Thanksgiving travel period, and by 23% over the Christmas-New Year's period.  Air travel over the holidays is known for being hectic, expensive and stressful – but the good news is, it doesn't have to be. We've put together the following tips to help you survive air travel this holiday season:
1)      Avoid Peak Travel Dates: The Wednesday before Thanksgiving is notorious for being one of the busiest travel days of the year, followed by the Sunday after. Avoid jam-packed airport traffic and an even more crowded airport by flying out on Monday or Tuesday or even Thanksgiving morning to avoid the dreaded Wednesday travel rush. When you're ready to head home, take flight on Friday when the masses have moved on from the airports to the shopping malls for Black Friday. The crowds pick up again on Saturday, peaking on Sunday, before leveling out on Monday. In December, avoid traveling on December 21st (the Saturday before Christmas) if possible; and December 28th (the busiest day for both New Years and Christmas travel). If you're looking for the cheapest days to travel, try flying on the actual holidays.
Helpful hint: Priceline.com publishes an annual calendar of variations in holiday travel costs over the full period, based on travel booked through their site. This handy tool allows you to compare airfare costs for the specific days you're looking to travel this year.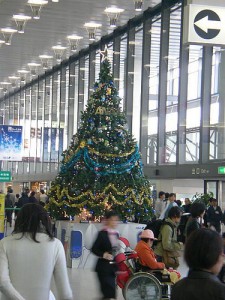 2)      Pack like a Pro: The holidays may be one exception to our standard advice of taking only carry-on luggage. When planes are full, airlines will insist that extra carry-on luggage or oversized bags be checked anyway. Really analyze what you need to take. For example, if you're staying with a relative for a week, bring clothes for a few days and do a load of laundry halfway through (many hotels offer laundry service as well). Use compression bags to pack chunkier items such as that favorite Christmas sweater. It's also a good idea to put address tags on both the outside and the inside of all baggage; external tags could get torn off during baggage handling. Check out our post on Sanity-Saving Winter Travel Packing Tips for more advice, including a helpful guideline for packing layers. Don't forget: Keep copies of travel documentation – such as your passport and travel assistance membership card – in your carry-on bag, along with any medication. Airports and their staff are notoriously busy this time of year, so you'll be prepared in case of a lost luggage mishap.
3)      Expect Potential Security Slowdowns: Be ready for possible slowdowns in airport security lines. Although frequent travelers may be accustomed to new security measures, folks who rarely fly may be caught off guard. To help keep the security line moving, remember these tips: Have your boarding pass and ID/passport easily accessible. Do not carry wrapped gifts in carry-on luggage, as gifts may need to be inspected at security check points and in some instances they will be unwrapped.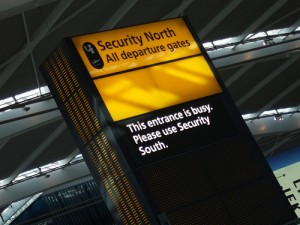 Either check gifts (you can always wrap them when you get to your destination), or leave them unwrapped and accessible. Additionally, make sure all your liquids are in a zip-top plastic bag and adhere to the 3-1-1 rule: liquids or gels limited to 3-ounce or smaller containers that can fit in a one-quart-size clear plastic zip-top bag; one bag per passenger. While waiting in line, take off your coat and scarf since TSA's checkpoint protocols require all passengers to remove outer coats and jackets for x-ray. It's also a good idea not to over pack your carry-on bag – if security officers have to open them for any reason, closing overstuffed bags can be difficult and time-consuming. If you choose to lock your bag, opt for a TSA-approved lock, which has a locking system that enables security officers to open and relock the bag.
4)      Navigate the Airport Successfully: Airport officials suggest arriving at the airport two hours before domestic flight departures and three hours before an international flight. Keep in mind that a lot of travelers will be coming and going, so allow for extra time. Of course, it's best to prepare for the unexpected, such as a flight delay due to inclement winter weather or overbooked flights. Keep something to help stay busy, such as a good novel or crossword puzzle book, in your carry-on. For more ideas, check out this Huffington Post article on 14 Airports with Fun Distractions for the Weary Holiday Traveler.
Helpful Hint: Traveling with kids? Check out our post How to Travel with Babies & Toddlers: A Survival Guide for advice on surviving air travel with little ones. Tips include packing travel-ready and kid-friendly snacks and renting children's travel gear.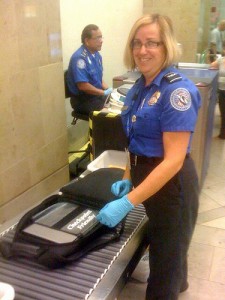 5)      Be Nice: As hectic as holiday travel can be, it's always in your best interest to be as pleasant as possible to your TSA agent, gate agent, flight attendants and fellow passengers. Aggressive behavior and threats will not be tolerated, and will result in delays and possible missed flights. Not to mention, these workers put up with exceptionally high volume and cranky travelers this time of year, so a little bit of courtesy will be appreciated. It is, after all, the season for giving – so you might as well give these folks politeness and a positive attitude.
For additional tips, check out our post highlighting ways to make holiday travel easier.
Safe Travels!