If you're like most business travelers, you don't have a lot of time to kill… at the airport or reading this post. Breeze through airport security with these quick and dirty tips: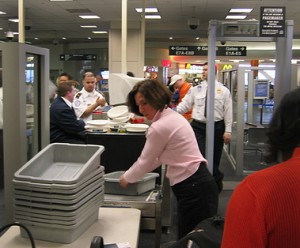 Double-Check Tricky Items: You could go to TSA's website to review the list of prohibited items, but why waste time when there's an app for that! You can download iPhone and Android versions of the My TSA App on iTunes  and Google Play.
Pack Strategically: Layer items neatly in your suitcase and keep your plastic bag of toiletries/liquids in an outer pocket or at the top of your bag for easy access so you can quickly move through security. Make sure your laptop or tablet is easy to retrieve as well since it will need to go in a tray by itself.  By now you've memorized the TSA 3-1-1 rule: liquids and gels must be in containers of 3.4 ounces or less and these containers must be in a single quart-size zip-lock bag. Not sure what exactly constitutes a gel? See a list of gel-like substances that are NOT checkpoint-approved here.
Get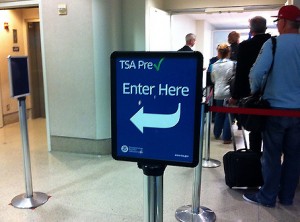 with the Program: TSA's PreCheck program that is! Flyers eligible for TSA's PreCheck are pre-screened and then get to breeze through security, sometimes without even taking off shoes or removing laptops from cases. Caveat:
enrollment is not free and you'll have to disclose a good amount of personal information during the application process. A small price to pay for your time? You be the judge! Visit the TSA's website for more information and to apply.
Be a Frequent Flier (or Buy Status): When booking your flight, find out if there are any perks that come with it.  Many frequent-flyer programs offer access to faster airport security lines for their higher-status members and their travel companions. Flying business or first class? You could benefit from expedited security lines as well. If purchasing a premium seat isn't in your near future, just wing it! When you get to the airport, ask the agent (or electronic kiosk) if there are any discount upgrades available. Depending on how strapped you are for time, it might be worth the extra money to hustle through security.
Dress the Part: Anything you can do to avoid extra screening, do it. This includes removing all items from your pockets (keys, smartphone, spare change, etc.), as well as certain accessories like bulky jewelry, belts with metal buckles, and body piercings. Wear shoes that you can easily slip on and off, and remove jackets and bulky sweaters early in the security line.
Avoid Peak Times: If you can, plan your travels to avoid the peak airport times of 6:30-9:30 AM and 3:30-7:30 PM. Some times of year, like the holidays and spring break, will always be busy, so plan accordingly.
*Bonus Tip* Buy Now, Wrap Later: With the holidays approaching, we couldn't resist including this tip for any traveler! While wrapped gifts aren't officially prohibited, they could get torn open at the security checkpoint. Save yourself the heartache of watching a TSA agent open your gifts for Grandma and wrap them at your destination instead.
Safe Travels!
Photos:
Security check-in from redjar
PreCheck sign from Grant Wickes