You might like to think of your hotel as your home away from home, but sometimes we get a little too comfortable and don't take the safety precautions we should. Being aware of your surroundings is just as important in a hotel as it is at home. Here are our top safety tips for protecting yourself and your belongings during your next hotel stay.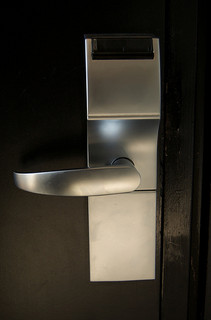 Choose Location Over Amenities: It's a good idea to get familiar with the security landscape of your destination before you book your hotel. The U.S. State Department's Country Specific Information pages, your travel assistance provider, and your company's security expert (if applicable) are great places to turn for trustworthy information. Is the hotel in a neighborhood where crime or terrorism is prevalent? Is it safe to travel on foot from the hotel, even for short distances and after dark? What about the nearest police station and/or U.S. Embassy—are they nearby? It's not all about rates and amenities these days—picking the right hotel location can go a long way in preventing potential personal safety mishaps from occurring on your trip.
Pay Attention to Security: When the time comes to book your hotel, pay close attention to their security measures. Do they have vehicle inspection at the entrance gate? Are guestroom floors restricted to guests only? Is the front desk staffed 24/7? Are there security guards and surveillance cameras on the premises? Do the rooms have deadbolts and room safes? If a hotel makes an investment in good security, chances are you're in good hands.
Know Your Surroundings:In advance of your trip, find out how far your hotel is from the airport (women, especially, should try to schedule their flights to arrive during the day). You should also use a tool like Google Maps to get a handle on where things like business meetings, restaurants, parks and shops are located in relation to your hotel. If you know where you're going, you'll appear more confident which reduces your chances of getting hassled by pickpockets or others who are up to no good.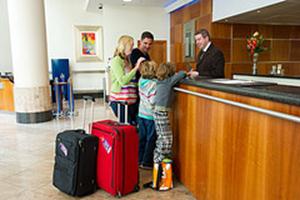 Check-in with Care: If the front desk clerk publicizes your room number when giving you your key, quietly request a new room. Also, don't accept a room on the ground floor as this could leave you much more vulnerable to break-ins and other incidents. Many security experts also recommend asking for a room facing the street or overlooking public areas such as the swimming pool or tennis courts.
Inspect those Locks: When you first arrive and each time you return to your room, check to be sure all the locks are working. If they're not, notify the front desk immediately and don't let anyone convince you to stay in a room without properly functioning locks. And speaking of locks, keep the doors and windows locked at all times, and never prop your door open (vending machine, anyone?), even for a second. If your door has a deadbolt or chain lock, use that as well.
Keep a Closed Door Policy: Be sure the peephole works and use it to verify the identity of housekeeping, room-service attendants or anyone else who knocks. Anytime someone comes to your door unexpectedly and claims to be hotel staff, call the front desk to make sure the visit was actually authorized. If you didn't request towels or shampoo, chances are, you won't receive a random visit from housekeeping with fresh linens and toiletries.
Be Careful with Calls: Don't give any personal information, such as your credit card number, over the phone. For instance, if you receive a call from the front desk requesting verification of your credit card number, take a walk down to the front desk and tend to it in person instead. Better to be safe than sorry.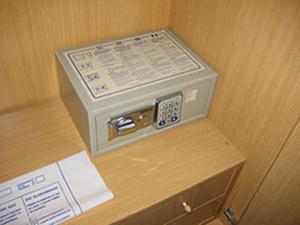 Secure Your Valuables:Never leave your valuables in your car or unsecured in plain sight. One of the first things you should do when you check into a hotel is place your passport, extra money and other valuables into your hotel safe. However, be sure that the safe's default password (such as 0000) doesn't open the safe (some sources argue that hotel safes aren't as secure as we might think). If you don't feel comfortable with your hotel safe, leave your valuables at the front desk as long as they'll provide a written receipt and reimbursement coverage for any lost items.
Invest in Some Gadgets: Portable travel locks, motion alarms, door braces, doorjambs and rubber wedges are available online and at many retail stores, and don't take up much luggage space. Buy and use them. They cost less than $25 and help ensure a safe night's sleep.
(Don't) Leave Your Mark: Leave your 'Do Not Disturb' sign on your door when you leave the room, so others think it's occupied. And don't worry about the room cleaners—just contact the front desk to arrange a housekeeping visit when the sign is up…easy enough!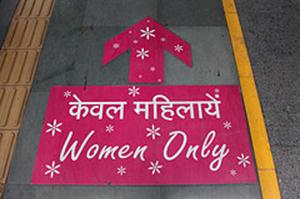 Consider Women's Only Accommodations: Ladies, take note: generally speaking, hotels that designate women-only floors offer restricted access by programmed elevator or hall key cards and only employ female staff for these floors. Other perks include female-oriented amenities such as extra hangers for skirts and dresses, powerful hair dryers and female-friendly television programming.
Know Your Emergency Plan:
While a well-secured hotel should have an in-house security staff, you should also know the national emergency number for your location as well. Before you go, check out the State Department's list  of emergency contact numbers in foreign countries and save the number used at your destination in your cell phone. And speaking of cell phone, make sure you have a fully unctioning cell phone with you at all times! Additionally, take the time to pre-program the local police, embassy, your hotel, and travel assistance provider into your phone for quick reference.
Do you have any of your own hotel safety tips to share? Let us know in the comments below- we'd love to hear from you!
Safe Travels!
Photo Credits
'Family Checking In' by Holidayextras
'Door Lock' by BLMurch
'Safe' by Luftholen
'Women Only' by Zoonabar