In a recent mobile study, Google reports that 80% of smartphone users don't leave home without their devices.  Sound like you? For those of you planning to use your smartphone abroad, here are some things you should know—and do—before and during your trip.
1. Find out if your phone will work: This may sound like an obvious suggestion, but unless you're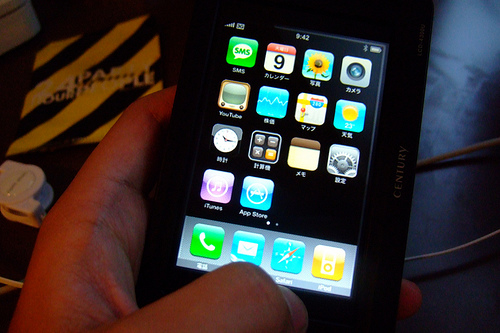 an avid international traveler, you probably haven't thought twice about your phone's ability to roam on international cellular frequencies. In simpler terms, your destination either has a GSM or CDMA network—GSM is the international standard and CDMA coverage tends to be less universally available.
What to do? Call your cell phone carrier to get the scoop before you leave. If your phone is not compatible with your destination's network, your cell phone provider will be able to recommend logical next steps for getting a compatible phone for your trip. For instance, some carriers give their customers the option of renting or purchasing a global phone that can be used overseas. If you have a phone with GSM capabilities and your cell phone provider has confirmed that it will work in your destination, you can continue to tip #2. If your phone does not have GSM capabilities, skip to tip #3.
Did you know? AT&T, Verizon, Sprint and T-Mobile USA are the 4 largest carriers  by number of subscribers in the U.S. Of these, AT&T and T-Mobile use the GSM standard, while Sprint and Verizon use CDMA (but also have dual-mode phones available).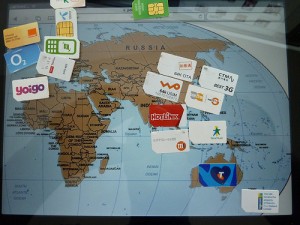 2. Unlock Your Phone (if you can): GSM phones use a technology called a SIM card that identifies your particular phone and its account on the wireless network. A SIM card allows you to make a fast and simple switch over to another phone on the same carrier, or to switch carriers completely. Most mobile phones sold in the U.S. are "locked" to a single network, so that if you take out their SIM, it's useless. Therefore, you will need to remove this protection before using it abroad.
Just to be clear: you can still use "locked" phones in other countries –you'll just be paying roaming charges. By unlocking, you're using local  carriers and getting cheaper rates.
Once your phone is unlocked with your carrier's permission (as of earlier this year, it actually became illegal to unlock a phone without your carrier's permission), you can buy a SIM card before you leave or once you arrive at your destination. In many locations around the globe, it's quite easy to find SIM cards—in fact, you might even see SIM card vending machines!  Something to keep in mind is that every time you change your SIM card, your telephone number will also change—if this gets on your nerves, consider buying a global SIM card instead of a country-specific card.
Sick of the red tape? If you're a frequent international traveler and/or have an extended trip planned, you might consider buying or renting an unlocked GSM phone (before you leave or once you arrive at your destination) to avoid the hassles with your cell phone carrier. That way, you can easily swap out SIMs as needed.
Planning on roaming abroad (no pun intended)? For those who won't be using a SIM card during their stay, follow these additional tips below to help keep roaming charges in check—be sure to check with your cell phone provider's tech support if you need assistance with tips #5-9.
3. Go International:  While it's typically free to enable international calling, you might want to consider paying a little extra for a special plan that will lower your per-minute voice, text and data rates as international roaming rates can be quite expensive.
4. Take advantage of Wi-Fi: As you know, Wi-Fi is free, so use it as much as you can. The Wi-Fi Finder app from JiWire has a directory of free and paid hot spots around the world, while companies like Boingo Mobile will give you unlimited access to hundreds of thousands of Wi-Fi hotspots for a monthly fee.
And while we're on the subject of Wi-Fi, you could also consider using the Internet as your phone. A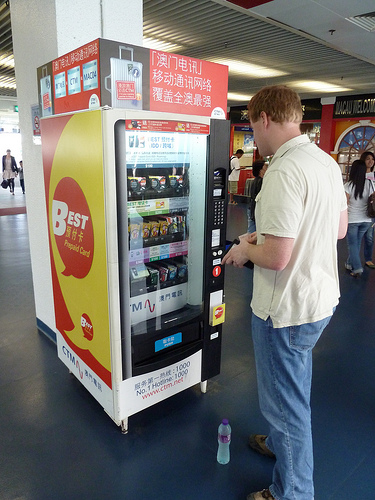 popular web-based phone service like Skype could save you a lot of money while you're traveling. Check out this article about Top Web-Based Phone Services  for more information.
5. Shut off Data Roaming: With data roaming turned off, your phone won't be able to use data on a foreign network (email, web browsing etc.) unless you're on Wi-Fi. However, you will still be able to send texts and make phone calls.
6. Turn off Cellular Data: This does the same thing as turning off data roaming, except that your data also won't work on your home network until you turn it back on.
7. Turn off Push Notifications: This is a good option for those who don't want to shut off data roaming and/or cellular data. Turning off push notifications will still allow you to use your data plan, but you just won't receive data-draining automated text updates.
8. Set email to manual: Same point as above—if you plan to leave data roaming and/or cellular data on, setting email to manual will avoid automatically downloading bandwidth-heavy attachments. Instead, you can check email when it works best for you—like when you're at a Wi-Fi hotspot!
9. Stay in airplane mode: In doing this, you won't be able to use data, or send/receive text messages and calls, but you'll still be able to use Wi-Fi. While turning airplane mode on typically turns Wi-Fi off (by default), you can always re-enable Wi-Fi as you please.
And of course no matter where you're headed, it's important to have your phone (On Call members, don't forget to program our assistance number into your phone!) with you at all times in the unlikely event you need emergency assistance while traveling abroad.
Safe Travels!

Image Credit: yuichirock, kalleboo, mroach