According to a recent study conducted by Mandala Research and sponsored by the World Food Travel Association, 30% of tourists deliberately choose destinations based on the availability of activities related to local food and drink.
Although selecting your destination may be out of your hands if you're traveling for business, experiencing authentic local cuisine while you're away doesn't have to be. Below is a list of five popular business travel destinations and some must-try dishes for each.
London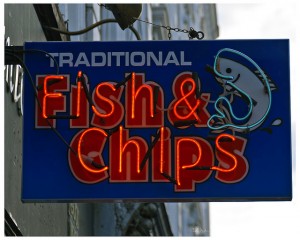 The number one most popular destination for business travel, London's food scene is always evolving. Covent Garden and the East End are sections of the city that are famous for high-quality dining and authentic British pubs.
Restaurants such as Rules, (London's oldest restaurant established in 1798), offer classic English fare such as game, oysters, pies and puddings.  Of course, you won't want to miss out on two of the most famous food staples; fish and chips or bangers and mash (sausages and mashed potatoes) – dishes found at most genuine British establishments.
Other meals such as liver and onions, beef wellington and fish pie are also must-try dishes – your adventurous side will thank you for the experience!
Many hotels also hold regular afternoon teas, a time-honored tradition, with memorable indulgences such as finger sandwiches, homemade scones and one-of-a-kind English teas. If you ask anyone who has previously visited London, it wouldn't be a complete trip without a stop at a local British pub during your downtime.
Cocktails such as a Pimm's cooler, sidecar or oyster stout are all classic orders. Of course, always remember to drink responsibly for your health and safety.
Vegetarian and vegan options: Want the flare of British food without meat, dairy or fish? Order a traditional cauliflower, broccoli and mustard soup or a vegetarian soufflé or tart.
Shanghai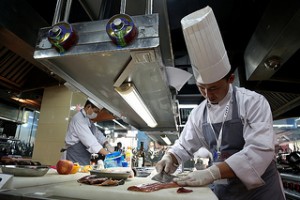 Shanghai offers many culinary options, from roadside stalls to Michelin-star restaurants.
When venturing out for dinner after a long day of meetings, be sure to order xiaolongbao, the country's famous soup dumpling. (Tip: Puncture the dumpling wrapper to let out the steam before eating to avoid burning your mouth!)
Di Shui Dong ribs are another must-order item; these ribs are braised in soy sauce and are fall-off-the-bone tender.  Other authentic dishes to try are hanging roasted duck, drunken crab and niangao.
Can't wait to scope out the restaurant scene after reading about these mouth-watering dishes? Check out this list of Shanghai's best restaurants from Epicurious.
For a unique dining experience, visit the Tongchuan Lu seafood market strip. Here, you can choose from a vast selection of fresh seafood – everything from scallops to sea cucumber – and take your seafood to any of the restaurants on the strip. The chefs will cook it for you so you can devour your pick on the spot!
To learn more about how the Tongchuan Lu market works, check out this guide.
Vegetarian or vegan options: Try the region's famous braised eggplant – you won't be sorry! Stewed in shaoxing wine, soy sauce, vinegar, garlic, ginger, sugar, and chilies, this favorite has become a staple menu item at most restaurants. Another staple, called "stinky tofu," is one of Shanghai's favorite snacks. Deep fried and doused with soybean paste and red chili sauce, the crispy outer shell of the oddly mild food (considering its stench) encases crumbly and almost sweet tofu.
Singapore
With its rich multicultural heritage, Singapore serves up a true melting pot of flavors in its dishes and is often considered to be the food capital of Asia.
Called the "national dish" of Singapore, chicken rice can be found almost anywhere – including food courts, hotels and street carts. Steamed or boiled chicken is served atop fragrant oily rice, with sliced cucumber and a variety of dipping sauces.
Another popular dish is Char kway teow – flat rice noodles stir-fried with lard, dark and light soy sauce, chili, de-shelled cockles, sliced Chinese sausage, bean sprouts, Chinese chives and sometimes prawns and egg.
Other Singapore foods you shouldn't go without trying include wonton, chili crab and bak kut the, pork ribs boiled for hours with lots of garlic, pepper, medicinal herbs and spices.
See Elite Traveler's list of top Singapore restaurants to check out when you're there. Fun fact: there are at least 20,000 eateries to feed a nation of around five million – this is quite a testament to the significance of food in Singaporean lifestyle.
Vegetarian or vegan options: Try yong tau foo, made with fresh vegetables and tofu.
Paris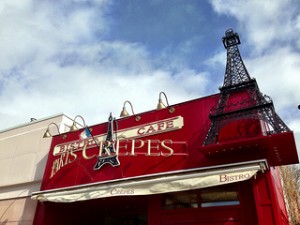 The city of love is also known for its rich cuisine and offers endless delicacies to try while you're there.
Do you have time to spare before your morning meeting? Visit a café and soak up the local culture, and do so while savoring every bite of your pain au chocolat – a buttery, flaky croissant filled with dark chocolate.
If you're meeting a colleague for a business lunch, order a Croque Monsieur – otherwise known as a grilled ham and cheese (usually Gruyere or Emmental). When served with a fried or poached egg on top, this sandwich becomes a Croque Madame.
Other indulgences include crepes, escargot and fromage. Paris is known for its wonderful cheeses – in fact, most neighborhoods have local fromageries, or cheese shops.)
If you're feeling typically adventurous, try Brandade de Morue – a Provencal dish found on many menus in Paris, consisting of mashed salt cod blended with olive oil and garlic until it becomes a smooth cream, often mixed in with whipped potatoes.
To explore all of your options, check out this guide of where to eat out in Paris – it includes recommendations for gourmet restaurants, budget-friendly eateries and traditional French cafes and brasseries.
Vegetarian or vegan options: Crepes are a great option for a filling lunch or a light dinner. Other delicious meat-free foods include ratatouille, vegetarian soufflés and of course, the endless supply of delectable Parisian desserts such as macarons (not to be confused with coconut macaroons) and crème brulee.
São Paulo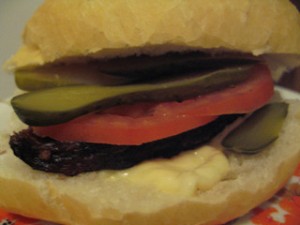 The cuisine of São Paulo is the result of an exquisite blend between European, Indian, and African ingredients, usually including palm oil or couscous
One of the region's most typical dishes is virado à paulista – a full-meal plate consisting of white rice, cooked beans, manioc flour, a slice or two of garlic sausage, a thin steak, sautéed kale, a fried plantain and sometimes a fried egg.
Another popular dish of this city is "couve-de-folhas", which is basically cabbage seasoned with pork. Your taste buds will thank you for ordering a bauru sandwich – a local favorite sandwich filled with tomato, cucumber, and four different kinds of cheese over roast beef.
For a selection of the best restaurants in São Paulo, take a look at this dining guide.
Vegetarian or vegan options: A specialty of São Paulo is couscous, a dish originated in Africa consisting of flour, milk, egg, and butter, all steamed – it is ideal to enjoy with other ingredients, such as rice and vegetables. Also try mandioca – typically served at bars, this is a cassava root, served deep fried and sprinkled with salt, or you can ask for it cooked and seasoned with butter.
Additional Resources
If you have Celiac disease or gluten intolerance, check out our tips for surviving gluten-free travel. Stay tuned for our upcoming posts on tips for traveling with diabetes and advice for vegetarian and/or vegan travelers. And of course, On Call members can give us a call for additional restaurant recommendations anywhere in the world.
Which dishes are you most looking forward to trying in your destination? We'd love to hear from you in the comments below!
Safe Travels!
Photo Credit
Fish and Chips from Seth Anderson
Asian Chef from USDA
Paris Crepes from Tom Henrich
Bauri from Marcelo Trasel