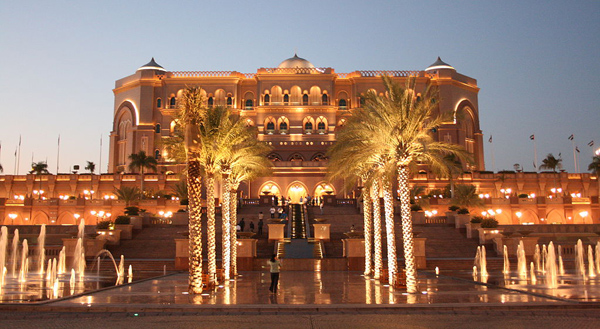 If you've already read our post highlighting the Top 10 Trends for Corporate Meeting Planning, you know that choosing a great location and venue has become a top priority for meeting planners. In fact, a survey conducted by hospitality management company, Destination Hotels & Resorts, found that venue rates alone are no longer the clear-cut feature in determining which hotel to book for a meeting. If you're planning an upcoming meeting or conference on behalf of your company and want to find an international hotel that will really 'wow' your guests, look no further than these five options:
1)  Emirates Palace Abu Dhabi: According to the Abu Dhabi Tourism and Culture Authority (ADTCA), the business travel market to the United Arab Emirates is expected to double in value by 2020, reaching nearly $1.4 billion. And with hotels like Emirates Palace Abu Dhabi offering countless amenities catering to business professionals, it's easy to see why. The property overlooks the Persian Gulf (in fact, it has its own private beach) and is close to everything the city has to offer. The hotel has more than 40 meeting rooms, six large terraces and a variety of pre-function areas that provide options for private meetings, cocktail receptions and banquets.  And with 394 luxurious hotel rooms, award-winning culinary cuisine, free Wi-Fi and 24-hour butler service for everyone (yes, everyone!), your guests will never want to leave.
2)  Gaylord Opryland Hotel & Convention Center: Located in Nashville, Tennessee, just 10 minutes from Nashville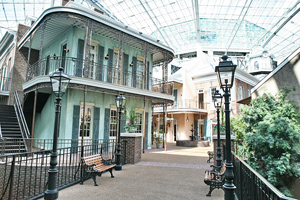 International Airport, Gaylord Opryland features expansive meeting and exhibit space and an amazing selection of dining, shopping and recreation options accented by more than nine acres of indoor gardens and sparkling waterways. The hotel's Delta Atrium wing is home to a quarter-mile-long indoor river with flatboats, and the Cascades Atrium lives up to its name with soaring twin waterfalls. You can rest assured there will be enough space for your group – the venue offers 152 meeting rooms and almost 3,000 sleeping rooms. Hotel representatives will even create a complimentary web page where your guests can find information about your event and reserve their rooms. The hotel has won numerous awards for its variety of meeting spaces, including the 2013 Gold Key Award from Meetings & Conventions Magazine and the 2014 Award of Excellence from Corporate & Incentive Travel.
3)  The Grove Hotel: About 30 minutes from the hustle and bustle of downtown London, The Grove Hotel resides on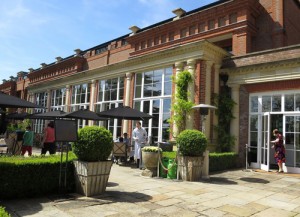 300 acres in the Hertfordshire countryside. The space is ideal for smaller and more intimate corporate events and has the feel of a classic English estate. Along with a championship golf course and a unique array of dining options (including Colette's, a restaurant located in an 18th-century mansion), the property offers 23 meeting rooms. If you're hosting a cocktail reception for clients, we recommend selecting the Potting Shed meeting room – a restored Victorian glasshouse that can hold up to 130 guests.
4)  China World Hotel: If you're looking to host your next event in China, you're probably not alone. The Global Business Travel Association (GBTA) published a report earlier this year, which predicted China would take over as the #1 business travel market in the world by 2016 (the U.S. is currently clinging to that spot). If you're hoping to find an extraordinary venue, look no further than the China World Hotel,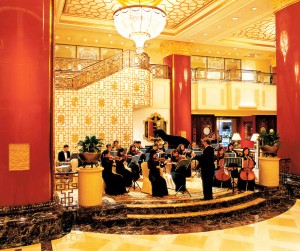 Beijing. The hotel includes a conference hall (large enough to hold 1,200 people), a grand ballroom (able to accommodate 500 people) and 14 function rooms for smaller crowds. All of the conference rooms feature state-of-the-art audio/visual equipment, including satellite, teleconferencing and videoconferencing facilities and a simultaneous language translation system. The venue even has a Carbon-less Meeting Programme (CMP), which offers green meetings that benefit the environment and local community. Highlights of CMP include a lunch sourced from locally-grown ingredients, water served from pitchers instead of individual plastic bottles, and allocation of 2% of the meeting revenue to a charity supporting eco-friendly practices.
5)  Aspen Meadows Resort: Located on 40 acres and surrounded by views of the Colorado Rockies, the Aspen Meadows Resort offers 22,000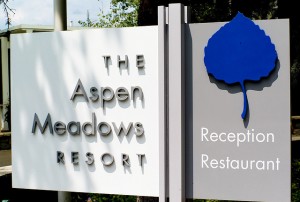 square feet of meeting and event space, 14 meeting rooms throughout six different buildings, and a 24-hour business center. There are seven specially-designed meeting packages to choose from, though the hotel is more than happy to accommodate custom requests for your event. The venue's unique Bauhaus-inspired design, floor-to-ceiling windows that capture beautiful river and mountain views, and state-of-the-art technology are said to unite the mind, body and spirit of business professionals – so it's no surprise that the hotel regularly attracts heads of state, diplomats and business leaders from around the world (the guest book includes names like President Bill Clinton).
Where do you plan to host your company's next meeting or conference? We'd love to hear from you!
Safe Travels!
Photo credits
Emirates Palace from Diego Delso
Gaylord Opryland from Cliff
The Grove from Robert Basic
Orchestra concert from China World Hotel
Aspen Meadow Resort from Joi Ito