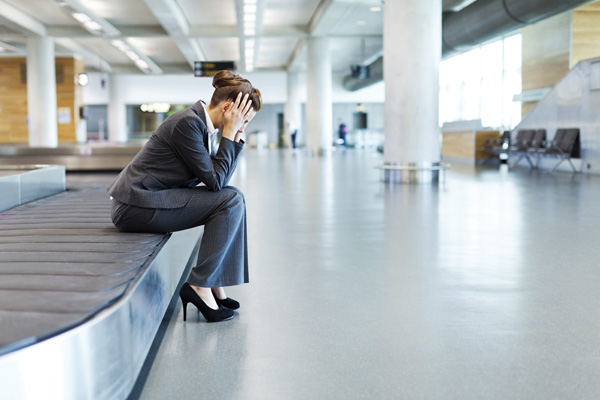 In recent years, you may have heard stories of airport employees robbing unsuspecting travelers of their valuables while they pass through security checkpoints and metal detectors. Which makes you think: if security agents are stealing, what is going on amongst gate agents, baggage handlers and even fellow passengers? There's no need to be paranoid and suspicious every time you fly, but you should take some steps to be sure you aren't an easy target. Here are a few ways to help you arrive at your destination with not just your belongings, but also your  sanity, intact.
Less is More: This may sound obvious, but it's worth the reminder: if you don't want to lose it, don't pack it! Replacing valuables is inconvenient, expensive, and airlines can deny liability. Your expensive engagement ring or designer watch is only going to make you look even more tempting to criminals and con-artists. If jewelry is your thing, bring a few pieces of costume jewelry (but don't go overboard — too much of anything can make you a target to thieves!) and (if applicable) consider wearing a fake wedding band or diamond.
Note: Many homeowners' policies will not cover jewelry if it's lost or stolen while traveling — you may need to purchase a separate policy. Check with your insurance provider for details.
Become a Carry-on Traveler: Checking baggage is like gambling with your belongings — something could get delayed, stolen, lost, damaged… you get the idea. Simplify your life and learn the fine art of carry-on traveling instead. Check out our tips here.
Make a List: Before you leave, make a list of all the valuables you're bringing — include the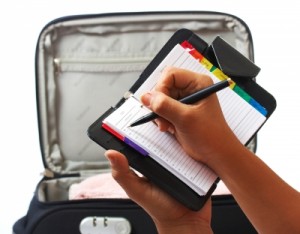 brand name, make, model, what you paid for it and any other distinguishing characteristics. You should even make note of which bag each item is going into. That way, if something comes up missing, you'll have a handy reference that you can give to your insurance company, local police, etc. It also never hurts to photograph the contents of the luggage you intend to check.
Label with Care: You want to provide just enough information on your luggage tags for the airline to return your bags in the event they go missing. This is usually your cell number (home numbers make it easy for potential thieves to use a reverse lookup website to find your address) and your name.
Wrap Your Luggage: To help protect your bags from dings and theft, consider using a luggage-wrapping service at the airport. The cost varies, but for about $10 per bag, machines will enshroud your suitcase in a layer of tough plastic wrap. And if the TSA opens your bag, it's rewrapped for free.
Stick Out (Like a Sore Thumb): Thieves want to get your stuff and get away as quickly and inconspicuously as possible. Make it hard for them to blend in by using luggage with bright colors and/or patterns instead of more common colors like navy blue and black. Also, you may want to consider cloth instead of leather pieces, as they are usually less appealing to thieves.

Get a Good Lock: TSA-approved locks can only be opened by security officers using a universal master key. However, some private companies have gone a step further in luggage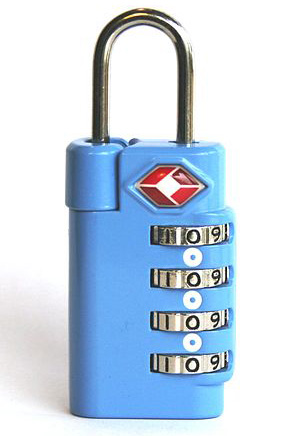 security — for example, Search Alert locks show you if your bag was opened and re-locked, which is useful if you need to prove a claim for damaged/stolen items.
Secure Your Carry-on: Speaking of locks, do you have one for your carry-on bag? There are plenty of opportunities for someone to get into your stuff on board… sleeping and bathroom breaks to name a few. Also, if you're unlucky enough to encounter a full plane, you may be forced to check your bag if all of the overhead bins are taken — which means more baggage handlers… and more room for error.
Keep Essentials in One Place:  Keep your ID/passport, credit card and prescription medications all in one place in your carry-on so you don't lose sight of them. These items are not only hard to replace (especially without an On Call membership), but can get you out of most jams upon landing.
Pack Gadgets with Care:  As our gadgets keep getting smaller, lighter and more portable, it's natural to think we can—and should—bring more of them. Bad idea!  Stick to the essentials and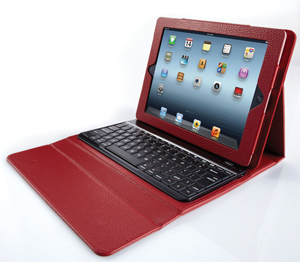 if they aren't currently in use, bury them at the bottom of your carry-on. That way, they're less likely to get swiped when you're not looking or fall out and break. For those of you who can get by with a tablet (they can even stay in your bag at airport security checkpoints), leave the laptop at home. For more extensive typing, consider a Bluetooth keyboard.
Choose Wi-Fi Wisely: Protect your personal information and your company's intellectual property by sticking to encrypted Wi-Fi networks that require an ID and password for access. You should also turn Wi-Fi settings off on your devices when you're not using them to prevent yourself from automatically connecting to unsecured networks.
Know TSA's Triggers: Why give a screener the opportunity to go through your bag in the first place? Go to TSA's website to review the list of prohibited items, or download the My TSA App on iTunes and Google Play.
Go It Alone: If you're traveling with others, stagger yourselves as you go through the security checkpoint — that way your buddy can keep an eye on your stuff as you receive your pat-down and vice versa. Also, before you leave the area, triple-check that you've collected all of your items.
Skip the Trays: Instead of placing loose items like your cell phone, watch, wallet, purse, keys, etc. in bins, put them in your carry-on before you get in the security line. Leaving these things out in the open while you're occupied with your pat-down is an open invitation to thieves. Not enough room in your carry-on? Put less important items like jackets, shoes, and laptop cases through the machine first, followed by more valuable items. The method to this madness is that you'll (hopefully) be done with your pat-down and will be able to keep an eye on your valuables as they come out of the machine.
Delay the Potty Break: And go straight to baggage claim. There's always a chance somebody will get to the carousel and take your bag either accidentally or on purpose. To help avoid the former, don't forget to use something to differentiate your suitcase, such as colorful luggage tags or zip ties. Once you retrieve your luggage, open it immediately. If something has been pilfered, submit a claim with your airline and/or your insurer as soon as possible.
Safe Travels!
Lock from Baggage Master
Book and baggage from Stuart Miles / FreeDigitalPhotos.net
Bluetooth keyboard from Brookstone