Recent studies show that identity theft is a $37 billion crime that affects 1 in 25 Americans with the average victim paying out $631 in out-of-pocket costs and 33 hours of their time. And it doesn't just happen at home—in fact, you may be even more vulnerable to it while traveling because you're carrying your personal information around with you in unfamiliar environments. Before you hit the road or board that plane, check out these 8 tips for protecting your identity when you travel:
1. Plan with care:
Unfortunately, the travel industry is not immune to scam artists. People have paid for tours that don't exist, entered their credit card information for bogus "cheap" flights and signed up for travel "offers" that weren't really offers at all (you get the point). To avoid such troubles, before purchasing anything from a travel company you are not familiar with, check their standing with the Better Business Bureau (BBB) and the attorney general's office in the state where they do business.
2. Travel Light:
There are some items you can scratch off your list of things to pack. These include your social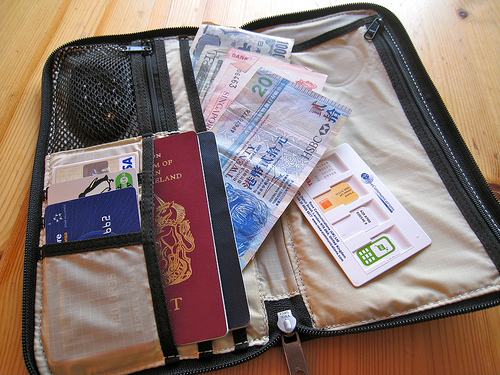 security card, birth certificate, and even your checkbook (use cash, travelers' checks or credit cards instead) –one look at your checkbook and a thief will have access to your account number, routing number and possibly your signature. Also, if you're traveling domestically, leave your passport at home.
3. Get Your Credit Cards in Order:
Credit cards are a great thing to take with you. Most have zero-liability policies, meaning you won't pay for unauthorized charges if your card is lost or stolen (the Fair Credit Billing Act specifies that your maximum liability for unauthorized credit card charges is $50).
Leave all unnecessary credit cards at home and just bring two cards from two different accounts in the event there is an issue with one of your accounts. For safekeeping, plan on leaving one card in your wallet and one card in your hotel safe –that way, if your wallet gets lost or stolen, you'll have a backup. Other smart credit card travel tactics include: alert your card issuer of your travel plans (a high volume of charges in a different location, especially overseas, could trigger deactivation) and ask your credit card company for a phone number you can call from overseas if your card is lost or stolen.
4. Be Cautious at ATMs:
Getting cash from an ATM while you're traveling is a snap—as long as the machine is legit. High-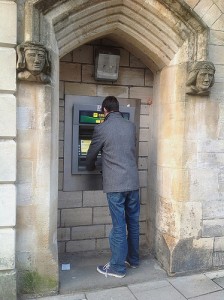 traffic tourist areas (especially in some developing countries) can actually be a hotspot for ATM skimming devices that steal your account number and pin, so stick to ATMs that are near banks or inside airports or hotels with security cameras nearby. When entering your pin, always cover the keypad with your other hand to prevent any hidden cameras from catching your digits. Be especially wary if the ATM looks damaged or different—many skimming devices are fairly shoddy pieces of hardware that are weakly tacked to the card reader, so don't hesitate to give the machine a good tug if something looks suspicious. Other warning signs include an unbranded shell or too much dark glass in the front.
And while ATM and debit card transactions are protected under the Electronic Fund Transfer Act, you'll still need to report the bogus charges to your bank within two business days in order to limit your liability to $50 (after that, could pay as much as $500 for unauthorized charges). With that being said, follow the same advice as tip #1 and make sure you have access to a number you can call if you're traveling out of the country.
Note: Companies like Visa have worldwide ATM locators on their websites making it easy for travelers to find ATM machines they can trust.
5. Be Smart with your Smartphone:
With  the proliferation of smart phones that contain GPS locator technology, the cameras in these devices are equipped with specialized hardware to automatically add geolocation information to the pictures at the time they are taken. As a result, people often unwittingly share information about their location, right down to the exact latitude and longitude when taking photos with their phones and posting them online.
Play it safe by turning off all geotagging functions on your mobile devices before you leave. And while you're at it, refrain from posting photos and trip commentary on social networks such as Facebook and Twitter until you get back. The people who need to know where you are already know, and there's no sense in advertising the information to additional people. Even if you're fairly certain you can trust everyone in your network, with social sharing tools enhancing every day, you can never trust that the information you post online won't travel beyond your intended audience.
6. Stay Away from Unsecured Networks: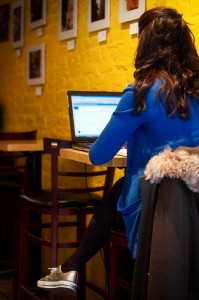 If you need to access a wireless network while traveling, always ensure that you're using a secure one. When you view available wireless networks to connect to on your device, you'll see text indicating if a wireless network has security enabled or not. And before you connect to a network provided by a wireless Internet service provider (ISP), such as a public network in an airport, hotel or coffee shop, read the privacy statement carefully and make sure that you understand which files (if any) are saved to your computer. You'll also want to notice what type of information the network provider collects from your computer.
7. Secure Your Home:
Nothing says, "We're not home!" like an overflowing mailbox. Have your newspapers and mail put on hold, or ask a trusted neighbor or friend to get them so you're not leaving a trail of breadcrumbs to your vacant house. Also, ask your local police station if they do house checks for those traveling away from home—if they have a website, you can usually download a request form online that you can fill out and take to your local police station in advance of your trip.
8. Make Copies of Important Documents:
This includes your trip itineraries, driver's license, international driving permit, passport, health insurance/prescription information, credit cards (include the back side with telephone numbers to use if there's a problem) and travel assistance card to name a few. Plan to leave a set of copies in your carry-on, with your traveling companion (if applicable), and someone at home that you trust. If your hotel has a safe, that's also a good keeping place. In the unlikely event you are a victim of theft, having back-ups of important documents can help turn a travel nightmare into a more manageable situation.
And don't forget: If your wallet is stolen, On Call members can call us for help filing a police report (especially useful in international locations where the local authorities don't speak English) as well as for lost/stolen travel documents (such as your passport) assistance.
Safe Travels!