According to researchers, 50% of the population makes resolutions each New Year. Without fail, the top resolutions are consistently related to weight loss, exercise, smoking cessation, and debt reduction.
If you've noticed yours are the same old tasks and chores, why not consider adding some travel resolutions to your list? Here are 10 travel resolutions that you'll actually enjoy making (and keeping) this year:
1)      Take a Vacation:
Wait…what? Are you reading this right? Yes, sadly you are. Expedia.com's 2012 Vacation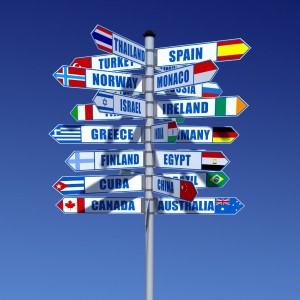 Deprivation Study revealed that Americans earn fewer vacation days than people in most countries, yet still leave two days unused on average.
On the contrary, most European workers have 25 to 30 days of vacation time available to them each year (in addition to state and religious holidays). Workers in France and Spain report taking the full 30 days off, and Germans report taking 28 out of 30 days.  British, Norwegian and Swedish workers have the right idea – they take all 25 days that they're given.
2)      Unplug:
Many people are terrified to take a vacation (refer back to resolution #1). They worry about how it will affect their jobs, their families, and even stress about the amount of work they'll come home to. Then, if they do manage to make it out the door, they spend the whole trip checking emails, sending texts and making phone calls. It doesn't have to be like that! In fact, you may end up living longer with regular vacations. Studies have found that women who take at least two vacations a year are eight times less likely to develop coronary heart disease or a heart attack. Moreover, men at high risk for coronary heart disease, and who failed to take annual vacations, were 32% more susceptible to dying from a heart attack.
Still not convinced? Unplugging really is easier than you think and involves simple things like turning your "out of office" notification on your work email, ditching your laptop, and shutting down Facebook. Another easy to implement tactic is to let friends, family, and coworkers back home know that you can be reached only in the event of an emergency. This will enable you to experience your destination in a deeper way and to focus on exploration and relaxation, rather than your to-do list.
3)      Do Pre-Travel Research:
Getting acquainted with your destination is one of the best and easiest ways to help protect your
health and safety while traveling. Your travel assistance provider can easily provide you with this information, or you can do your own research.
The CDC's website should be one of your first stops when educating yourself on the health risks related to your trip. Simply go to their Destination Pages and choose the country you will be visiting to learn more about prominent diseases, vaccination advice, and other related travel health information for before, during and after your trip.
The US Department of State has a wealth of valuable resources about safety and security in foreign countries, including Travel Warnings (long-term conditions that make a country dangerous or unstable) and Travel Alerts (short-term conditions that are risks to the security of U.S. citizens). Additionally, you can get information about the laws and culture of the places you'll be visiting at the U.S. Department of States' Country Specific Information pages. For every country in the world, you can find information like the location of the U.S. embassy, whether you need a visa, driving rules, and criminal penalties.
4)      Review the TSA's Rules and Regulations:
Unfortunately, plenty of travelers will arrive at the security checkpoints horribly unprepared in 2013. Don't be one of them! Before you leave, remember to check the TSA's web site and educate yourself on the current rules and regulations so you can breeze through security without a problem.  They even have a "Can I Bring…?" tool from the My TSA mobile app to get information on an item you want to bring on a plane.  Simply type the name of the item in the box and you'll get information on whether or not it's prohibited or not.
5)      Leave Your Comfort Zone:
Believe it or not, you can learn a lot about yourself when you try something that is out of your comfort zone. Nothing dangerous, of course — just out of the ordinary for you. For some, that might mean zip lining through the jungle, trying a new food, going on a hiking adventure or booking a beach vacation to the Mediterranean instead of the Caribbean….you get the idea.
But take caution – the objective is to reach an expanded comfort zone, not cause exorbitant amounts of stress. According to Daniel H. Pink, author of Drive: The Surprising Truth About What Motivates Us, "We need a place of productive discomfort. If you're too comfortable, you're not productive. And, like Goldilocks, we can't be too hot or too cold."
6)      Make Copies of Your Important Documents: 
It may seem like a huge nuisance when you have a million other things to do before your trip, but getting into the habit of making photocopies of your important documents is a good habit to form. This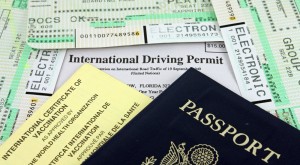 includes your driver's license, international driving permit, passport, health insurance/prescription information, credit cards (make sure only to bring the credit card(s) you plan to use on your trip!), and travel assistance card to name a few. Note: copies of your credit cards should include the back side with the telephone numbers to use if there's a problem. Plan to leave a set of copies in your carry-on, with your traveling companion (if applicable), and someone at home that you trust. If your hotel has a safe, that's also a good keeping place.
In the event of an emergency, say if you lose your passport, you can go to the nearest embassy with a copy of your passport (on call members can give us a call!) and have it reissued much quicker than if the number had to be tracked down and you had to prove your identity.
7)      Travel Green:
Cutting back on your carbon footprint not only protects the places you love, but also helps sustain them so that future generations can continue to enjoy them.  For example, when all possible, stay in eco-friendly accommodations, utilize earth-friendly transportation options like biking, walking and public transport, reuse your sheets and towels instead of having them changed every day, and try eating at restaurants that serve locally-sourced ingredients (Eat Well Guide's Eat Well Everywhere Finder helps you find local, sustainable, and organic food when you're traveling).
When it's necessary to fly, consider purchasing carbon offsets, which fund a reduction in carbon dioxide emissions roughly equal to your output, counterbalancing the effects of your air travel. For example, many online travel sites sell customers carbon credits for their trip by using social enterprises like TerraPass. Companies like TerraPass also make it possible for you to calculate your carbon footprint related to air travel, driving and even at home.
8)      Be Budget-Conscious:
A dollar saved is a dollar earned!  Even if you're not a frequent traveler, sign up for those free loyalty programs and you'll eventually get something back. Also, if you have the flexibility, schedule air travel during a destination's low season (Disney World in September, anyone?), buy tickets at least three months in advance, and try to endure a layover (or two!). And, don't forget about membership discounts! A card that many of us have sitting in our wallets, such as AAA, can get you great discounts on hotels, car rentals, theme parks, and more.
9)      Volunteer:
Volunteering abroad is a great way to help people in need as well as support a cause you're passionate about. Also, it helps you learn more about the culture by spending time with the locals. The International Volunteer Program Association offers guidance on choosing the right program, including a list of best practices. Some other great sites to help get you started:
10)   Supplement With Travel Assistance:
While some travel insurance plans offer medical evacuation coverage, they rarely allow you to choose evacuation to your home hospital. Even in the best facilities around the world, there are issues of language barriers, expensive medical bills that won't be covered by your primary health insurance, and the discomfort of being hospitalized in a different culture, away from your loved ones and trusted physicians.
A travel assistance membership provides emergency medical evacuation to the hospital of your choice, regardless of medical necessity, any time you travel more than 50 miles away from home.  Meaning, whether you're in a state of the art facility in China or in the United States, you can still choose to come home to your own doctors for treatment.
What are your travel resolutions for 2013? We'd love to hear from you in the comments below