This sure has been an interesting year in travel. Words like "ghost town" or "deserted" were used frequently by those who traveled earlier this year, but now, as the world starts to open back up again, we're starting to see elements of travel swinging back to pre-pandemic normal. According to On Call's Director of Clinical Transport, Gaby Hosea, RN, who just recently traveled to help transport an ill traveler home, "the current normal for flying in the U.S. is actually calmer than normal due to the still-low number of travelers. If one enjoyed traveling in the past, they will be pleasantly surprised by how familiar it feels. Although the differences are notable, the efficiency and excitement of air travel remain the same.  Patience and kindness will get us through this together, so pack a healthy dose of both and enjoy!" For those interested in traveling in the near future, here are some things you should know before you hit the (still friendly) skies: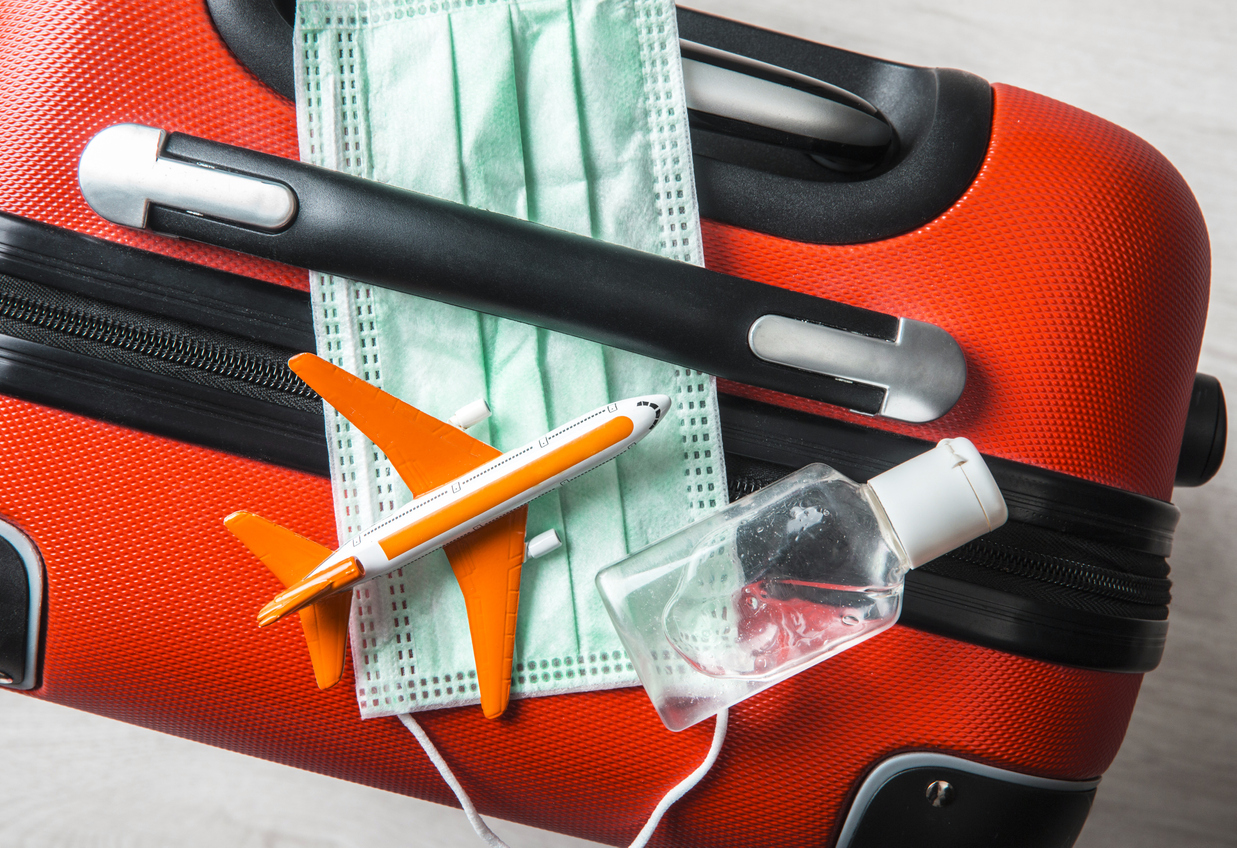 Masks and Face Shields Required
"Everyone I encountered both at the airport and in-flight were wearing masks, this was non-negotiable and the masks needed to cover both nose and mouth. If a passenger was non-compliant, uncooperative, or argumentative, the flight crew would note their name and seat number and that passenger could be put on a "no-fly" list," said Gaby.  U.S. airlines now require passengers to wear face masks—and travelers could be prohibited from flying or have their flying privileges revoked if they don't comply. Many international carriers require masks as well. It's recommended for travelers to check with their airlines regarding the latest requirements before flying.
Hand Sanitizers and Wipes


Many airports have added free hand sanitizer stations throughout their facilities, and many airlines are even offering disinfectant wipes upon boarding. Travelers are permitted to bring individually packaged alcohol or anti-bacterial wipes in carry-on or checked luggage; in fact, TSA is currently allowing each passenger to travel with one liquid hand sanitizer, up to 12-ounces in their carry-on. This amount is up from the normal 3.4 ounces, but all other liquids like water or shampoo must adhere to the 3.4-ounce limit.
Shuttles


Many airports have greatly scaled down bus and shuttle operations and/or capped them at a specific occupancy. Most are operating at reduced schedules. Travelers are encouraged to check their airport websites for the most up-to-date schedules and factor in additional time or make alternate arrangements as necessary.
Check-in Process


When planning travel, travelers should check their airlines' websites to see what the airlines are doing to protect customers from COVID-19 during the check-in process, which includes using online or contactless reservations. Gaby, an RN by trade, feels this is a much better solution than putting one's phone on any shared scanning devices or passing it over to an airline employee to scan. Gaby also noted that she paid for her checked baggage in advance; and when checking bags, was asked to do a temperature check and answer COVID-19 specific screening questions.
Security


Noticeable adjustments leading up to the security checkpoint include: increasing the distance between individuals as they enter the security checkpoint, placing visual reminders of appropriate spacing on checkpoint floors, and staggering the use of lanes where feasible. In the U.S., TSA officers are required to wear facial protection and travelers are encouraged to wear face protection to the checkpoint as well (but travelers may need to adjust it during the screening process). Travelers are also encouraged to remove items such as belts, and items from their pockets, like wallets, keys and phones, and put them directly into their carry-on bags instead of into the bins to reduce touch-points during the screening process.
Gaby remarked, "Making my way through security was very easy with minimal waiting or lines at all three airports I visited.  TSA Pre-Check was open at all of the airports as was CLEAR; however, to reduce touchpoints, CLEAR's primary method of passenger identification is through retinal scan rather than fingerprint scan."
Terminals & Boarding


All airports have their own requirements when it comes to wearing face coverings, but regardless of where the traveler is, they should expect to see increased signage promoting social distancing and the use of face coverings. Gaby commented, "At the gates, the overhead announcements were focused on wearing masks, distancing and handwashing mixed in with the advisory to not accept packages from strangers and contact airport security for suspicious behavior. Also—boarding was much more controlled.  Each airline did it differently, but it was great to see no one being allowed to form crowds while waiting for their boarding group to be called."
Plane Occupancy
Per Gaby, "The planes I traveled on were about 40-50% full on average. Due to the reduced number of passengers, unless passengers were flying together, there was plenty of room to spread out." If middle seat occupancy is a concern, travelers should check directly with their airlines to see what their current policies are on middle seat booking as protocols vary by airline.
In-Flight Service


"On the flight I was on, upon boarding, each passenger was handed a paper bag with a bottle of water, a cookie, and a sanitizing wipe. No additional inflight services were provided in first or economy classes." As of the time of writing this post, airlines are encouraging passengers to plan ahead and pack their own snacks, especially since not all concessions are open at airport terminals. Insider tip: put all carry-on food items into a clear plastic bag for X-ray screening at security. Since food often triggers security alarms during screening, the bag not only helps protect food from contamination, but it also reduces the need for a TSA agent to rummage through your belongings.
Do you oversee your organization's international travel programs?


Whether its 24/7 emergency medical transportation, referrals for COVID-19 testing facilities, and even help with re-booking travel plans, here at On Call, our clients know they can continue to rely on us for assistance with navigating the pandemic and providing expert guidance around aligning their insurance, assistance, and crisis management plans accordingly. Contact us today to learn more.
For over 25 years, On Call International has provided fully-customized travel risk management and global assistance services protecting millions of travelers, their families, and their organizations. Contact us today and watch our video to learn more. You can also stay in touch with On Call's in-house risk management, travel health and security experts by signing up for our quarterly Travel Risk Management (TRM) newsletter.