We recently hosted a webinar, Mitigating Travel Risks with University Policies and Procedures, in conjunction with URMIA, as part of their Risky Business Week. In this webinar our Chief Security Officer, Jim Hutton, discussed the characteristics of a well-prepared study abroad candidate and what universities can do to help mitigate risks when students travel abroad.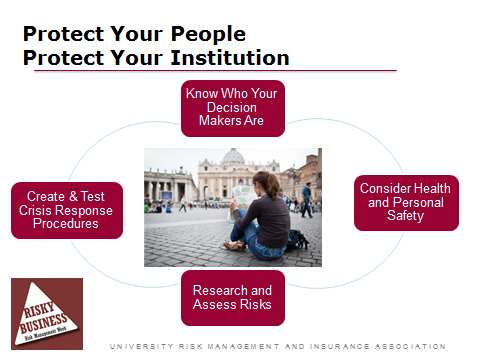 At the end of the webinar, several interesting questions came up, and now we're sharing them with you—along with the responses—to help you further understand the integral role travel risk management plays in study abroad.
Q: Building upon the idea of "five minute medicine," do you recommend that trip leaders become certified in First Aid and CPR ahead of leading a trip?
A: Absolutely. One of the great ways to get people engaged when it comes to first aid and medical preparedness is to remind them that learning five minute medicine can be valuable in their personal lives too.. I would absolutely encourage and suggest that leaders, at a minimum, take a five minute medicine program and maybe even go beyond that, depending on the nature and degree of exposure your travelers could face.
Q: Can you give some examples of what you include in "five minute medicine" training?
A: A lot of instructors teach you to think about ABC. A is managing an airway.  What's happened to your victim? Is the airway intact and is it usable? Can the person breathe for themselves? That leads to B. If they need assistance breathing, how much? Is oxygen required? Is artificial respiration required? And then C. Circulation. Can they maintain and keep a good pulse rate to keep them alive? Opening the airway, stopping bleeding, supporting breathing and managing circulation. This is a really good place to start when you talk about five minute medicine.
Q: Do you have a recommended way to do an effective and quick "welfare & whereabouts" check?
A: I've seen everything from using SMS and Facebook, to sending runners on bicycles when all networks are down.  I would encourage everyone to think about what's simple, what's quick and what's reliable depending on the resources you have at your fingertips. If the network's up, you can't beat some of the social messaging tools that are out there.
Q: Can you tell us more about what types of restrictions are reasonable during student free time?
A:  We need to be mindful of the fact that students are adults and it can be difficult for institutions to put boundaries on personal behaviors. The successful programs that I've seen flip that over and suggest strategies and ideas on how students can better protect themselves. For example, a buddy system, particularly for women is important. If alcohol is going to be involved, it's best to travel in groups and avoid driving. Make sure to choose safe transportation…things like that.  I would focus more on the protective or preventive strategies as opposed to trying to put boundary conditions around the participants. Now that said, it also depends on the nature of your program and the permissive nature of your operation.. Is there a curfew in place? Are you in a very remote area where wild animals are a concern? I think you can then put some reasonable ideas into place around personal behaviors if you illuminate the kinds of exposures and risks that could be present during free time.
Q: How do you create a veto process that tells students they aren't allowed to attend a particular trip without violating a person's rights or discriminating against them?
A: This is a popular question. A lot of it is extremely subjective to what local laws might be, what the institution's risk appetite is and finding that right balance between protecting the institution while still allowing the individuals to participate. There's always a variety of responses about how a veto process might work. There are some institutions that clearly embrace more of a freedom mentality in terms of participation and would be reluctant to create a lot of restraints. It's a very case by case, very subjective process. I think the important underpinning is it's fine for an institution wants to keep it open ended. But they have to make sure they've walked through their duty of care requirements to ensure they can appropriately support and defend their programs as well as their policies and procedures in the event of an incident or accident.
Q: How does one inform the faculty advisor of a student with a mental illness when information is limited?
A: Now you're certainly creeping into HIPAA territory regarding what can and can't be shared with a faculty advisor. I think this would be a conversation involving your legal counsel and your medical department to try and come up with a reasonable way to make sure that the staff member or faculty advisor understands what challenges might be presented as a result of participation by a student with  a preexisting condition. It's a very subjective kind of solution that institutions are going to have to craft on an individual, case-by-case basis.
To learn more about protecting your students—and your institution—from travel risks, you can the webinar "Mitigating Travel Risks with University Policies and Procedures" here.