Want to get ahead of risks instead of being in "fire-fighting" mode?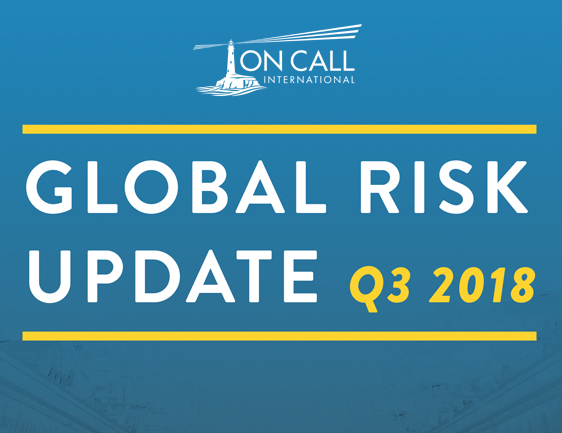 We can help! On Call's Global Risk Update is just what you need for garnering insights that can help your organization meet its duty of care and better protect your traveling population.
This Global Risk Update looks at the third quarter of 2018 to help you understand the implications of stories you may have read about in the news, as well as build off of themes we explored in our 2017-2018 Global Risk Review and the Q1 and Q2 Updates. Our Global Security Specialists and in-house medical experts are taking you beyond the headlines and into what the fall and winter months of 2018 are signaling for global political, security, economic, and health risk.
In addition to the trending stories within each region, we added a special focus on mental health abroad, as it continues to receive increasing attention from organizations across the board. We also dedicated a piece to journalist-specific risks and explored other hot topics in travel risk management.
Want to learn more? You can access your free copy of On Call's Q3-2018 Global Risk Update here. Have questions regarding traveler health and safety, holistic risk management, or want to discuss the report further? Contact us anytime.