We know it can be a struggle to do the research needed to truly understand the risk environment and where your organization has exposure—and we can help!
Our new Global Risks Review not only focuses on big picture issues such as natural disasters and this year's many important elections, but also discusses specific topics such as female travel safety, climate change, emergency management, and more.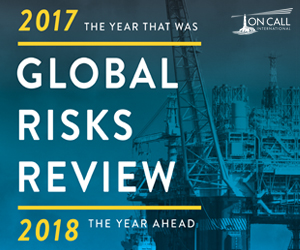 Our team of highly-skilled Global Security Specialists created this publication to help organizations like yours stay informed on security risks that pertain to your travel risk and duty of care initiatives. This yearly review looks back at the previous year, forecasts the year ahead, and provides actionable insights that you can use to plan world travel and operations.
Let us help you effectively navigate security risks for your organization in 2018 and beyond—for a limited time, we're releasing our 2017-2018 Global Risks Review (typically exclusive, client-reserved content!) free of charge to our loyal subscribers.
To access your complimentary copy of On Call's exclusive 2017-2018 Global Risks Review click here. Additionally, if you have any questions or would like more information about travel security and holistic risk management, contact us anytime.