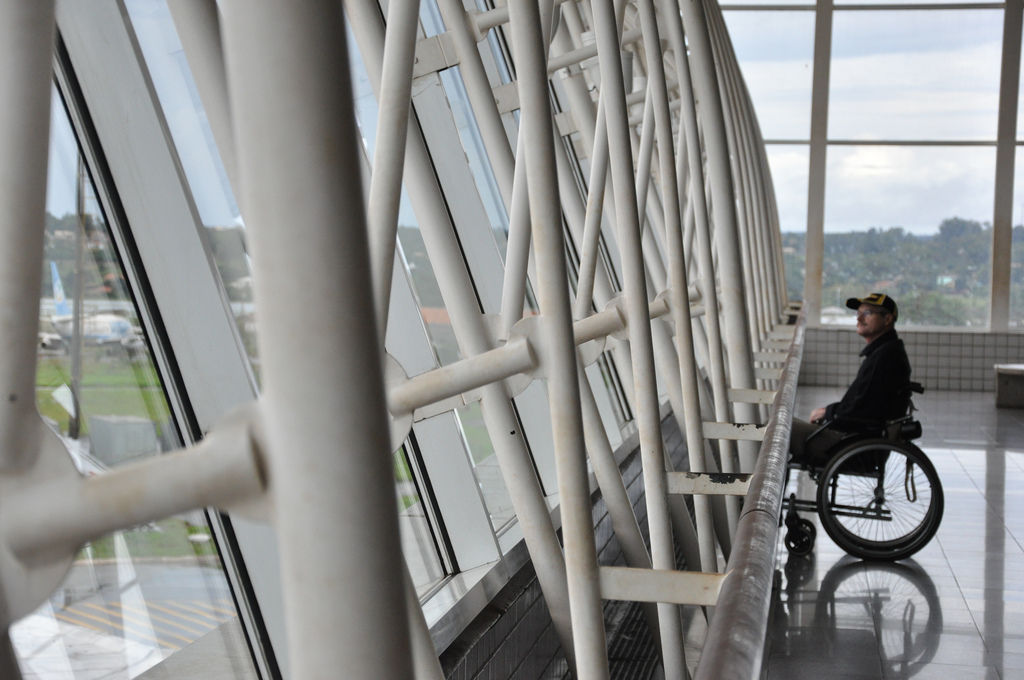 Although air travel has improved greatly for wheelchair travelers, the rule of thumb is to plan ahead. How? We've zeroed in on some of the most common air travel gripes for people with wheelchairs to provide you with tips for making your flights as hassle-free as possible.
Know Your Rights: Congress passed the Air Carrier Access Act  to help ensure that people with disabilities are not discriminated against during air travel. Under this Act, all domestic and international flights with the U.S. as the origin or destination are required to provide certain accommodations to those with disabilities, free of charge. For a closer look at these specific accommodations, check out this article. It gives a snapshot of what airlines should (and shouldn't) do so you can be your own air travel rights advocate. Another good resource is the Department of Transportation's frequently asked questions regarding the Air Carrier Access Act.
Pick the Right Airline: All U.S. airlines are bound by the Air Carrier Access Act, but some airlines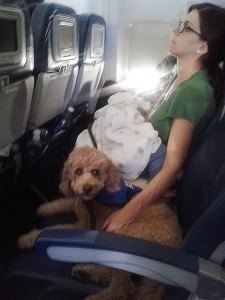 do a much better job than others. Before you book, do a search for airlines that are accommodating to disabled fliers — or better yet, airlines that are not so accommodating. A company's Twitter and Facebook pages are great places to get a feel for this — for example, if you're seeing lots of negative chatter, you might think twice about booking your ticket with that particular airline.
Have Good Timing: While people with wheelchairs are always the first on the plane, they're usually the last off of it. This means you should only book flights with plenty of time (at least 2 hours) between connections. Did we say the word, "connection?" Why, yes we did! Choose a flight with a stopover (especially if you're taking a longer trip) if you have difficulty sitting for an extended period of time. Bonus: Non-direct flights are usually cheaper! Wondering which time of day you should fly? Think of when you're most relaxed and able to handle a change in routine — for most people, this is usually the morning. Another bonus: morning flights tend to experience fewer delays.
Choose the Best Seat: Take time to think about your seating arrangements — aisles may not be ideal if you fear being bumped by beverage carts or people going to the bathroom. On the other hand, window seats might make you feel crammed and claustrophobic. And if an upgraded or premium seat isn't an option, use SeatGuru to find the best coach seat. The website has color-coded seating charts for hundreds of aircraft. It tells you which seats have more legroom, as well as which seats to avoid because they don't recline, are narrower than usual and so forth. Note: some airlines also charge more for emergency exit rows and bulkhead seats, but it may be worth it!
Talk to Your Airline: Now that your reservations have been made, give your airline's customer service number a call and make your special requests known. For example, if you need assistance getting to and from your gate (solo travelers, this is especially important!), need an aisle chair, have a service animal with you, and/or if you have any other seating requests or needs, this is the time to let them know. Even though most airlines' online reservations systems have check boxes for special requests, you should still cover your bases and give them a call at least 48 hours in advance of your flight.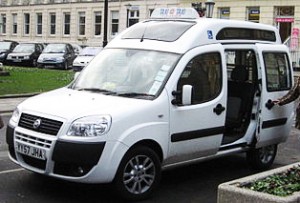 Pre-Arrange Your Transportation: Public transportation from the airport can be dicey, especially since schedules vary and elevators can break. Your best option is probably a hotel shuttle as many of them are free and wheelchair-accessible. Just make sure to ask if one is available before you book your hotel. Other options: wheelchair-accessible taxis (these can be pricey and have long wait times) or find a mobility equipment dealer that will rent you an accessible van for the duration of your trip (they'll even pick you up at the airport!). To locate an accessible vehicle in your destination, visit the National Mobility Equipment Dealers Association's website.
Save Time at the Airport: Print your boarding passes at home and check your bags at the airline ticket counter instead of curbside — according to sources, a whopping 87% of lost or stolen luggage originates at curbside destinations. While you're at the airline check-in counter, double check again that they're aware that you'll need special assistance. If you need to change your seating assignment, this is also the place to do it. This gives you even more reason to arrive early — if you allow yourself extra time (at least three hours for domestic and four hours for international), you should be able beat the "seat change rush."
Tip: Carry a doctor's note with you that describes your medical condition — this is great reinforcement when asking the airlines for special accommodations.
Be Ready for Security: Some airports have special security lines for disabled passengers and some do not, but it certainly doesn't hurt to check. According to the TSA, the screening process for someone using a wheelchair is determined by their ability to stand and walk. You can be screened without standing, walking, or being required to get out of your wheelchair, but you should inform a TSA agent of your limitations before the screening begins.  Regardless of how you're screened, prepare for your wheelchair to be inspected — this includes your seat cushions or any non-removable pouches or packs. If you have any additional questions about screening policies, procedures and what to expect at the security checkpoint, feel free to call the TSA Cares toll-free line at 1-855-787-2227. Hours of operation are Monday through Friday 8 a.m. to 11 p.m. EST and weekends and holidays 9 a.m. to 8 p.m. EST.
Relax and enjoy: Once you make it past security, go to your gate and inform the airline staff that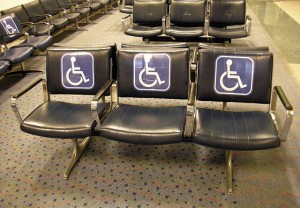 you'll be on that flight and will need assistance (the word doesn't always make it over to the gate from the check-in counter). Make sure they tag your chair (or even better, do this at home before you leave — the last thing you need is missing wheelchair when you get off the plane!) and confirm that they can stow it in the cabin. Don't keep anything you wouldn't want lost on your chair because it's quite easy for things to disappear when your chair is stored. When you board the plane, be prepared to be moved to your seat in a special-purpose aisle chair. Now… relax and enjoy your flight! And if any travel problem happens to come up, whether a medical emergency or even a lost passport, don't forget to give your friends at On Call International a call — we're always here to help.
Safe Travels!
Photo credits
Man in wheelchair from Fláudio!
Service dog on plane from Lachlan Hardy
Airport Sign from quinn.anya
Wheelchair seats from Daquella manera