In 2012, there were 905 natural catastrophes worldwide, 93% of which were weather-related disasters. In recent years, we have witnessed some unforgettable natural disasters that had a tremendous impact on travelers— the 2012 Typhoon in the Philippines, the 2011 Japanese Tsunami, the 2010 Earthquake in Haiti (just to name a few).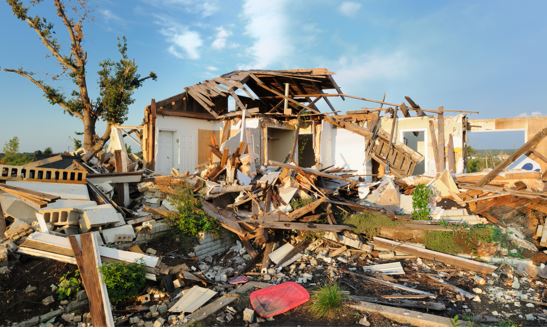 Encountering a natural disaster while traveling is unlikely, but could turn catastrophic if you're not adequately prepared.
If you live in an area where natural disasters are more common, you're probably quite familiar with emergency protocols, but what would you do if a disaster struck while you were far away from home? That's where a travel assistance membership with natural disaster evacuation comes into play.
So how does it work? It's actually quite simple.
Say for example, you're traveling for business when an unforeseen earthquake destroys the regions, leaving it uninhabitable. Thankfully you're safe, but you're surrounded by chaos—you don't know the city, you don't speak the language, but luckily your employer offers On Call's travel assistance services through your company's benefit plan.
You dial in to On Call's 24/7 Global Response Center for help, and our natural disaster team evaluates your location and condition. From there, we determine the best way to move you quickly and safely to the nearest safe location. Transportation modes vary depending on the situation and location, but could include anything from an armored vehicle with security personnel, to a chartered private flight if the local airport has been shut down or compromised.
It could even include transportation by boat if you're near a coastline. Once you have been transported to the safe haven, you may even be eligible for transportation back to your home as well as local accommodations.
Don't forget—the specific details of your natural disaster coverage will depend on the program or membership in which you're enrolled. If you're traveling for business or studying abroad, check with your employer or university respectively. Many organizations will partner with a travel assistance company like On Call International to provide services like natural disaster evacuation to their travelers.
If you're venturing out for pleasure, it's a smart (and safe!) move to enroll in a travel assistance plan that includes natural disaster coverage.
Our 

Deluxe Membership

 includes natural disaster coverage up to $100,000 for individuals and families traveling outside of the U.S. It even includes political evacuation coverage, travel companion return and pet return.
To determine whether natural disaster coverage makes sense for your next trip, contact your travel assistance provider or visit the State Department's Country Specific Information pages.
Once you select the country from the dropdown, refer to the "Special Circumstances" section on the page—it will be noted if the country is at high risk for natural disasters. It's also a good idea to keep a careful eye on the State Department's travel warnings and alerts. For example, there is currently a travel alert in place for the Hurricane Season in the Atlantic, Caribbean and the Gulf of Mexico which was issued on June 1 and ends on November 30.
Want to learn more?
On Call's clients are encouraged to consult with us for the most up-to-date information on their destinations and recommendations around risk prevention and travel health planning. For everyone else, please feel free to get in touch with us for more information, as well as how On Call can help protect your travelers with our customized travel risk management and assistance programs.
For over 25 years, On Call International has provided fully-customized travel risk management and global assistance services protecting millions of travelers, their families, and their organizations. Contact us today and watch our video to learn more. You can also stay in touch with On Call's in-house risk management, travel health and security experts by signing up for our quarterly Travel Risk Management (TRM) newsletter.