Medical Emergencies. Natural Disasters. Political Unrest...
As much as we don't like to think about it, all of these issues could affect your academic institution's traveling population. As your students, faculty, and staff navigate the world, you're constantly asking yourself if there's even more you could be doing to ensure that they — and you — are prepared for the unexpected.
So what would you do if a crisis struck today?
Is your global community prepared to react? Are your institution's constituents, assets, and reputation protected?
The good news is…
There are tools, planning, and implementation strategies you can use to ensure their travels are not only academically rewarding, but mindful of your health, safety, and duty of care concerns.
Introducing Searchlight!
With these specific concerns in mind, we collaborated with students and academic administrators so we could bring you Searchlight – a powerful and interactive travel risk management platform suited to meet the unique needs of Academic Mobility. Searchlight combines four key components into an intuitive single-source solution:

Customized Online Resource Center

The Global-View Dashboard

Automated Advisory Alerts

Comprehensive Worldwide Provider Database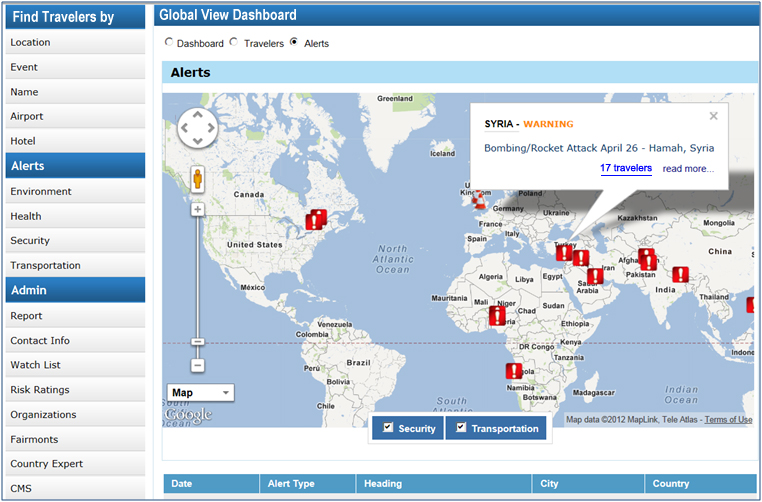 Why are these comprehensive travel risk management tools so important to someone like you? Consider these scenarios:
– A 9.0 magnitude earthquake strikes Japan, where you have a several groups of students. What are your next steps?
– You have a group of faculty and staff doing research work in Jerusalem, and political riots have broken out in their area. How do you know if they're safe and whether they need political evacuation? –
– You've heard there is a rare strain of flu sweeping through Mexico, near one of your study abroad programs. If someone is affected, how do you ensure that they receive the travel assistance that they need?
Searchlight not only prepares your constituents before their trips with destination-specific information and resources, but will also help you quickly and efficiently locate, communicate with, and assist your constituents when—and where—they need it the most.
To learn more about Searchlight and how you can help safeguard your constituents – and your institution – from travel-related disasters, download: Searchlight: An Introduction.  
After you've read it, post your comments here.
We'd love to hear from you!