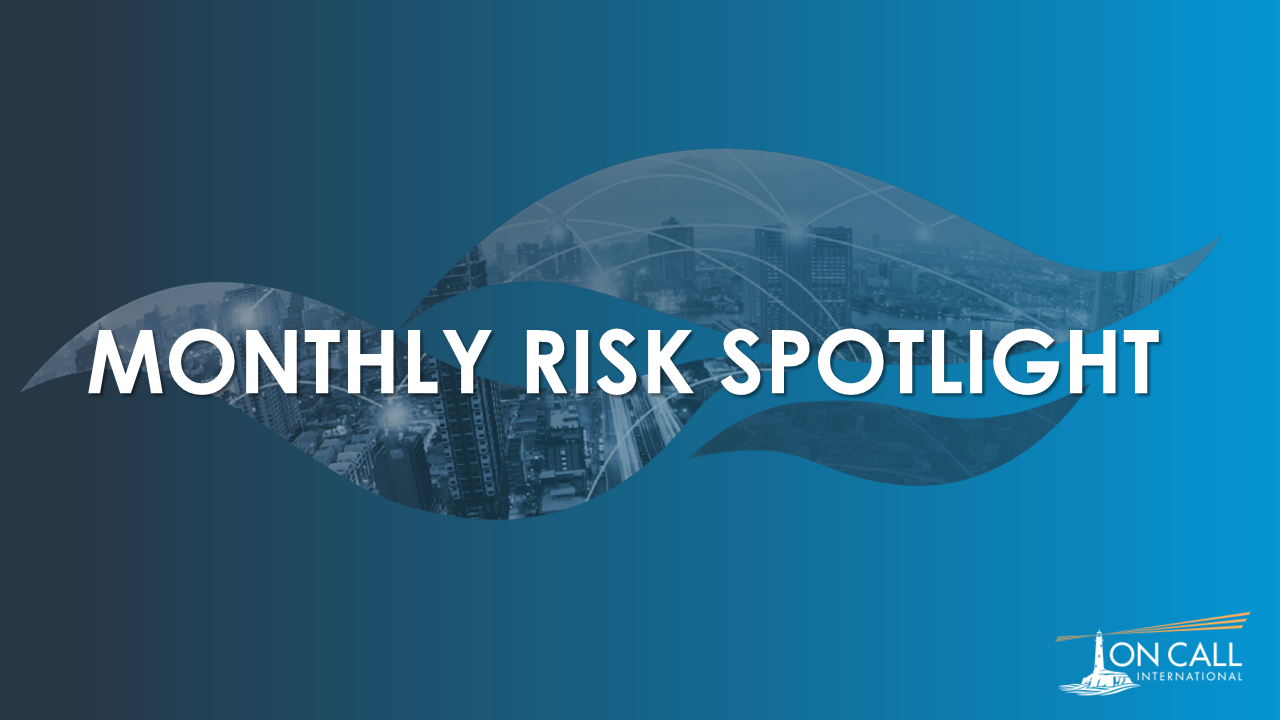 AMERICAS
Political Unrest and Transitions in Latin America
 In the dynamic landscape of Central and South American politics, nations often find themselves at crossroads, grappling with the dual challenges of political transition and societal unrest. While these challenges manifest differently across countries, the themes of governance, justice, and societal response remain consistently intertwined. For instance, Guatemala and Ecuador, two nations recently thrust into the limelight due to their electoral outcomes and succeeding socio-political events. This month will investigate the complex tapestries of their political scenarios, offering a snapshot of their ongoing challenges and looming uncertainties.
Following its recent election, Guatemala is embroiled in civil unrest and political turmoil. With Bernardo Arévalo's election as president, protests have erupted nationwide, culminating in roughly 120 roadblocks at the height of the demonstrations. These blockades, mainly concentrated around the capital, Guatemala City, resulted in fuel and food shortages in several regions, significantly affecting daily life. Residents found themselves trapped at home due to paralyzed traffic, while depleted store supplies left many hungry. Travel within the nation became a nightmare, and international travelers struggled with mounting flight cancellations and delays.
At the core of the protests lies a demand for Attorney-General Consuelo Porras's resignation. Accusations abound that Porras schemed to block Arévalo, a proponent of anti-corruption, from assuming office. Arévalo labeled the efforts against him as a "coup d'etat" in a show of solidarity; his supporters, too, have demanded Porras's ouster. Controversially, Porras contends that Arévalo's party wasn't appropriately registered. Critics, however, believe her investigation began only after Arévalo's initial electoral success. Incumbent President Giammattei has responded sternly, urging the clearance of these blockades for the sake of the national economy. His warnings come with the looming threat of arrests. Alluding to foreign influences backing the protest leaders, Giammattei highlighted the severe economic implications of the demonstrations. Tensions escalated rapidly as night fell; masked individuals wreaked havoc near the National Palace of Culture in Guatemala City. This rising aggression culminated in a tragic shooting in Malacatan, resulting in one fatality and several injuries. In the aftermath, officials apprehended 11 culprits linked to the violent incident. Outgoing president Alejandro Giammattei pleaded for calm through a national broadcast, while the Organization of American States (OAS) emphasized a peaceful power transition on January 14, 2025.
Meanwhile, Ecuador, with a population nearing 17 million, held its polls earlier this month to decide the next leader of a nation grappling with a surge in crime. The young Daniel Noboa, at just 35, secured his victory with a tight 52-48 margin. While his inauguration is slated for December, lasting a brief 17 months, the looming challenges might overshadow his potential.
Noboa's electoral success is often attributed to widespread anti-Correa sentiment, rather than an endorsement of his policies. This perception reduces his political leverage, especially as he faces a divided Congress rife with adversaries. Furthermore, previous leaders struggled with widespread protests, a fate Noboa may also encounter. Economic challenges, such as conflicting stances on mining and fiscal constraints, further complicate his position. With only 18 months to steer the ship, time is certainly not on his side.
However, glimmers of hope remain. Noboa could capitalize on a potential post-election popularity surge to bridge political divides. While Luisa Gonzalez, Correa's protégé, clinched 48% of the votes, internal rifts might divert the opposition's focus away from Noboa. Besides domestic concerns, Noboa faces global challenges: the El Niño phenomenon, rising global conflicts, and escalating commodity prices. On the security front, political assassinations during the campaign have signaled a surge in politicized violence. About three years ago, Ecuador witnessed increased criminal activities tied to cocaine trafficking. The government's shortcomings became evident with the assassination of the presidential candidate and anti-corruption advocate, Fernando Villavicencio. Subsequent events, such as the killing of suspects in Villavicencio's murder, have only deepened the crisis. With his tenure ending in 2025, Noboa has an uphill task, requiring decisive actions and transformative policies, all within a short window of opportunity.
MIDDLE EAST AND NORTH AFRICA
A Guide to the Palestine – Israeli Conflict
On October 7th, 2024, the militant organization Hamas, launched a surprise attack, known as Operation Al-Aqsa Storm' on Israel killing over 800 Israelis. This attack is one of the latest in the longstanding history of war and conflict over land and independence that has plagued the region. For decades, world leaders, scholars, and military experts have described the conflict between Palestine and Israel as a 'wicked problem' or impossible to solve.
The conflict dates to the late 19th and early 20th centuries, with the emergence of Zionism, a movement advocating for the establishment of a Jewish homeland in the historic land of what was then Palestine. Also in the early 20th century following World War 1, Palestine, among other former Ottoman territories, was placed under the administration of the United Kingdom, which expressed support for the establishment of a 'national homeland for the Jewish people.' This gave rise to increasing tensions between Jewish immigrants and Arab locals.
In 1947, shortly after the Second World War, the United Nations proposed a plan to divide Palestine, which Jewish leaders accepted, but Arab leaders rejected. The mandate was criticized for not noting the wants and needs of Palestinians, who had resided on the land for centuries and wanted independence.  Despite the rejection and criticism, Israel declared its independence in 1948, causing widespread adversity, triggering the Arab-Israeli War.
Throughout the decades, Israel has been involved in numerous conflicts with neighboring countries, resulting in significant territorial changes, which now consist of Israel, the West Bank, and Gaza Strip. Due to these territorial changes, Palestinians were forced to flee in large numbers.
In the late 20th century, efforts towards peace were made with the Oslo Accords, aimed at establishing a framework for Palestinian limited self-governance in parts of the West Bank and Gaza. Despite these efforts, achieving a lasting comprehensive peace has remained elusive, with many attempts faltering.
In the present day, the conflict persists, marked by ongoing challenges related to borders, settlements, security, self-governance, and the status of Jerusalem. Another contributing factor to the adversity stems from Israel's current Prime Minister. In December 2022, the far right and religious government was inaugurated, led by Benjamin Netanyahu.
Netanyahu has been criticized by Palestinians and Israelis alike, due to his far-right stance, and prioritization of the expansion and development of Israeli settlements in the occupied West Bank.
Netanyahu's administration marked a renewed level of violence with his forces escalating operations in Palestinian territory which many experts and intergovernmental institutions consider to be illegal under international law. Throughout the months, Israeli soldiers and Hamas militants have battled numerous times, which has often resulted in large-scale drone strikes in Gaza or the West Bank.
The recent attack by Hamas and Israel's retaliation marks the most significant escalation of the ongoing conflict in several decades. The events have launched renewed attention to the region's conflict prompting protests around the world.
ASIA-PACIFIC
A Glance at Philippines and the South China Sea
The South China Sea conflict between China and the Philippines is a complex issue intertwining territorial disputes, historical grievances, economic stakes, and strategic concerns. The tension has strained bilateral relations and has drawn global attention.
At the heart of the matter is the Scarborough Shoal, recognized as Panatag Shoal in the Philippines and Huangyan Island in China. This formation, situated approximately 124 nautical miles off Luzon's coast, falls within the Philippines' Exclusive Economic Zone (EEZ) as stipulated by the United Nations Convention on the Law of the Sea (UNCLOS). Nevertheless, China asserts historical rights based on ancient navigational records.
In recent times, tensions heightened in April 2012 when the Philippines accused Chinese fishermen of illegal poaching at the Scarborough Shoal, sparking a tense standoff. Diplomatic attempts to resolve the issue proved futile, and the situation escalated as China gained de facto control of the shoal, denying Filipino fishermen access to traditional fishing grounds.
In response, the Philippines initiated an international arbitration case against China, challenging the validity of China's expansive South China Sea claims under UNCLOS. The Permanent Court of Arbitration (PCA) in The Hague, Netherlands, ruled in favor of the Philippines in July 2016, invalidating China's "Nine-Dash Line" claim and clarifying the legal status of Scarborough Shoal. However, China rejected the ruling, refusing to accept or acknowledge its validity and continued to fortify its presence in the area.
The conflict strained Philippines-China relations, affecting trade, tourism, and investment. The Philippines sought support from its allies, especially the United States, to bolster its maritime claims and ensure freedom of navigation in the region.
Efforts to ease tensions and find a diplomatic resolution included bilateral dialogues and the establishment of mechanisms like the Bilateral Consultative Mechanism (BCM) for discussing maritime issues. Despite these efforts, fundamental differences in claims and China's continued presence in disputed areas have sustained a level of distrust and unease.
Throughout the month of October, the situation between the two nations remained tense, with the Philippines Coast Guard accusing China of placing a barrier over a contested stretch of the sea, which they claimed was a violation of international law. In addition to this, there have been cases of China chasing off ships from within the Philippine's exclusive economic zone.
The South China Sea dispute involving the Philippines remains a nuanced challenge, encompassing historical claims, legal interpretations of UNCLOS, economic interests, and broader geopolitical dynamics. As nations grapple with these intricacies coupled with China's aggressive actions in the region, the pursuit of a peaceful and mutually agreeable resolution remains paramount for regional stability and the overall prosperity of the countries involved.
SUB-SAHARAN AFRICA
The Sahel, A Region of Instability and Fragility
The Sahel region of West Africa has experienced significant upheaval due to military coups influenced by the Wagner mercenary group and the rising presence of Al-Qaeda and other Islamist factions. This unrest led to a geopolitical shift, wherein the Sahel nations of Burkina Faso, Niger, and Mali entered into a mutual defense agreement, committing to support each other against rebellions or outside threats.
This pact came after warnings from neighboring West African countries of potential intervention to reestablish civilian rule in Niger post the July coup. The major challenges facing the western Sahel region include both internal and external security threats, along with deteriorating diplomatic ties.
While tensions escalated in Niger recently, the ruling military junta welcomed Algeria's proposal for mediation, suggesting a six-month transition to a civilian-led constitutional governance. Protests against France's military presence in Niamey intensified tensions with France and the Economic Community of West African States (ECOWAS), who indicated possible military action in Niger if peace talks fail. Nevertheless, French President Emmanuel Macron declared the withdrawal of about 1,400 French troops, with the promise from the Niger Junta regime that it would be done in "complete safety."
The convoy of French troops are being escorted out of the country towards the direction of the country Chad. This marks an end to another French anti-jihadist campaign in Africa. The United States also labeled the July military action as a "coup d'état" and halted $500 million in economic support. While the U.S. retains around 1,000 military personnel in Niger, their active training and support role has ceased, focusing now on jihadist threat surveillance. The EU's and ECOWA'S position on the regime continue to remain unchanged and orders the immediate restoration of a constitutional order by handing over power back to President Bazoum, who has been under house arrest since July.
In Mali, the situation has deteriorated since the United Nations began its peacekeeping mission withdrawal in July. Countrywide conflicts have erupted, including Al-Qaeda-affiliated attacks in central Mali, renewed clashes between the national army and Tuareg rebels in the north, and continuous assaults by Islamic State-aligned insurgents in the east. This strife not only destabilizes Mali but also risks expanding throughout the Sahel region, prompting urgent international assistance appeals. Mali's junta has sought military support from Russian Wagner mercenaries, fueling speculations that neighboring juntas may also engage with them due to the escalating threats from Islamist insurgents.
EUROPE
Three Decades of Conflict Can Concave Quickly
 After over three decades of conflict the breakaway nation of Artsakh has fallen to Azerbaijani control, after a swift and shocking takeover there is still tension and risk. Looking back at the history of Artsakh, it was forged as an enclave in the larger contested region of Nagorno-Karabakh, though Armenians and those who identified with the nation of Artsakh would argue they are the same thing. The contested region has experienced conflict for over three decades. When the Soviet Union had control of, at the time, non-dependent Azerbaijan and Armenia, there was a full-scale war that included ethnic cleansing on both sides. In 1991, both Armenia and Azerbaijan became independent countries internationally recognized. In 1994, the enclave of Artsakh (Nagorno-Karabakh) was personally claimed by Armenia but not internationally recognized by the international community, particularly Azerbaijan.
On September 20, 2023, the enclave of Artsakh and its self-proclaimed capital Stepanakert was overcome by Azerbaijani or Azeri soldiers. The spark was Azerbaijan announcing its official claim to the breakaway region and announcing the start of a military operation. At first, the international community and much analysis considered this routine fair, but soon thousands were evacuating out of the enclave, and it was understood to be officially seized by Azerbaijan.
In addition to being a conflicted region for three decades, the area has also been under intense blockade by Azerbaijan troops since December 2022. This nearly yearlong blockade has been of varying intensity, with the single road leading to Artsakh having slight access, until the end of September.  Adding to the shock of the seizure, Russia had publicly supported the enclave for the duration of the conflict, attempting to create peace deals and ceasefires, particularly by protecting the single road linking Artsakh to Armenia. When Azerbaijani soldiers moved into the enclave under the newly official declaration of control, the Russian soldiers stood aside from the singular road and let Azerbaijan close the route which cut off food, fuel, and medicine to the region. Russia officially ordered their soldiers to remain partial when Azerbaijan officially moved in to defeat Artsakh's defenses and take official claim of the region.
Contrary to recent claims, the conflict in Artsakh is not over, with stories of mass murder and gender-based violence flooding social media as well as the thousands of people who have been forced to flee their homes to Armenia. Large-scale protests occurred nearly every night in Yerevan, Armenia for a week following the mass evacuation of Artsakh. Thousands of protesters congregated in the city's central square, demonstrators were particularly yelling about the lack of action from the Armenian Prime Minister Nikol Pashinya and chanting of "Long Live Artsakh". Though protests are dwindling tensions are so high that the threat of coordinated demonstrations remains heightened across Armenian and Azerbaijani-administered territories, largely motivated by the actions taken by their respective governments.
The information provided to you within this report has been compiled from a multitude of available sources and is based on current news and analysis at the time of writing. The security team at On Call International, LLC has provided this analysis, supporting advice and recommendations in good faith to assist you in mitigating risks that could arise. However, no implied or express warranty against risk, changes in circumstance, or other fluid and unforeseen events can be provided. By reading this report, you will agree that any reliance you place on this information is therefore strictly at your own risk and that you will not hold On Call International, LLC or the authors responsible for any inaccuracies, errors or oversights here-in. No part of this publication may be reproduced, stored in a retrieval system, or transmitted, in any form or by any means, electronic, mechanical, photocopying, or otherwise without the prior permission of On Call International, LLC.