On Call International's Monthly Risk Spotlight highlights events of heightened importance in assessing risk to travel and operations abroad.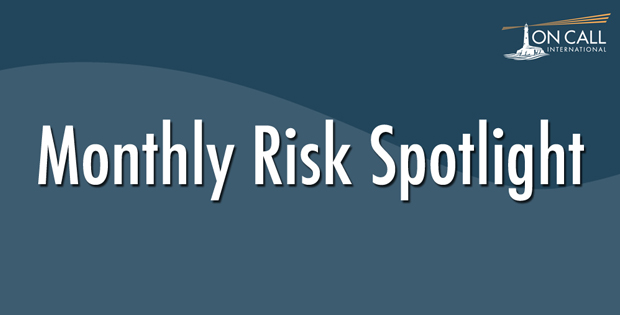 Americas
Brazil's Election Drama
On Sunday October 7th, Brazil held the first round of the country's presidential election. As the second round of the election looms on October 28th, the controversial right-wing candidate, Jair Bolsonaro, has emerged as a heavy favorite. Bolsonaro came away with approximately 46% of the vote during the first round, just short of the 50% needed for an outright victory. He was also well above the 29% second place finisher, Fernando Heddad.
In early September, Jair Bolsonaro was stabbed while being carried through crowds during a campaign rally. He was hospitalized for about a week and has since made a steady recovery. The assailant was determined to be mentally ill, and it is not believed this was an assassination attempt ordered from a higher authority.
Brazil is seeing similar political divides as the rest of the world, perhaps as a push back to the globalization of economies. Both left-wing and right-wing activist groups are growing in popularity and are developing an increasing presence on social media. This political polarization is likely a reflection of the Brazilian political process being stuck in neutral. Operation Car Wash, the widespread Brazilian corruption scandal, has engulfed much of the country's political system and has paralyzed the government's ability to drive policy change. The scandal, which sent former President Lula da Silva to jail and has current President Michel Temer tangled in allegations, has drained the Brazilian peoples' overall faith in their government. Jair Bolsonaro comes with controversial political opinions but has campaigned on a firm anti-corruption stance which is helping to drive his popularity.
Jair Bolsonaro has run on a campaign of law and order and has indicated he would like to involve Brazil's military further into clamping down on crime. Bolsonaro is a former army captain, and his running mate is a retired general; many feel his potential election could pull Brazil back toward the military dictatorship era that ended in the 1980s. Bolsonaro, as a projected leader, fits a pattern of "Strong-Men" type candidates elected across the globe over the last several years, such as Rodrigo Duterte in the Philippines. Bolsonaro, much like Rodrigo Duterte, has made many controversial remarks about the LGBTQ community. His previous remarks are causing concern for female and LGBTQ activist groups about what life under a Bolsonaro administration might be like. The international community will anxiously await the results from the second round of presidential elections to see who the next president of Brazil will be, and what effect it will have on the rest of South America.
Middle East
Egypt Attempts to Contain Terror Threat in Sinai Peninsula
In the first week of October 2018, Egyptian government sources reported they had killed 52 terrorists in a series of military operations. Egypt is locked in a brutal campaign against the Islamic State of Iraq and the Levant-Sinai Peninsula (ISIL-SP), a group responsible for killing hundreds of Egyptian military personnel and civilians, as well as the downing of Metrojet Flight 9268 in 2015, which killed 224 passengers and crew, most of them Russians.
A lawless region where local Bedouin communities had little opportunity to participate in the legitimate economy, Sinai has been used as a buffer between Egypt and Israel since the two nations signed a peace treaty in 1979. Long-standing grievances between locals and the central government in Cairo, a limited presence of Egyptian security forces (mandated by the treaty), historic Bedouin trade networks, and the embargo on neighboring Gaza, all fueled the growth of militant networks and powerful criminal syndicates in the region. The Arab Spring in 2011 created the security vacuum needed for these groups to strengthen, and hardline Islamist factions soon began coordinated attacks on both Egyptian and Israeli targets. The fighting intensified after the fall of Mohammed Morsi in 2013, when the new military government under President Abdel Fattah el-Sisi launched a full-scale offensive on the groups and they joined together to form ISIL-SP.
ISIL-SP has launched hundreds of attacks against security forces and civilians across Egypt. The group has benefitted from the support of disenfranchised elements of the local population, who have suffered from mass arrests, curfews, and forced evictions under el-Sisi's hand. Attacks targeting tourists, including the downing of Metrojet Flight 9268 in 2015, contributed to a decline in tourism in recent years. However, tourism, one of the primary drivers of the Egyptian economy and the largest source of foreign currency, is on the rise for the first time since 2011. This is thanks in part to government efforts to thwart terror attacks originating from the Sinai Peninsula.
Since February 2018, when Cairo began a major nationwide offensive against terror groups, ISIL-SP has been forced to adopt a reactive posture. Cairo has at least 35,000 troops deployed in security operations throughout Sinai and is cooperating closely with Israeli and Emirati forces in its field operations. The announcement on October 8th that Egyptian forces had killed 52 suspected militants brings the total number of reported ISIL-SP deaths since February to 509, according to a tally by Reuters. Continued pressure on the group will no doubt mitigate some of the risk of ISIL-SP mounting operations elsewhere in the country, including against tourists.
Moving forward, if Cairo tailors its counterinsurgency efforts and maintains momentum against the group, there is the possibility that the insurgency will no longer pose a threat to the entirety of Egypt and beyond. A few measures would facilitate this, including adequately equipping the infantry units it is deploying with modern body armor and mine-resistant vehicles, and targeting strikes to limit the number of civilian casualties. Dramatically improving the government's relationship with the local Bedouin communities, however, is paramount to any efforts to pacify the region. No lasting stability will develop in Sinai, and likely the rest of Egypt, unless the underlying rifts between the residents of Sinai and the government in Cairo are repaired.
Asia
Trade Wars Between China and the United States
The much-discussed trade wars between China and the United States, and their respective implementation, has translated to several negative impacts on varying global economies, including in the Asia-Pacific region. Some analysts have begun to speculate that the Chinese government may even turn the trade wars into a currency war by virtue of manipulating the Yuan to weaken against the U.S. dollar. In theory, this would render Chinese goods and prices more attractive than U.S. goods and, invariably, Chinese companies could become more competitive than U.S. companies that have been operating or manufacturing products in the region.
Accounting for the China-U.S. trade wars, the U.S. Federal Reserve policies and a strong dollar, increase in global crude prices, and the respective economic management of countries in the region, show a forecast of continued market decline in both stocks and currencies. India, for example, currently has the worst performing currency in Asia; the rupee recently plunged to an all-time low trading against the U.S. Dollar ($1 = Rs 74.27). A matter of ongoing elections, culminating in India's general elections by mid-2019, could be factoring into Prime Minister Narendra Modi's stance to step into the declining economic situation. India has been predicted to have the world's fastest economic growth rate amongst major economies in the world over the next two years, but external factors such as the trade wars could dampen the forecast.
Similar market and currency woes have also played out in other economies across the region, including the Philippines, Indonesia, Thailand, and Malaysia. Financial analysts have also speculated that if current economic trends continue, further hits to the markets and currency are anticipated. These current economic trends are likely to continue, especially with U.S. mid-term elections occurring next month. It's speculated that President Donald Trump will continue to use these trade wars and other policies against China and other countries as a show of his administration's strength. Such a posture could continue to negatively impact the balance sheets of countries in Asia and elsewhere.
Sub-Saharan Africa
Violence, Community Resistance, and Spread of Misinformation Threaten Ebola Response Efforts in the DRC
The World Health Organization warns that the risk of Ebola spreading from the Democratic Republic of Congo (DRC) to neighboring countries is now "very high" after the virus was reported in Butembo, a city of roughly one- million people with strong trade ties to Goma and Uganda, in mid-September. Violence, community resistance, and the spread of misinformation has significantly disrupted humanitarian efforts, allowing the Ebola virus to reemerge.
Approximately 120 rebel groups currently operate in the North Kivu province, the epicenter of the Ebola outbreak. Specifically, the city of Beni has suffered a string of violent attacks from the Allied Democratic Forces (ADF), an Islamist rebel group responsible for hundreds of civilian deaths over the past 4 years.
Insecurity in the region has since increased public frustration, distrust, and anger towards the DRC's government due to its inability to protect its citizens from both violence and the Ebola virus. Local politicians have exploited the combination of the rebel attacks and Ebola outbreak to blame the government and spread misinformation, increasing community resistance to treatment and outreach. The international community fears upcoming elections in December may lead to more violence, further destabilizing the region.
Europe/Central Asia
Independence Movements Gain Ground
Independence movements in Europe continue to gain traction and new ground amid recent political developments. Catalonia has become increasingly heated as the anniversary of the Catalan Independence crisis nears. The percentage of Catalans that favor independence has significantly increased over the past year in response to the manner in which the central Spanish government handled the previous call for independence. The violent response of the Spanish government convinced many otherwise neutral Catalans that independence could be a course worth considering. On Monday, October 8th, tens of thousands of Catalan protesters gathered in Barcelona, with factions of radical militants surrounding police stations and parliament, and elements in Girona breaking into a government building to install a Catalan flag. In addition, protesters have once again blocked major highways and train thoroughfares from Catalonia to neighboring areas of Spain.
Separatist tensions are also rising in Scotland and Northern Ireland following continued developments within Brexit negotiations. Scotland and Ireland voted by a majority to stay in the European Union (EU) due to the EU's status as a traditional guarantee of minority rights, and the EU's refusal to consider separatist states' membership applications. Now, the attitude of the EU could significantly change toward separatist movements within Britain, as EU officials might look more favorably towards separation if it means continued involvement in Europe.
Thousands of protestors marched in favor of independence in Scotland in the last weeks of September, with Britain firmly refusing to consider a second referendum. While many Scots identify British in outlook, the ability of Britain to navigate Brexit negotiations will be a key tipping point in holding off a further push for independence. The same thing can be said for Northern Ireland. Britain's ability to arrive at a deal about a continued soft border between the Irish Republic and Northern Ireland will be essential in preventing more radical movements from developing. Britain's continued inability to reach a satisfactory deal gives more impetus to radical movements and could fundamentally change the way the EU sees revolutionary movements.
Need help assessing the global risks affecting your travelers? Contact us today.