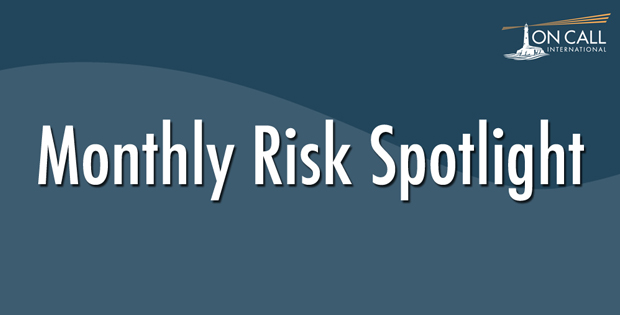 AMERICAS
Indigenous Groups Struggle to Cope With the Pandemic
Across the Americas, indigenous peoples are suffering disproportionately higher case counts and death counts from the current pandemic. In the United States, Native American reservations from the Dakotas to Mississippi have some of the highest recorded per-capita death rates in the country. The Navajo Nation, the country's largest reservation, has a death count higher than 13 states and a death rate higher than all 50 states. Poverty, multigenerational housing, and the prevalence of underlying health conditions like diabetes are believed to be some of the contributing factors.
Elsewhere in the Americas, indigenous communities are also grappling with the virus and its effects on their communities. In Peru, the Amazonian state of Loreto has some of the country's highest rates of infection and some have raised concerns that the virus' high toll on the elderly could threaten dozens of indigenous languages spoken primarily by elders. In Brazil, at least 205 indigenous "ancients," elders tasked with passing on sacred traditions ranging from language to songs, dances, and stories, have fallen victim to the virus. Finally, in Canada, First Nations communities in Manitoba, Ontario, and Montreal have reported outbreaks in the past few weeks.
As indigenous communities across the region struggle to battle against the virus, governments are being forced to confront a multitude of contributing socio-economic and political factors that are unique to indigenous peoples. In many countries across the Americas, indigenous communities suffer from high rates of unemployment, severely limited healthcare structures, and outside pressures from extractive industries such as loggers in Brazil and Peru and oil and gas developers in North America. Confronting the virus is the latest in a long line of pressures these communities must contend with.
MIDDLE EAST AND NORTH AFRICA
Turkey: Destabilizing Crises at Home and Abroad
Turkey is currently dealing with a series of both internal and external crises. Externally, the country is invested in a multitude of hostilities and conflicts, particularly in the greater Middle East. By assistance or direct involvement, Turkey has exacerbated conflicts in countries Syria and Libya. Beyond the battlefield, Turkey repeatedly clashes with Western nations on matters such as Turkey's relationship with Hamas leaders (listed as terrorists by many Western nations). At home, Turkey faces a currency crisis. The Turkish lira has lost 24% of its relative value this year and recently reached a new record low of 7.885 against the U.S. dollar. The continued devaluing of the lira is causing rapid increases in prices of imported goods, further shrinking Turkish citizens' purchasing power.
Though economic and political observers remain undecided regarding the extent to which international crises have played a role in Turkey's deteriorating economy and vice versa,  there is confidence that the fate of Turkey's foreign ventures and its domestic economy should grow increasingly more intertwined moving forward. An Erdogan administration, four years removed from a coup attempt could find aggressive and distracting foreign hostilities increasingly attractive should a suffering Turkish population show signs of unrest. Conversely, the delicate and unpredictable nature of Turkey's many foreign ventures could have significant unintended consequences for the domestic economy. For instance, Turkey stands largely isolated in its support for Azerbaijan, in the current Nagorno Karabakh conflict between Armenia and Azerbaijan, while a unified chorus of habitual Western allies, along with Russia, and even Iran are taking a neutral stand and calling for peace. Should Turkey further involve itself or even directly intervene in the conflict, there is a high likelihood it could face significant international sanctions, accelerating its economic collapse.
ASIA-PACIFIC
High-Profile Visits to Taiwan by United States Officials Vexes China
Two recent high-profile visits to Taiwan by US officials have been met with condemnation and military posturing by the Chinese government. These visits included the highest ranking American officials to visit Taiwan in decades when US Secretary of Health and Human Services, Alex Azar, and Under Secretary of State for Economic Growth, Energy, and the Environment, Keith Krach, conducted separate visits, in what is being recognized as an attempt by the US to strengthen ties with Taiwan. The Chinese responded by condemning the visits and deploying Chinese military aircraft into Taiwanese airspace. As Sino-American relations continue to deteriorate over a range of issues, the US could nonetheless continue working to strengthen ties with Taiwan in order to counter China.
Since Taiwan split from mainland China in 1949, China has never accepted Taiwan's status as a sovereign country. China has actively worked to diplomatically isolate Taiwan and has continued to maintain that Taiwan could be brought back under the control of the mainland via military means, if necessary. The US, for its part, does not technically recognize Taiwan as a sovereign nation; however, the US does recognize Taiwan as being autonomous and maintains a defensive pact with the Taiwanese. Additionally, the US has continued to move forward with a Taiwanese arms deal worth approximately seven billion dollars, much to the displeasure of China. While this deal does much to antagonize China and strengthen American-Taiwanese relations, it is largely seen as being a symbolic gesture as the Taiwanese military is generally accepted to be inferior to that of China.
As the US and China continue to spar over Hong Kong, the current pandemic, trade, Chinese expansion into the South China Sea, and a variety of other issues, it's probable that the US will continue to expand relations with Taiwan in the hopes of countering China's influence. If the visits to Taiwan by Azar and Krach are an indicator, China does not see high-profile American visits to Taiwan as crossing a 'redline'; thus, it stands to reason that any future visits could continue to be viewed by the Chinese as provocations by the US and  result in continued military posturing and rhetoric.
SUB-SAHARAN AFRICA
A Presidential Election Threatens Fragile Peace in Ivory Coast
Ivory Coast's presidential election is scheduled for 31 October 2020. Incumbent President Alassane Outtara having served two consecutive terms is in theory ineligible for a third, as per the limits of the Ivorian Constitution. Despite that, Outtara is among the four candidates the Ivory Coast Constitutional Court has ruled eligible to run in the country's presidential election. The decision was defended on the argument that the constitution was reformed in 2016, thus under this new constitution, Outtara has not served a single term. When the new constitution was drafted, Outtara emphasized that the new measures would guarantee more political stability for Ivory Coast. Events of the past couple of months point to the reverse.
Outtara's controversial third term announcement was met with widespread public outcry. His critics quickly called for protests, to block what they referred to as 'the Outtara dictatorship'. Protests broke out in August, in several cities, including Abidjan and Yamoussoukro. Police forces engaged the crowds with brutal force, alongside machete-wielding men. The violent clashes left at least a dozen people dead, and several injured.
Months earlier, the president had vowed he would not seek re-election and went on to endorse Prime Minister Amadou Gon Coulibaly for the presidency, who in an unexpected turn of events, succumbed to a heart attack in July. Outtara's decision to peacefully step down at the end of his tenure had received international praise, as the country has failed to partake in a peaceful transition of power in over two decades. In 2002, in the aftermath of a failed coup, Ivory Coast plunged into civil war. A few years later in 2010, disputed elections led to violent unrest, resulting in approximately 3,000 people killed. Ivory Coast's familiar past with post-election violence has many worried history may once again repeat itself. The violence witnessed in the past few months signals that if Outtara were to be declared the victor of the presidential race, there is a high possibility that election results could be violently contested.
EUROPE/CENTRAL ASIA
Renewed Clashes between Armenia and Azerbaijan Reignite a Decade-Old Conflict
In late September, the disputed territory of Nagorno-Karabakh became a battleground, as Armenian and Azerbaijani forces clashed over its control. Nagorno-Karabakh is officially part of Azerbaijan, but is home to a large ethnic Armenian population, which wishes to either reunite with Armenia or become independent. The ongoing fighting between the two nations, backed on one side by Turkey and Russia on the other, is the worst experienced since 1994.
Armenia and Azerbaijan fought a brutal war between 1988 and 1994. Although a ceasefire was brokered, peace was never achieved, as sporadic clashes repeatedly occurred. The scale of recent flare ups however marked a serious escalation, one necessitating global attention. The catalyst for renewed clashes is at this time unclear. On 27 September 2020, Armenian forces accused Azerbaijan of launching an attack on ethnic Armenians in Nagorno-Karabakh, an accusation Azerbaijan has denied. In response, Armenia shot down Azerbaijani helicopters and drones. Since then, the two nations have mobilized their troops and engaged in deadly clashes, with the use of heavy artillery. The fighting has to date resulted in over five hundred casualties.
Turkey, a loyal ally to Azerbaijan, is fully backing the nation. Russia, although inconspicuously supporting Armenia, has proven more prudent in approaching the conflict due to its relations with Azerbaijan. Moscow brokered a ceasefire on 10  October 2020 and opened peace talks. It took not little to no time for the terms of the agreement to be violated. Attacks launched by both parties continue to be reported and the death count rises daily. As this conflict persists and escalates, the risk of all-out-war increases. In addition, the involvement of Turkey and Russia creates the potential for a proxy war in Nagorno-Karabakh, much like what can currently be witnessed in Syria. Since 2012, Russia and Turkey have engaged in aggressive confrontations in Syria, which has only served to exacerbate the ongoing Syrian war.
For over 25 years, On Call International has provided fully-customized travel risk management and global assistance services protecting millions of travelers, their families, and their organizations. Contact us today and watch our video to learn more. You can also stay in touch with On Call's in-house risk management, travel health and security experts by signing up for our quarterly Travel Risk Management (TRM) newsletter.
The information provided to you within this report has been compiled from a multitude of available sources and is based on current news and analysis at the time of writing. The security team at On Call International, LLC has provided this analysis, supporting advice and recommendations in good faith to assist you in mitigating risks that could arise. However, no implied or express warranty against risk, changes in circumstance, or other fluid and unforeseen events can be provided. By reading this report, you will agree that any reliance you place on this information is therefore strictly at your own risk and that you will not hold On Call International, LLC or the authors responsible for any inaccuracies, errors or oversights here-in. No part of this publication may be reproduced, stored in a retrieval system, or transmitted, in any form or by any means, electronic, mechanical, photocopying, or otherwise without the prior permission of On Call International, LLC.