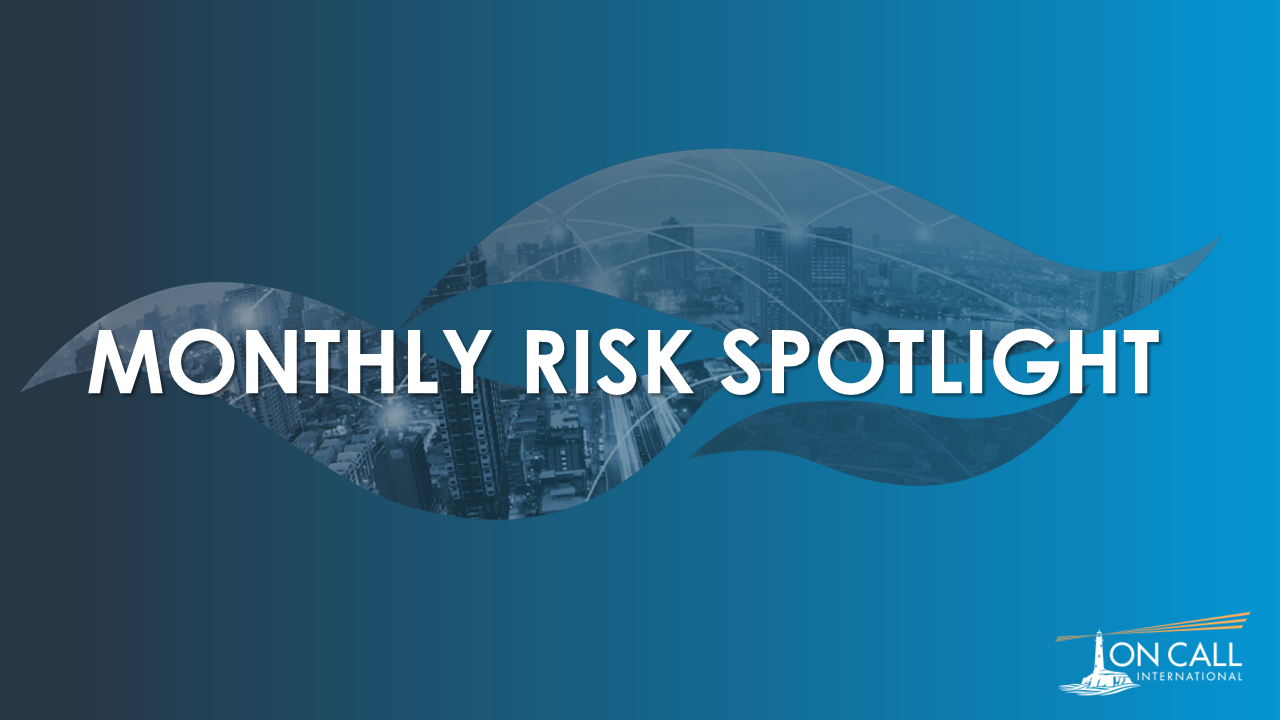 AMERICAS
Targeted Killings in Antigua
Guatemala's city of Antigua is experiencing an apparent spike in violent crime after six people were killed in three separate incidents over the span of thirteen days in late September. While as of mid-October no further killings have been reported, the September spike represents a significant increase in violent crime for the tourist hotspot that traditionally sees much less violent crime (both in real terms and per capita) than its larger neighbor Guatemala City.
There have been three notable incidents, all of which saw victims targeted in vehicles while driving in Antigua. The first on Tuesday, September 13 saw a man, woman, and child killed after two suspects on a motorcycle opened fire on them near San Sebastián Park. Two suspects were apprehended directly following the shooting and authorities have since confirmed they believe them to be the perpetrators. What affiliation or motivation they had remains unknown. The second incident on Thursday, September 22 saw two women killed when unknown shooters opened fire on a car carrying the two victims and a young girl (unharmed) on Calzada Santa Lucia. Finally, on Monday, September 26 a man was shot and killed in the San Pedro Las Huertas area south of Antigua.
Together, this represents six people killed in three separate incidents in the Antigua area over 13 days. The incidents have been spread out and not concentrated in a particular part of the city. Given historically low levels of violent crime in Antigua, it is difficult to conclude these three incidents are unrelated. Some in the community have taken notice with a poster going up at City Hall highlighting the recent attacks and declaring the city a narco Ffinca (drug farm). Authorities have shared no details so far on whether organized crime groups were behind them. The attacks do all appear targeted in nature and have so far not impacted unrelated bystanders, however, an increase in shootings inevitably means an increase in the risk of collateral damage. This is particularly true for shootings carried out in the city center like the September 22 incident.
What drove this surge in violence, and why it has appeared to subside since late September, remains unknown. At the national level, violence between a broad array of organized crime groups for turf and illicit markets is constant. The two most powerful gangs nationally are Mara Salvatrucha (MS-13) and Barrio 18, both of whom regularly employ targeted killings against opposing gang members in a long-running international conflict. While it remains to be seen what drove the Antigua violence, this conflict remains very active 25 miles to the south in Escuintla where at least 7 people were killed in a shootout at a hotel on October 5. While no suspects were captured, the 4 gunmen witnessed leaving the scene are believed to be affiliated with MS-13 while police have indicated at least some of the victims were affiliated with Barrio 18.
MIDDLE EAST AND NORTH AFRICA
Western Sahara and Tensions in the Maghreb
Western Sahara has long been a disputed territory, for close to 46 years. Located in northwest Africa, Western Sahara was formerly a Spanish colony. In 1975 Spain withdrew from the territory after signing the Madrid accords with Mauritania and Morocco. The United Nations made clear that it did not recognize the Madrid Accords and said colonizing powers cannot hand over power of one country to another. The territory was then invaded and occupied by Mauritanian and Moroccan troops resulting in the violation of the 1975 International Court of Justice (ICJ) declaration as neither country had territorial sovereignty over Western Sahara.
The United Nations recognized the Polisario Front, a rebel Sahrawi nationalist liberation movement, as the only legitimate representative of the Sahrawi people in 1976. The group then announced the creation of the Sahrawi Arab Democratic Republic (SADR) as an independent state. Three years later the Polisario Front and Mauritania signed a peace treaty resulting in the country's withdrawal from Western Sahara. Immediately upon the withdrawal, Morocco annexed the portion of the territory once held by Mauritania and built a heavily mined and patrolled land barrier to prevent attacks on its occupied areas of the territory. An UN-brokered truce was declared between Morocco and the Polisario Front in 1991 and the United Nations Mission for the Referendum in Western Sahara (MINURSO) was tasked with organizing and conducting a referendum on the status of the territory, but it has yet to make any progress. Morocco currently exerts control over more than two-thirds of Western Sahara while the SADR is recognized by many governments and is a full member of the African Union.
While the conflict has reached stagnation over the last few decades, renewed diplomatic tensions among the Maghreb countries over the situation have the potential to worsen. In 2020, Polisario Front declared an end to a three-decade-long ceasefire after Moroccan forces crossed a buffer zone to remove Sahrawi protesters who were blocking the main thoroughfare connecting Morocco and Mauritania that passes through Western Sahara.
The Tunisian president welcomed the leader of the Polisario Font in August which resulted in Morocco withdrawing its ambassador from Tunisia in a diplomatic spat. In return, Tunisia recalled its ambassador from Morocco. Tensions between Morocco and neighboring Algeria over Western Sahara have been high for years as Algeria has supported the Polisario Front for decades. The most recent escalation between the two in 2021 led to the closure of airspace, land borders, recalling of ambassadors, and a halt to Algerian energy exports to Morocco.
As diplomatic tensions simmer, the region has been facing additional risks to stability. Morocco, Tunisia, and Algeria have been suffering from environmental disasters and financial crises in recent years. Algeria and Morocco suffered from historic wildfires this year, killing dozens, and destroying thousands of acres. Tunisia is facing a dire economic situation. Food shortages, in part due to the war In Ukraine, coupled with other risks threaten the stability and the popularity of the governments currently in power. While the threat of armed conflict in the Maghreb remains unlikely, the diplomatic crisis among these countries is likely to continue in the near future.
ASIA-PACIFIC
Russia Struggles to Mediate for Peace in Central Asia
In April 2021, violence broke out in Central Asia at a disputed section of the border between Kyrgyzstan and Tajikistan, lasting three days. The clashes reportedly began due to a dispute over shared resources. Civilians from both sides began fighting with rocks and clubs, prompting border troops to intervene as well. The April conflict resulted in almost 50 civilians dead and over 10,000 villagers evacuated. Sporadic clashes between the two nations continued throughout the year and escalated in 2022.
In mid-September, 'intense battles' were reported at the border region of the landlocked nations. Both countries have accused each other of restarting conflict in the area, despite a previous ceasefire agreement. Violent military clashes at the border resulted in at least 100 people dead and over one-hundred thousand residents evacuated from villages near the border, prompting Russian President Vladimir Putin to intervene.
Putin held telephone calls with both Kyrgyzstan and Tajikistan's presidents in an effort to de-escalate the situation. Both nations have since signed and maintained another peace agreement, but many are concerned about how long this new agreement will hold.
There has been a long history of tension between these two nations, which increased after the fall of the Soviet Union in 1991. During the period of Soviet rule, the two nations shared pasture resources, which were managed by the Soviet Union. When Kyrgyzstan and Tajikistan became independent states, disagreement erupted over the management of pastures in the border region. While the two countries share over 900 kilometers of border territory, only 505 kilometers have been demarcated. The issue of demarcation and delimitation of the border territories has been ongoing for more than two decades. Many bilateral meetings were held between the two country's state commissions to resolve the issue, however, despite continuous collaboration, the commission could not come to an agreement.
Since authorities have not reached a resolution, the disputed territories are considered neutral and will remain as such until a mutual decision has been made. The conflict between the two nations also reveals the limitations of Russia's regional security capabilities in the region. Both Tajikistan and Kyrgyzstan have thousands of migrant labor workers in Russia and are members of the of the Russian-led Collective Security Treaty Organization (CSTO). Despite Russia's strong economic influence, the CSTO chose not to intervene in the conflict.
Future conflict prevention and resolution in Central Asia may depend on the involvement of Western partners such as the United States or the European Union. While Russia opposes any expanded Western presence in the region, it continues to fall short when finding solutions to bring about peace in Central Asia.
SUB-SAHARAN AFRICA
Burkina Faso's Second Coup of the Year
On October 2, 2022, President Colonel Paul Henri Sandaogo Damiba formally resigned and left for Togo after being ousted from office on September 30, 2022, in the second coup this year. On September 30, people in Ouagadougou woke to heavy gunfire, soldiers blocking administration buildings and the television broadcasting agency, and lining the presidential palace. The army staged a coup against Damiba, and by that evening, Captain Ibrahim Traore became the new military leader for Burkina Faso. Damiba formally resigned on October 2 after coming to an agreement that included ensuring the personal safety of Damiba and his family and respecting the agreement that Burkina Faso return to civilian rule within two years.
The first speech by Traore and the other military members explained the army's frustration with Damibas' unwillingness to consider recommended changes to improve the security situation throughout the country. President Damiba took office on January 24, 2022, after staging a coup against the previous president. People initially supported the coup as Damiba aimed to secure the country after years of Islamic terror attacks and insecurity. However, eight months later, insecurity in Burkina Faso had not improved, and discontent with Damiba and the rising instability was at an all-time high. Traore stated the military was "motivated to take action with the desire to protect the security and integrity of our country" and told people to conduct their business peacefully. As of September 30, Burkina Faso's borders closed, but two days later the borders reopened. Traore said the constitution was suspended and the government was dissolved. The speech and actions taken were similar to the events that unfolded during the January 24 coup when Col. Damiba took over. During the speech, Traore stated that the selection of a new president, civilian or military, will take place in the future.
The first day after the military coup on September 30, led by gunfire and protests outside the French Embassy in Burkina Faso after Ibrahim Traore, the self-declared leader, accused President Damiba of staging a counteroffensive at the French military base. France denied ever hosting President Damiba there after the coup. The army chief of staff for Burkina Faso stated that it was an 'internal crisis within the National Armed Forces and asked for continued talks. President Damiba wrote on the Facebook page urging Capitan Ibrahim Traore not to start a war that Burkina Faso does not need. However, the claim of a counteroffensive was false, and a state of calm resumed on Sunday after Damiba formally resigned.
EUROPE
Russian Mobilization
The Russian war effort drastically increased in September when Russian President Vladimir Putin announced a mobilization, often referred to as a draft in western countries, for roughly 300,000 reservists to the military to be bused to Ukraine to fight. Since then, reports and public dialogue have surfaced eluding to a much higher number than 300,000 and men between the ages of 18-65 who have no military affiliation receiving deployment letters and being sent to the frontlines in Ukraine.
As soon as the mobilization was announced there was a rush of Russian citizens, mostly men who would likely be deployed, to leave the country. Flights were quickly booked up and prices reached the thousands to travel to countries as close as Kazakhstan and Turkey. People were fleeing with their families, or alone, and often with just a small backpack. Many spoke with reporters, though keeping their identity a secret, and commented on their refusal to fight an unjust war. Finland, Poland, and the Baltic States all enacted bans against Russians entering their countries, although this had begun prior to the mobilization but was amplified soon after the announcement.
Also, in reaction to the mobilization order, protests erupted in dozens of cities nationwide with videos released of protesters clashing with police turning violent. Over 2,000 people have been detained for protesting due to unauthorized rallies being declared illegal under anti-protest laws. There is an extremely high risk of arbitrary detention in Russia, increasingly so as tensions rise between Russia and much of the world, especially the United States. Travelers are advised to avoid all protests or demonstrations and to exclude themselves from any situation that could escalate, such as political or social debates.
Ukrainian President Zelensky's initial reaction to the mobilization order was directed towards Russian citizens by saying "It is better to surrender to Ukrainian captivity than to be killed by the strikes of our weapons, absolutely fair strikes, as Ukraine defends itself in this war." President Zelensky then promised that any Russian soldier who surrendered to Ukrainian forces would be treated humanely and that the circumstances of such surrenders would not be revealed to the Russian side.
Russian Recruitment officers have been experiencing harassment and physical attacks. There have been at least 17 attacks on military recruitment centers and administrative buildings since the mobilization began, several of them causing major fires. A draft officer was shot in Russia's Siberia on September 26th by Ruslan Zinin a young Russian man whose, a local news source reported, a close friend had received a draft summons despite having never served in the army. This incident occurred soon after the Russian Defense Minister, Sergei Shoigu, had announced only those who had military experience would be drafted. Reports confirm this claim is false. Russian citizens are understandably upset and though propaganda is still flooding Russia the growth of a resistance to the war effort could influence the Kremlin's plans.
For over 25 years, On Call International has provided fully-customized travel risk management and global assistance services protecting millions of travelers, their families, and their organizations. Contact us today to learn more. You can also stay in touch with On Call's in-house risk management, travel health and security experts by signing up for our quarterly Travel Risk Management (TRM) newsletter.
The information provided to you within this report has been compiled from a multitude of available sources and is based on current news and analysis at the time of writing. The security team at On Call International, LLC has provided this analysis, supporting advice, and recommendations in good faith to assist you in mitigating risks that could arise. However, no implied or express warranty against risk, changes in circumstance, or other fluid and unforeseen events can be provided. By reading this report, you will agree that any reliance you place on this information is therefore strictly at your own risk and that you will not hold On Call International, LLC or the authors responsible for any inaccuracies, errors or oversights here-in. No part of this publication may be reproduced, stored in a retrieval system, or transmitted, in any form or by any means, electronic, mechanical, photocopying, or otherwise without the prior permission of On Call International, LLC.