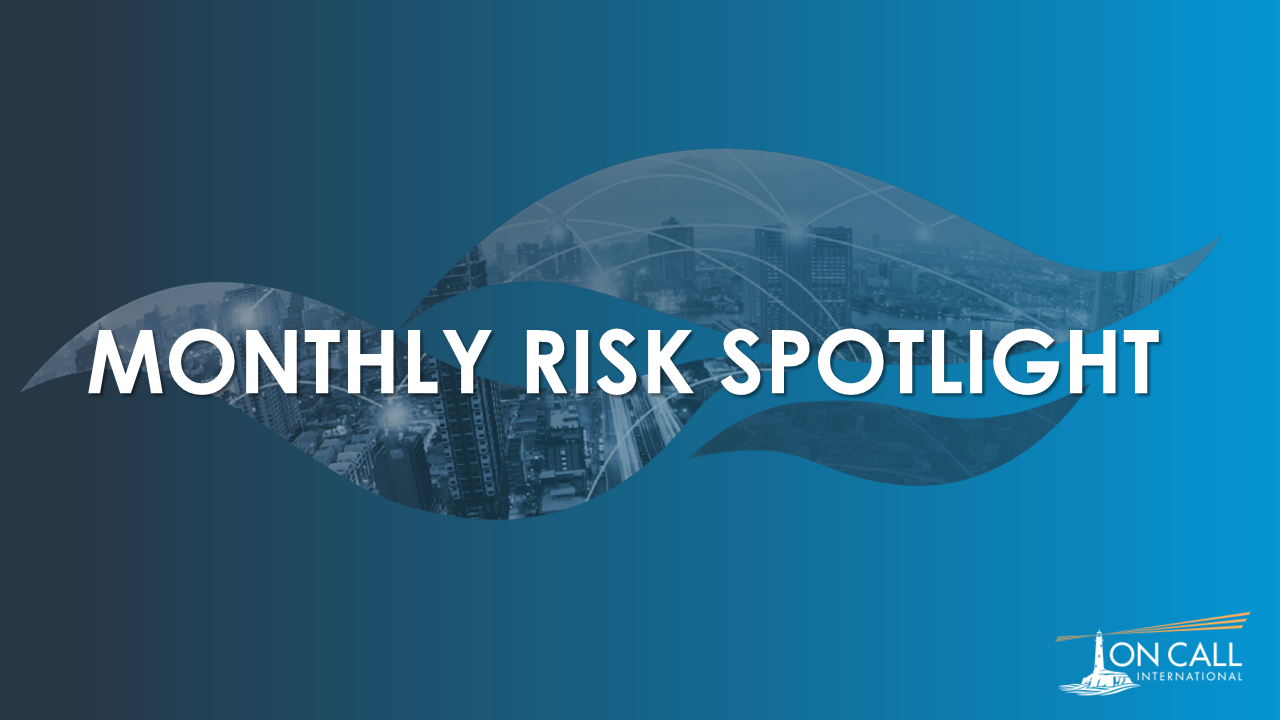 AMERICAS
Protests Return to Panama as Government Proposed Social Security Reforms
Protesters were once again in the streets in Panama as negotiations continued between the government and protest leaders regarding potential reforms to the Caja de Seguro Social (Social Security Fund), also known as the CSS. The CSS is responsible for managing insurance programs for pensions, health, unemployment, and workplace injuries. Contributions are made to the fund by both employers and employees, and adjustment of the CSS is an intensely sensitive subject. As global economic trends continue to make life difficult for people and governments around the world, policymakers in Panama have been reporting funding issues related to the CSS, particularly to a sub-program called the Programa de Invalidez, Vejez, y Muerte. In response to these issues, policymakers had proposed adjustments to the CSS to increase worker contributions into the fund as well as an increase in the age after which Panamanians would be eligible for retirement benefits.
This was immediately unpopular, and protesters returned to the street with even more organization than the protests over the Summer. Through much of the summer, protesters against increased cost of living participated in massive protests in Panama City and across the country. These protests included large public sector strikes, the barricading of major roads, and consequent agricultural goods shortages in Panama City. The Summer protests were spurred by inflation which reached a peak 5.19% in June, the highest annual rate since 2012. This spike in inflation, driven by high global food and fuel prices, saw demonstrators organize across industries and classes to demand the government address the rapidly rising cost of living. In response, the government subsidized the price of gasoline and in late July, announced it would be also subsidizing the price of 72 basic food items.
While negotiations have remained ongoing, these price fixing measures along with a lowering inflation rate (now 1.9%) led to an end of the most disruptive demonstrations on national highways and in the capital. But the proposed reforms to the CSS put that peace at risk again. Negotiations mediated by the Catholic Church are ongoing between protest groups and the government, but the same global economic pressures which have raised the fuel and food prices for ordinary Panamanians are also straining programs like the CSS and government budgets overall. While Panama's public debt to GDP ratio is in decline since 2021, it is still higher than at any point since the early 2000s. Given this context and the new expenses already incurred by the government to subsidize food and fuel this Summer, the government may see no option but to push through tough reforms like those proposed for the CSS. Should that be the case and no compromise be reached, additional large-scale cost of living protests could occur.
MIDDLE EAST AND NORTH AFRICA
Attack on American Aid Worker in Baghdad Linked to Iranian-backed Faction
On November 7, 2022, a United States citizen working for an international aid organization was shot dead in Baghdad. Although rockets are sometimes fired towards the U.S. Embassy in Baghdad, attacks targeting foreign civilian personnel in Iraq have been rare in recent years. Reports suggest the attack occurred after the man was cut off by one vehicle while driving in the streets in the district of Karrada while another vehicle pulled up alongside. Iraqi police, along with eyewitnesses, believe the armed men were attempting to kidnap the American. The man's wife and child were in the car at the time of the attack but were uninjured.
Iran-linked militia pages on Telegram were the first to begin reporting on the attack, with some celebrating the death of an American. Less than 24 hours after the attack, a Shia armed faction called Ahl al-Khahf claimed responsibility. Ahl al-Khahf has close ties to Asaib Ahl al-Muhandis, an Iran-backed Shia faction. It is one of the most powerful armed factions in Iraq. Ahl al-Khahf's motive was reportedly in response to the U.S. assassination of both Iranian General Qasem Soleimani and the Popular Mobilization Forces commander Abu Mahda al-Muhandis back in January 2020. This incident comes after Iran vowed to retaliate against U.S. support for Iranian protesters following the death of Mahsa Amini. Following the assassination of Soleimani, Iran's Supreme Leader Ayatollah Khamenei vowed to end the American presence in the region. Iraq's state news agency (INA) says the country's armed forces' commander-in-chief gave an order to form an investigative committee to investigate the murder of the American.
Attacks targeting foreign civilian personnel in Iraq were more frequent prior to the 2017 defeat of ISIS and in the years following the 2003 U.S.-led invasion. In 2004, two Americans in Baghdad were kidnapped and later beheaded by extremists. Members of the Iraqi insurgency began taking foreign hostages in the country in April 2004. The number of foreigners kidnapped in the few years following 2003 is believed to be more than 200.
There has been a small number of deaths of foreign military members and defense contractors in recent years. In March 2020, two American soldiers and one British soldier were killed in a rocket attack in Baghdad shortly after Soleimani's assassination. In March 2021, a U.S. civilian contractor died of a heart attack while sheltering in place from a rocket attack on an Iraqi military base hosting troops from the U.S.-led coalition fighting ISIS.
This attack is predicted to increase concerns over future threats made by Iran-backed groups against foreign personnel and businesses. It is likely Asaib Ahl al-Muhandis had some degree of involvement in the attack. This attack plays into Iran's tactics engaging in retaliatory attacks through proxies in Iraq. Iran backed factions and militias are likely to conduct further attacks on foreign personnel and assets in Iraq in the medium term.
ASIA-PACIFIC
China's President Xi Jinping Re-elected
China's parliament has unanimously re-elected Xi Jinping as the country's president for another five years. This election paves the way for his historic third term as Chinese president. Xi was also reappointed as head of China's Central Military Commission. Following the election, China's Communist Party voted to amend the constitution and remove presidential term limits, meaning the president can serve indefinitely, further cementing his grip on power.
Since coming into power in 2012, Xi has consolidated his original power by eliminating term limits in 2018. Before these changes, the president would've had to step down as leader after his second term, but now he has the potential to rule the country indefinitely. Additionally, he increased censorship in the country and quickly stifled any form of dissent on all levels. Xi has increased and modernized China's military and naval buildup and pledges to exert the nation's power abroad. Many CCP supporters regard Xi as the party's strongest leader since Mao Zedong, who ruled for 27 years.
Xi Jinping has three major foreign policy goals; to make China the uncontested Asian power; to establish China as a superpower equal to the United States; and to expand the nation's economic and political power to be able to challenge the world order. His strive for power is what drives all of his foreign policy initiatives such as the Belt and Road Initiative, the various threats against Taiwan, and the severe clampdown of Hong Kong.
The Chinese president's indefinite power, influence, and actions are foreseen to have a great impact on the rest of the world. Under Xi's rule, Beijing has ramped up military pressure on Taiwan, sending more warplanes and conducting an increasing number of military drills near the island. The president has also outlined an ambition for the nation to become more proficient at deploying military forces on a regular basis. Now with China's support for Russia's invasion of Ukraine, concerns have grown over its plans for Taiwan.
China and the US have always been locked in a superpower rivalry, with China challenging US' involvement in Southeast Asia and the Pacific. Many worry that China's ascent to power could set the stage for confrontation with the United States and challenging the international order. Despite China's rising influence, the government backed zero-COVID policy has kept the country isolated, dragging down its economic growth. Xi's main objective of furthering China's international standing and influence may be unattainable as the threat of economic recession looms over the nation.
SUB-SAHARAN AFRICA
Ethiopian Government and Tigray Forces Sign Truce
On November 4, 2022, Tigray Forces and Ethiopia's government signed an agreement to permanently stop all fighting in the conflict-ridden country. Ethiopia is the second most populous country in Africa and the conflict has displaced millions of people over the last two years. The agreement was signed after 10 days of peace talks in South Africa that were being organized by the African Union. The agreement was signed by Getachew Reda, a senior leader in the Tigray People's Liberation Front, and Redwan Hussien, a national security advisor for Ethiopia. The agreement outlined plans of disarmament with intentions of disarming Tigray forces' light weapons within 30 days. The agreement also states that Ethiopian security forces will take control of federal facilities and major infrastructure throughout the Tigray region. Additionally, per the agreement, all humanitarian aid will be allowed access into the Tigray region and the Ethiopian government will begin working on restoring services to the region. Over 5 million people have had little if any communication, transport, and banking connections since the war began. The removal of the Tigray forces as a terrorist organization is also within the draft agreement. While aid and other services are planned to resume, it was not specified in the agreement when or if independent journalists and human rights researchers are permitted to access the Tigray region or when humanitarian aid shipments will begin.
The conflict between Tigray forces and the Ethiopian government began on November 3, 2020. The conflict between the two groups developed after the Ethiopian government claimed that Tigray forces had attacked several military bases in the area. While relations between Prime Minister Abiy Ahmed's government and Tigray forces had been tense leading up to the start of the conflict, the attack of the military bases was likely the catalyst for the conflict that has plagued Ethiopia the last two years.
In August, fighting resumed after months of calm due to a cease fire that had been in place. The pause in fighting allowed much needed humanitarian aid into the Tigray region. During most of the conflict, humanitarian aid to the Tigray region was extremely limited. Over the last two years millions of people have been displaced, hundreds of thousands killed, and vital medicine and other treatments have been running out in the Tigray region. Health workers had reported that upwards of 101 civilians had been killed by drone strikes and 265 people had been injured from September 27 to October 10. The United Nations Human Rights investigators claimed that the Ethiopian government was using starvation as a 'weapon of war.' Not only have millions been displaced by the conflict, but hundreds of thousands of civilians were also subject to starvation as shipments of food and other necessary items were frequently blocked.
The agreement signed is a vital step towards regaining peace and stability throughout Ethiopia and ensuring the civilians in the country gain access to critical humanitarian aid. However, the cooperation between the Tigray forces and Ethiopian government has only just begun; more progress will likely need to be made to keep the promises within the current peace agreement and to formalize a more permanent peace agreement. Additionally, the role Eritrea has played working with the Ethiopian government has yet to be discussed. While the majority see the new agreement as a great step forward in creating peace in Ethiopia, concerns have been raised over the possibility of internal and external groups not fully adhering to the agreement and quickly turning the country back towards war.
EUROPE
Growing Energy Crisis in Europe
Europe is facing a growing energy crisis; the majority is due to the Russian invasion of Ukraine and Europe's shut off of Russian gas and oil. The shut off has shown Europe's over-reliance on Russian resources, which has led to increased prices, inflation, and left many European countries restricting energy use. The energy crisis is not only restricting and causing limitations across the continent, but it is also inciting protests, increasing the risk of civil unrest throughout Europe.
Individual nations within Europe are creating different restrictions in attempts to conserve energy. In France, the public is being encouraged into 'new energy consumption behaviors' such as opting to use the stairs instead of an elevator and avoiding the use of printers and limiting the use of electrical appliances. Office buildings have been asked to avoid heating spaces to above 19 degrees Celsius (66 degrees Fahrenheit). Streetlights and signage will need to be dialed down, on for shorter periods, and when possible, turned off completely between the hours of 1am-6am. This is a factor that could potentially increase the risk of crime at night and specifically if lights are turned off completely.
In Spain, the government has made a decree that the temperature in all public buildings can be set no higher than 19 degrees Celsius (66 degrees Fahrenheit), this does not apply to households, but residents have been extremely encouraged to do so and likely to as the price of heating increases. These are two examples of implications on governmental levels affecting individual nations, though nearly every country in Europe is creating introducing them.
Public opinion to the growing energy crisis is negative, the mass number of people this is affecting across Europe causes a large increase of the risk of civil unrest. Not only in public protests of citizens demanding change and assistance, but in climate activist protests from individuals and environmentalist organizations. Large scale protests have occurred regarding the energy crisis in cities such as Paris, London, Berlin, Brussels, Prague and many more. The dialogue of most of the protests is asking the government to support residents during the inflation period but some have veered towards addressing the Russian invasion of Ukraine and its relative effect on the crisis. Notably in Dresden, Germany thousands of people gathered to protest the European Union's sanctions on Russia as many of them stating that they 'do not want to starve of freeze to death for the Ukrainian President's War'.
As winter fast approaches the energy crisis is expected to increase, alongside energy limitations throughout major cities and countries across Europe. The risk of protests rises alongside the energy crisis and travelers are advised avoid all protests or demonstrations as there is a risk of escalation.
For over 25 years, On Call International has provided fully-customized travel risk management and global assistance services protecting millions of travelers, their families, and their organizations. Contact us today to learn more. You can also stay in touch with On Call's in-house risk management, travel health and security experts by signing up for our quarterly Travel Risk Management (TRM) newsletter.
The information provided to you within this report has been compiled from a multitude of available sources and is based on current news and analysis at the time of writing. The security team at On Call International, LLC has provided this analysis, supporting advice, and recommendations in good faith to assist you in mitigating risks that could arise. However, no implied or express warranty against risk, changes in circumstance, or other fluid and unforeseen events can be provided. By reading this report, you will agree that any reliance you place on this information is therefore strictly at your own risk and that you will not hold On Call International, LLC or the authors responsible for any inaccuracies, errors or oversights here-in. No part of this publication may be reproduced, stored in a retrieval system, or transmitted, in any form or by any means, electronic, mechanical, photocopying, or otherwise without the prior permission of On Call International, LLC.