Author: On Call International's Global Security Team
On Call International's Monthly Risk Spotlight highlights events of heightened importance in assessing risk to travel and operations abroad.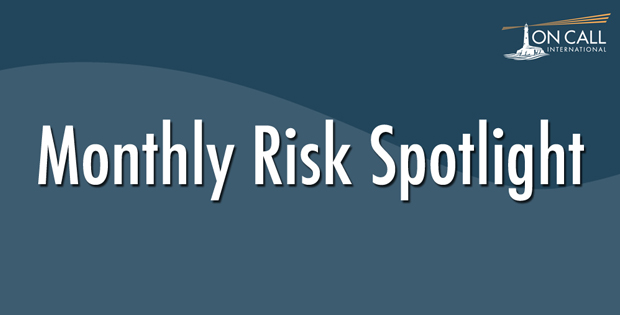 Americas
The Oderbrecht Scandal Continues to Entangle Peru
As time passes, the 2014 Brazilian corruption scandal, originally known as Operation Car Wash or the Oderbrecht Scandal, has continued to unravel throughout Latin America. This exposes just how deep Oderbrecht has illegally entrenched its way into the Latin American political scene. Aside from Brazil, no country has experienced as much turmoil from the scandal as Peru. Most notably, former President Pablo Kuczynski resigned in March over ties to alleged vote-buying and Oderbrecht-connected corruption allegations.
On 31 October political mainstay and two-time Presidential candidate Keiko Fujimori was ordered back to jail over corruption allegations related to the Oderbrecht Scandal. Fujimori was deemed a flight risk by the judge and, consequently, the judge proposed that Fujimori remain in custody for at least three years while prosecutors investigate whether she ran an alleged "de-facto criminal organization" within her political party. Although the initial allegations against Fujimori involved a $1.2 million bribe from Oderbrecht, the allegations have now shifted to controlling a criminal network intertwined with both the political and justice systems of Peru. Fujimori was directly connected to a series of allegedly corrupt prosecutors and judges, and leaked telegram chats show a coordinated effort on the part of Fujimori's inner circle to intimidate the prosecutor investigating Fujimori.
On 19 October, Spanish authorities Supreme Court Judge Cesar Hinostroza was captured in Madrid. Hinostroza was a fugitive on the run, having escaped Peru while under investigation for his connection to the same corrupt network of judges and prosecutors as Keiko Fujimori. President Martin Vizcarra made rooting out corruption a priority of his administration, and although he has made great strides, the Peruvian people now see just how deep the problem is. These continued developments are sure to upset the country's political applecart over the next year and will likely, at times, spark a boisterous response from the Peruvian people.
Middle East and North Africa
U.S. Support Wavering for the Saudi-Led Coalition in Yemen
The killing of Saudi dissident journalist Jamal Khashoggi in October prompted renewed global interest in the Saudi-led coalition's disastrous campaign in Yemen. In public statements and through its continued provision of support to the Saudi-led war effort, the Trump Administration has, until now, signaled little desire to discuss an end to the more than three-year-long war. On 30 October, U.S. Defense Secretary James Mattis and Secretary of State Michael Pompeo publicly announced they were requesting that the Saudi government, its allies, and the Houthi rebels agree to a ceasefire within 30 days.
This call arrives at a dire moment for Yemen. The United Nations has declared that some 14 million Yemenis will soon be at risk of starvation, which would amount to the worst famine in the last century. Tens of thousands more have been afflicted by a massive cholera epidemic, which has killed at least 2,000 people. Estimates from the number of deaths resulting directly from the fighting range from 10,000 to 60,000, but outside experts unanimously agree that the vast majority of war casualties have been civilians. The country has been fractured politically, with different areas controlled by the Houthi forces, Yemeni army units aligned with Saudi Arabia, Emirati-backed militias, and networks of Al Qaeda militants. Tribal and familial divisions run deep and compound the political fracturing.
Both sides – Saudi Arabia and its allies, and the Houthis – share a lack of willingness to agree to, or even discuss, a truce. As the battle lines become increasingly stagnant, the belligerents have little interest in taking the initiative to halt firing. The Houthis routinely target Saudi Arabia and the United Arab Emirates with missile strikes and launch frequent cross-border raids into Saudi territory. In September, Houthi leaders refused to participate in peace negotiations in Europe after the coalition declined to allow wounded Houthi fighters to seek treatment in Europe. The coalition has enforced a near-total blockade of Northern Yemen and frequently strikes civilian targets with U.S.-supplied munitions, though it claims to make efforts to avoid collateral damage. The Saudi and Emirati governments have largely outsourced the bulk of the combat burden, employing local warlords and Sudanese conscripts as frontline infantry against hardened Houthi guerrillas.
Jamal Khashoggi's murder has the potential to spark more assertive steps by the Trump Administration due to the political fallout the killing produced in Washington. Calls to end U.S. support for the coalition's campaign in Yemen were already mounting when news of the journalist's brutal, premeditated assassination broke in October. Only time will tell whether domestic political pressure in the U.S. to hold the Saudi government accountable will be sustained. Furthermore, even U.S. threats to withdraw support for the military campaign in Yemen might not be enough to prompt the warring parties to consider ending the conflict. The Yemeni populace will continue to shoulder the consequences.
Asia-Pacific
Bhutan Elections: Regional Stability Through Border Dialogue Facilitation
The Kingdom of Bhutan recently held elections that witnessed the formation of the government under the leadership of a new party, the Druk Nyamrup Tshogpa (DNT). Three elections have been held since the country abolished absolute monarchy rule in 2008; each time, citizens elected a new party to lead them. The DNT, led by Lotay Tshering, designated upcoming prime minister, won the latest elections with a comfortable margin (30 out of 47 seats) over their nearest rivals, the Druk Phuensum Tshogpa (DPT) party, who secured the remaining seats.
Regional analysts contend that there are significant internal issues Bhutan and the new government will need to address per their campaign promises. These include issues such as corruption, poverty, inequality, job creation, and external debt considerations. However, it's important to  note the Election Commission of Bhutan also specifically mandated that competing parties could not campaign on issues pertaining to matters associated with neighboring countries, namely India and China, and their perceived interests/interference in Bhutan.
A publicized standoff between Indian and Chinese troops in 2017 brought renewed global interest in the rivalry between the world's two most populous countries. The confrontation took place in Doklam, a territory of Bhutan. India has traditionally maintained a sphere of influence, with Bhutan relying heavily upon India for its defense and other necessary resources. China and Bhutan still have no official diplomatic relationship, but the former has been attempting to make diplomatic and economic inroads. Although observers are keen to speculate as to whether the DNT will pivot closer to China going forward, there are those who suggest that current conditions and the evolution of Bhutan's governance actually offer the country an alternate possibility: that of being able to play key facilitator/mediator between the two disputing countries. It is yet to be seen if the DNT party will be able to both address internal issues while also balancing the diplomatic scale between all stakeholder nations.
Sub-Saharan Africa
Cameroon Elections Spark Separatist Violence, Fear of Civil War
Cameroon President Paul Biya was, as expected, re-elected to his seventh term on 22 October, sparking violence between separatists and government forces. Fighting escalated after the government suppressed demonstrations by English-speaking minorities, denouncing the results of the latest polls. Clashes were reported in the Bui, Mezam, Messum, Dongo Mantung, and Ngo Ketunjia districts of the Nord-Ouest region, resulting in nearly 70 fatalities. Amid the escalating violence, an American missionary was shot and killed while driving through Bamenda.
The escalating violence in Cameroon is largely attributed to President Biya's refusal to address grievances of the country's English-speaking minority, who have long suffered from perceived systematic discrimination and marginalization. The Anglophone minority argue they are excluded from employment and forced to speak French in business and official affairs. Disparity in the distribution of Cameroon's oil wealth has also enraged Anglophones, given that most of the country's oil is produced in English-speaking territory.
Cultural and linguistic tensions resurfaced in October 2016, after mass protests were held by English-speaking lawyers and teachers over the government's marginalization of English legal and education systems in the Northwest and Southwest Anglophone regions. Demonstrators marched against the imposition of French language in the region's schools, courtrooms, and administrative offices, and the government plans to increase the number of Francophone judges in their British-styled courts. Demonstrators also called for a return to a federal system used before 1972 that allowed regions to preserve their cultural identities, including languages. President Biya responded by blocking Internet access and deploying the military, resulting in the death of four protesters. By October 2017, armed English-speaking separatist groups emerged, calling for an independent English-speaking region to be called "Ambazonia."
More recently, separatists have imposed curfews and closed down schools in their protest against President Biya's French-speaking government. More than 80 people, mostly children, were recently kidnapped from a school in the city of Bamenda, located in English-speaking territory. The international community fears the escalating crisis could turn to civil war if the situation continues to deteriorate.
Europe/Central Asia
Increasing Problems With Italy's Infrastructure
Several notable incidents during October 2018 have called the reliability of Italy's infrastructure into question.  While Italy has traditionally been behind more developed countries within the European Union on effective infrastructure standards, several events have brought Italy's weaknesses into clearer focus. Massive floods recently struck Northwestern Italy in October due to a period of unusually heavy rains. Poor planning on the part of Italian authorities led to several deaths and injuries and hundreds of citizens found themselves homeless. At present, it is estimated that 88 percent of Italian municipalities are at risk for floods and landslides, rendering it essential for authorities to fine-tune emergency action plans and identify structural weaknesses.
The widespread destruction caused by flooding followed the August 2018 bridge collapse in Genoa, in which 43 individuals were killed, leading to intense international and domestic scrutiny of Italy's road maintenance standards and upkeep. Italy was further embarrassed in October by an incident in Rome in which 24 Russian soccer fans were injured following an escalator collapse inside a central metro station. The incident was widely documented on social media platforms, with promises made by the Italian authorities to investigate escalator standards throughout the city.
Rome has come under particular scrutiny for the alleged "decaying" state of the city under populist Mayor Virginia Raggi's oversight. Protests were triggered when a city bus caught on fire, blocks from the Trevi Fountain in May 2018. In response, concerned citizens organized a movement entitled "Roma Dice Basta" (which means, "Rome says enough") dedicated to exposing increasing apprehensions with Roman infrastructure. Frequent concerns cited by protesters include the number of roads with potholes and the fact that 42 percent of buses and trams are out of service within Rome. In addition, sanitary concerns have been highlighted including the flooding of sewers in busy city streets, and sporadic garbage retrieval, which has led to an increase in vermin and seagulls. Mayor Raggi has countered claims by stating that the Five Star Movement, which she represents, is trying to clean up mistakes made by past administrations. However, protesters contend that the Five Star Movement lacks the necessary experience to manage such a large city. The propensity of recent disasters throughout Italy point to a widespread problem with infrastructural maintenance that has shown weaknesses when confronted with growing weather concerns, tourism, and increasing usage of public transportation. It is essential for authorities to mitigate future disasters by assessing and strengthening existing infrastructure in order to appease domestic opinion and ensure tourists continue to feel safe while traveling in Italy.
Need help assessing the global risks affecting your travelers? Contact us today.