It's that time of year when we're looking ahead, thinking what the future might hold. And while we can't predict the future, we do see 7 interesting industry trends that could play a significant role in shaping the business travel climate in 2016: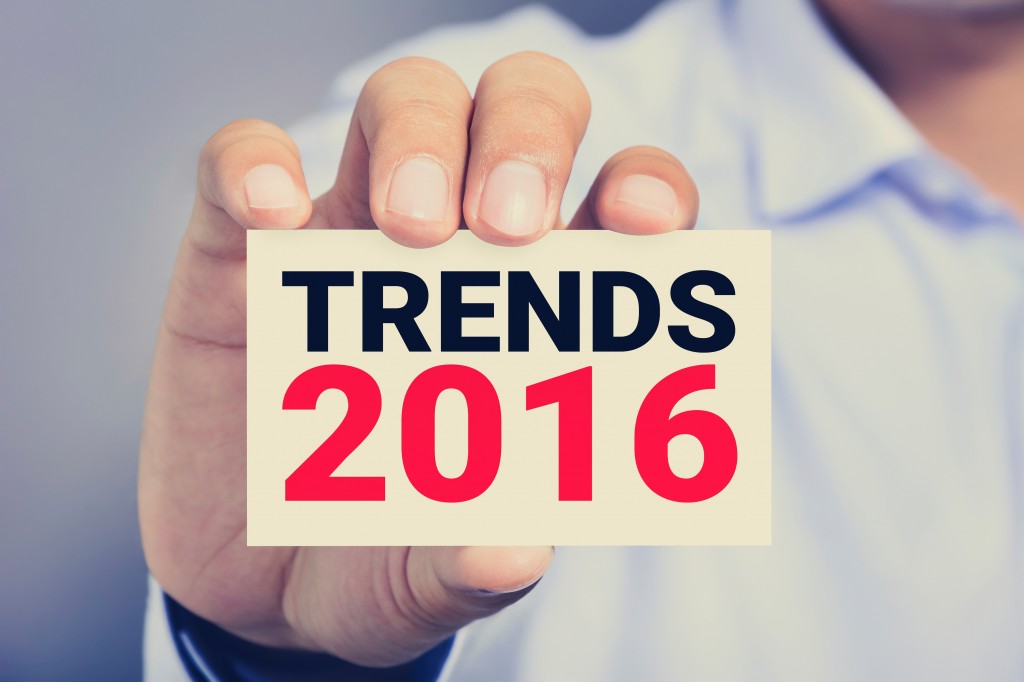 1) Sharing economy demand.
It's no secret that sharing economy services like Uber and Airbnb changed the way we thought about travel (and our travel policies) in 2015. In fact, recent research shows that Uber surpassed car rentals for the first time ever in Q4 2015, and Airbnb saw a 259% annual growth rate for 2015. Uber's top competitor, Lyft, saw an astounding 712% growth over the past year, and many industry experts are even predicting that Uber, Lyft and Airbnb will get a run for their money as new competitors swoop in for a piece of the pie.
2) Moderate increase in travel prices.
From hotel rates, to airfares and even ground transportation, business travelers are likely to see moderate price hikes in 2016, says American Express's annual travel forecast. Many employers are gearing up for these increases by making an even stronger case for business travel productivity. With these more pragmatic travel policies coming into effect, the new mantra is business travel is an investment, not an expense. Want to help your employees be more productive on the road? Check out our business travel time management tips here.
3) No-frills air carriers gain more traction.
If American Express's predictions come true, it only makes sense that travelers will be seeking lower cost air transportation alternatives. The good news? The dropping price of oil has not only helped keep airfare competition alive, but it's allowed for the rapid pace of expansion of emerging low-cost carriers such as Witness American Airlines, Norwegian Air and WOW Air. While amenities differ from airline to airline, no-frills passengers can typically say hello to cheaper than economy class fares, but goodbye to "frills" like seat selection, snacks and Wi-Fi. Concerned about employees' in-flight productivity? Check out this handy list of airlines that offer inflight internet access.
4) India sets the stage.
Is China stepping down as the most popular business travel destination on the planet? Not quite…but, information from the GBTA does suggest that India is turning some heads as the country is seeing the highest business travel growth rate in the entire world. In fact, if they continue on this course, India could actually surpass the U.S. and be a close runner up to China. If your employees have travel planned to India this year, here's some helpful etiquette advice to share with them before they go.
5) Millennials and bleisure.
The trend of mixing business and pleasure is really taking off, especially among Millennials. The growing trend of bleisure travel (aka, bizcations) isn't just taking time out from a business trip to relax; but rather, it's the act of rolling business trips and vacations into one. According to BridgeStreet Global Hospitality's Bleisure Report, 94% of the surveyed Millennial travelers said they would be taking a bleisure trip in the next five years. What does this mean for your organization? Well, if you're trying to attract and retain Millennials, it could be worth not only embracing bleisure in your current travel policy, but setting clear guidelines around it as well. By tackling grey areas head-on, you're not only well on your way to reinforcing responsible bleisure habits among your staff, but making business trips more relaxing and rewarding for them as well.
6) Expanded travel to Cuba.
Since the Obama Administration announced amended regulations that allow for expanded travel to Cuba, more Americans are experiencing a destination that has been off-limits for more than 60 years. Tourism is still banned by the embargo, but the categories of legal travel to Cuba include visits to close relatives, academic programs for which students receive credits, professional research, journalistic or religious activities, and participation in public performances or sports competitions. With so many organizations taking advantage of expanded travel opportunities to Cuba, we're keeping a close watch on its healthcare landscape. Our Chief Medical Officer, Dr. Robert Wheeler, recently visited Cuba, so we caught up with him to talk about what travelers can expect if they need emergent medical care in this region. You can read his insights here.
7) Crisis response technology.
Anyone who has ever been involved in managing a crisis will tell you that even the best-laid plans can go awry during a catastrophic event. But luckily, travelers have an arsenal of technologies at their fingertips to help employers confirm their safety. For example, Uber's "Share my ETA" option allows users to send texts sharing their ETA, along with a live map that shows exactly when they'll get to their destinations. The "Safety Check" feature on Facebook is also a handy tool as it allows travelers to communicate their status during a natural disaster, political turmoil or any other emergency situation. The State Department's Smart Traveler Enrollment app is also a must-have tool as it provides up-to-date, destination-specific safety information right to travelers' mobile devices. Crowd sourcing apps are also increasing in popularity as they allow people to instantaneously share ground breaking (and potentially life-saving) information with their social networks in real-time.
Which business travel trends are catching your eye this year? Let us know in the comments below…we'd love to hear from you!
Safe Travels!