As anyone who's ever traveled with children can tell you, it's incredible to experience new destinations and other cultures with our kids. In fact, an estimated 1.9 million children travel internationally each year. And while traveling with little ones can be challenging –schlepping baby gear through security, off-kilter nap schedules, preventing boredom and the inevitable meltdowns— rest assured you can navigate your next trip with safety and sanity intact. Read on for our advice for traveling with tots.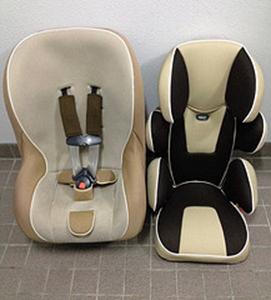 Bring that Safety Seat
The most important baby and toddler gear to bring is a child safety seat. According to the CDC, car seats that are in good condition and that conform to accepted U.S. safety standards may not be available abroad (it's a good idea to take your own car seat when traveling within the US as well). Even if you're not planning on-road travel in your destination, it's recommended to use your child safety seat on the airplane. Although children under the age of two can travel as a "lap child" on many airlines, for the utmost safety, the CDC recommends that you purchase a separate ticket for your child and use an FAA-approved child safety seat. (If for some reason you decide not to use a child safety seat on the plane, be sure to gate check it. The last thing you want upon arrival is to find out your checked car seat made it to another destination!)
Pack Smart
Although the temptation may be to pack everything you could possibly need, with ever-increasing checked baggage fees, it makes sense to limit what you carry with you. If you can buy or rent something in your destination, try to do so. Most airlines exempt certain baby items (like strollers) from checked baggage fees, but is it worth lugging those items with you? Hotels will often offer portable cribs if you let them know in advance that you'll be traveling with a young child, and there are several companies that rent children's travel gear, both in the U.S. and abroad. For younger babies, an easy alternative to a stroller is a soft baby carrier such as those by BabyBjorn or Ergobaby. These provide hands-free sightseeing while baby stays close and comfortable with mom or dad, plus they're lightweight and easy to pack.

As far as entertainment is concerned, you can often find fun activities and "toys" along the way if you get creative. Many kiddos find endless amusement in shaking a half-full water bottle or by playing peekaboo with mommy's scarf. Your little one may be so distracted by new sights and sounds that you won't need as many toys, books and other activities you might think.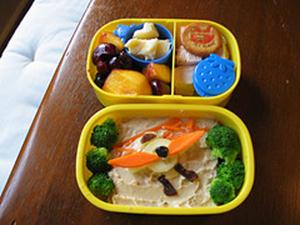 Don't Forget Meal Planning
Meals can be tough on the road, especially with picky toddler palates. Pack healthy, travel-ready snacks to keep everyone happy – yourself included. Squeezable fruit and veggie pouches are relatively lightweight and toddlers can slurp them right out of the package. These can also be squeezed on to a spoon for babies starting solids. Finger foods for older babies and toddlers, such as "o" cereals, crackers, and teething biscuits are handy not just to keep hunger at bay, but also to keep little hands occupied while you try to grab a bite of something yourself. Consider your child's food preferences and your destination and plan accordingly if there will be unfamiliar cuisine that your little one may not eat. If your child has dietary concerns (allergies to eggs or gluten, for example), be sure to do extra research before you go so you can find appropriate meal options in local restaurants and grocery stores. Speaking of research, if you're traveling to a less-developed region, be sure to research food and water safety and plan accordingly. The last thing you want is a trip to the emergency room with a sick child (but make sure to pack your travel assistance card just in case)!
For air travel, baby foods, breast milk and formula are exempt from the TSA's 3-1-1 rules. However, the TSA recommends that you only carry on a supply of foods and liquids necessary for your flight. These items are not required to be in a quart-sized plastic zip-top bag, but TSA officials may ask you to open them for additional screening. It's best to declare them as you're going through the security checkpoint to reduce any hassles.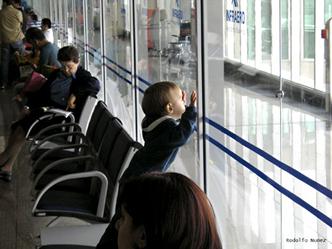 Prep for Good Health
Remember that, just like adults, children need to move around and stretch frequently. When traveling by plane, get up with your toddler at regular intervals so they can walk and move around. (Bonus, this doubles as entertainment!) If you're traveling by car, stop every couple of hours so little ones can stretch, walk around, and get fresh air.

If you're traveling internationally, be sure to research common illnesses and other medical concerns well in advance. Depending on your destination, you may want to visit a travel medicine specialist, as well as your pediatrician, several weeks before your trip to discuss necessary immunizations. For example, although the MMR vaccination is typically administered around 12-15 months of age, your pediatrician might recommend your child receive it as early as 6 months of age to prevent illness while traveling.
In addition to proper research and preventive immunizations, it's a good idea to pack a travel first aid kit in case you need to treat minor health issues during your trip. And of course, don't forget to pack your travel assistance card too!
Helpful Resources

Want more information and advice for traveling with babies and toddlers?
American Academy of Pediatrics (AAP)
BabyCenter's Baby Travel Checklist
BabyCenter's Toddler Travel Checklist
Tips for Traveling While Pregnant
Are you a seasoned parent traveler? Share you tips in the comments below!
Safe Travels!

Image Credits:
Cenas de Aeroporto 01/Air port cenes 01 by Rodolfo Nunez
Car Seats by MIKI Yoshihito
Bi-Plane Toddler Bento by cookingformonkeys