Business travel for working moms can sometimes be tough, especially if you have to be away from your children for an extended period of time. Whether you travel often or just once in a while, you, your kids and your partner are put to the test as soon as you leave for the airport. Here are our tips to help you make your next trip go as smoothly as possible:
Set Expectations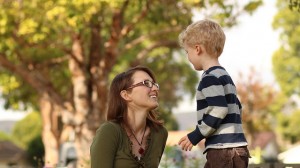 As your departure nears, prepare both yourself and your children for your business trip. Sit down and talk to your children at least a week before you leave and let them know how long you'll be gone. Depending on their ages, explain the purpose of the trip. For example, a 12-year old will understand you have to present at a conference but a three-year old won't know how to process that news. To ease their angst, arrange with your spouse or caretaker a special night out for your children while you're gone. Some ideas include taking the kids to the movies, ordering pizza for dinner one night or working on a fun craft together. Another simple but fun activity is to decorate a calendar highlighting your departure and when you'll be home, so the kids can have a countdown each day.
Leaving an Infant at Home
Leaving a very little one behind can be especially difficult, so you'll need extra reassurance each day that everything's going well. Ask your partner or childcare provider to send you regular updates at each of your baby's milestones for the day (for example, "she went down easily for nap just now," or "she ate pureed spinach and a bottle of milk for dinner before I put her to bed."). If you're breastfeeding, it's important to know your rights. According to the TSA, breast milk is considered to be in the same category as liquid medications – meaning there is no limit to the amount you can carry on, whether you have your child with you or not. This is especially important if you will be bringing back a supply from pumping during your trip. The only thing you need to do is declare it to the TSA agent as you're going through security. Try booking a flight that corresponds to your typical pumping schedule, if possible. You should also call ahead to the hotel where you'll be staying and request a mini fridge to store your milk; there may be one in the room already and if not, most hotels can arrange for that for you.  It's also a good idea to contact the conference center or office where your meetings will be and make arrangements to use their employee lactation room or another private area where you can pump comfortably. For even more advice on having a successful travel experience if you're a breastfeeding mom, check out this article.
Pack Like a Pro
If you're a busy mom, chances are you don't have lots of time to spend deciding on what to pack for your business trip. We recommend using a carry-on bag for luggage versus checking a bag. Checking a bag means arriving at the airport earlier than if you simply carried on, as well as waiting in an often never-ending baggage claim line (which turns into more time away from home!). In fact, many packing experts recommend a duffel bag or rolling duffel bag as a viable alternative to a rolling suitcase, as these flexible bags can fit into any odd space available between suitcases in the overhead bins. To avoid over packing, stick with neutral colors and basic styles of clothing. The key is to bring pieces that you can easily mix, match and layer to create a variety of different outfits. In fact, many travel fashion experts will agree that you can easily get by on 9-10 pieces of clothing for up to 2 weeks. If you're traveling for an extended period of time, consider this rule of thumb: 3 bottoms (2 dressy, 1 casual) + 4 shirts + 2 jackets = 9. A dress or suit is optional, depending on the dress code requirements in your destination (and of your company). Consider wearing your suit on the plane to prevent it from getting rumpled; otherwise contact your airline to see if they can hang your garment bag up in the cabin. As far as shoes go, try to pack no more than 2 pairs—one dressy and one casual. It's also a good idea to go easy on the accessories and only pack what you're truly going to wear. Following these quick and simple tips can help you reduce packing stress and give you more time with the little ones before you jet off.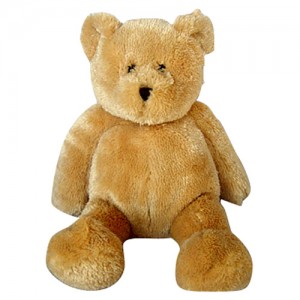 Helpful Hint: You can even involve your children in the packing process by letting them pick out a small token – such as a mini stuffed animal or toy – to take with you. This special item will help you and your child feel more connected while you're gone.
Fly Early or Late
If possible, try scheduling an early morning flight so you'll be able to plan your meetings for the afternoon. Though it will be an early morning, it's even better if you can book a flight scheduled to depart prior to the peak times of 7 and 9 a.m. to avoid the busy airport rush. Consider taking a red-eye flight when possible on the way home instead of losing an entire day en route. You may be home in time to see your kids off to school the next morning. This can be a special surprise for them if they think you're coming home at a later time!
Share your Itinerary
Before you leave, give your partner or childcare provider a copy of your trip itinerary so he or she will know where you are at all times. This will help your caregiver determine when it's appropriate to call you and where you are in case of an emergency. It's also smart to provide the caregiver with any phone numbers where they can reach you (besides your cell phone of course). These phone numbers include the hotel where you'll be staying, the conference center or company you're visiting and a co-worker's phone number just in case you aren't able to be reached.  It's also a good idea to leave a printed list of all your children's carpools, sports practices and after-school activities so the caregiver can be organized with your kids' regular schedules.
Stay Connected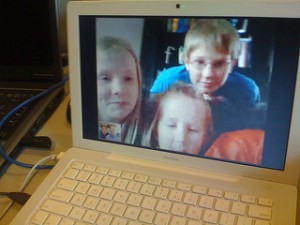 Be consistent with checking in and call at the same times every day, if possible. Your child can look forward to your call before heading off to school or before their bedtime ritual. Download his or her favorite book on your tablet or smartphone, and read them a bedtime story over the phone (packing one or two children's books to bring with you will work just as well.) Videoconferencing with a tool such as Skype is also a great way to keep in touch while you're away. Make your chat fun – play peekaboo, I Spy and have a countdown to when you're coming home.
We hope these tips help you stay connected and ease the stress of business travel for you and your little ones.
How do you prepare yourself and your children for upcoming business trip? We'd love to hear from you in comments below!
Safe Travels!
Photo Credits
Mother with son from Andy Malmin
Teddy Bear from Matthew
Videoconference with kids from Wesley Fryer