You've read our post on surviving air travel during the holidays, but travel of any kind can be difficult this time of year—especially  if you're feeling under the weather. Since it's the season for giving, we're sharing tips on how to stay healthy during holiday travels so you can spread some yuletide cheer (not germs!) wherever you're headed.
1. Get Vaccinated: If you're traveling internationally, it's important to schedule an appointment with your doctor or travel medicine specialist well before your trip. They can let you know which vaccinations and tests you should get based on your travel plans, age, lifestyle, medical history and family health history. The most commonly recommended vaccination in the winter, whether you're traveling or not, is the influenza vaccine. Yearly vaccination is the best way to protect yourself against the flu and makes you 60% less likely to need flu treatment from a healthcare provider. The CDC recommends that everyone at least 6 months of age get a flu vaccine. There are two types of vaccines – the flu shot (for healthy people 6 months and older) and the nasal spray (for healthy and non-pregnant women, ages 2-49). Remember to get vaccinated at least two weeks before your trip since that's how long it takes for antibodies to develop in the body. So, even if you're just headed a few hours away to your in-laws for Thanksgiving, it's important to be protected against the flu.
2. Wash Your Hands: Washing your hands frequently and correctly throughout the day is one of the best ways to prevent the spread of infection and illness. Clean hands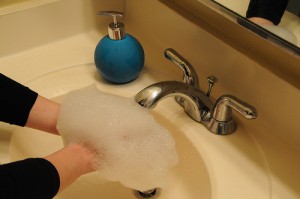 prevent germs from spreading from one person to another – essential during this time of year with crowded airports, train stations and rest stops. Doctors recommend rubbing your hands with soap and warm water for at least 20 seconds – the time it takes to hum the song "Happy Birthday" – or, if you're really in the spirit, "Jingle Bells" – from beginning to end twice. If soap and clean water are unavailable, use an alcohol-based hand sanitizer that contains at least 60% alcohol to clean hands. Note: Alcohol-based hand sanitizers can quickly reduce the number of germs on hands in some situations, but sanitizers do not eliminate all types of germs.
3. Carry Disinfecting Wipes:  A handy supply for your carry-on bag is a pack of disinfecting wipes. Cleaning and disinfecting are not the same thing – cleaning removes germs from surfaces, whereas disinfecting actually destroys or inactivates them. While it's not necessary to disinfect every surface you encounter, disinfecting commonly-touched areas can give you extra protection from germs. For example, you can use disinfecting wipes to clean your airplane tray before eating, door knobs at your hotel and the vending machine buttons at a local rest stop. According to the CDC, disinfectants are specifically registered with the U.S. Environmental Protection Agency (EPA). Check the product label to make sure it says "Disinfectant" and has an EPA registration number.
4. Drink Plenty of Water: Water strengthens the immune system by transporting oxygen to cells, moving nutrients to our tissues and organs, and flushing out toxic impurities. Our body is made up mostly of water, and when we're not drinking enough of it, our immunity barriers are increased and it opens the door to infection.  Before, during and after your travels, make sure to keep your body hydrated with at least 8-10, 8 oz. glasses of water daily.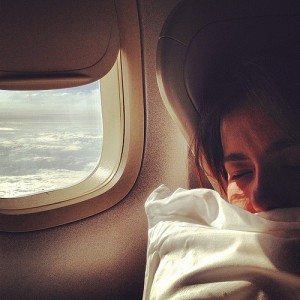 5. Get Enough Sleep: Between shopping for gifts and celebrating at holiday parties, this time of year can be hectic. Trying to combine all this with travel can result in sleep deprivation. Lack of sleep can make you drowsy, dizzy, and sluggish with a fatigue headache. It also affects your mood – not exactly the best way to spread holiday cheer! Aim for six to nine hours a night and take a short nap in the afternoon if you need it. If you're short on sleep, try to rest while on the plane or in the passenger's seat of the car. If you're flying cross-country or to a different time zone, jetlag is a common battle. Check out our advice on some of the best ways to fight jetlag, with tips such as choosing a roomier seat on the plane when possible, drinking lots of water and flying a day early to acclimate to the new time.
6. Pack a Travel Emergency Kit: Spending the holiday skiing and lounging by the Yuletide fire? Miles away from the chaos of retail and drug stores? Sounds like our cup of eggnog – er, tea! However, if your travels take you off the beaten path and a drugstore is not around the corner, consider packing a DIY travel first aid kit with necessary emergency medical supplies at your fingertips. Items to include in your kit are pain relievers, sunscreen (yes, especially on the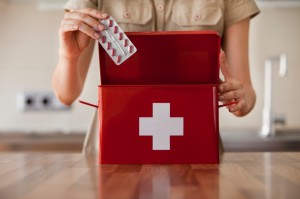 slopes!), Band-Aids, decongestants, antacid, cough drops, your travel assistance membership card and your prescription medications. International travelers, make sure you keep medications in their original pharmacy-labeled containers to avoid questions, or confiscation, at customs.
7. Don't Forget Fitness: This time of year is notorious for sweets, treats and buttery delights. Many hotels offer complimentary champagne, snacks or holiday cakes or cookies to celebrate the season. If you're attending a holiday party, there's a good chance you may also be served high-calorie foods. Before going for that second helping of your aunt's famous pecan pie, remember the 80/20 rule, which focuses on limiting your portion sizes. Load up your plate with 80 percent fresh or steamed vegetables and fruits and 20 percent everything else – it's a simple rule to follow and you won't be plagued with that "food coma" feeling after. Avoid the common holiday splurge-and-starve cycle (i.e., don't skip out on breakfast because you overate at dinner the night before). It's better to start the morning off with a quick walk or indoor exercise and a light,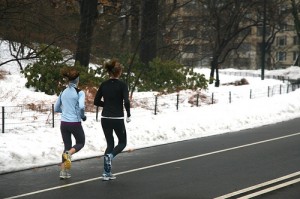 nutritious breakfast, and fill up with a snack and a glass of water before you sit down to the next tempting meal.  Fitness websites and mobile apps make it easy to work out at mom's house, even if you don't have equipment. MyFitnessPal, which is available for free download to iPhones and Androids, lets you track your daily exercise and nutrition and determine how many calories you're burning. You can also easily plan a jogging route in your area using MapMyFitness.com. Merry Fitness to all!
How will you stay healthy this holiday season? Share your tips in Comments below!
Safe Travels!
Photo credits:
Washing hands from peapod labs
Sleeping on plane from markhillary
Jogging from vincent desjardins