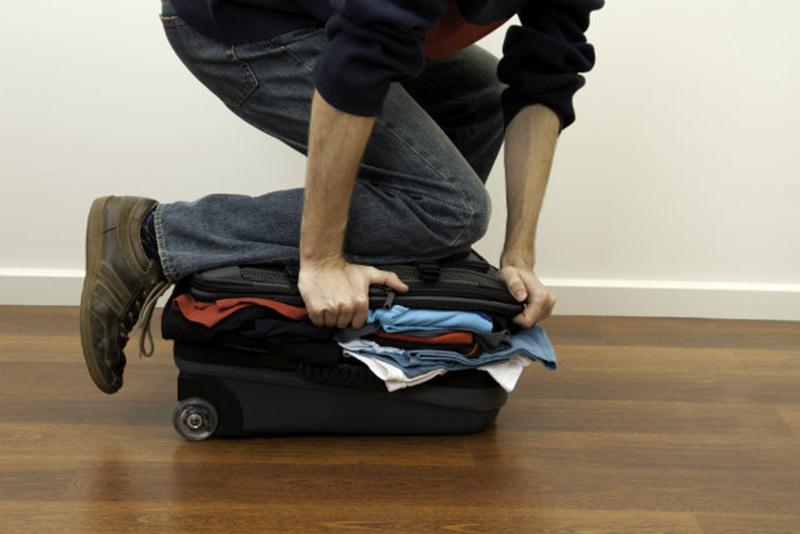 Packing for a business trip involves careful consideration. After all, your aim is to look polished, stay organized, and not forget anything important—all while keeping your luggage light and easy to carry. Here we discuss our favorite packing tips and how you can pack like a pro on your next business trip:
Plan Ahead: Before you begin packing, take a look at your trip itinerary, make a list of what you'll need to bring and stick to it. Besides checking the weather for an up-to-date forecast, be sure to get familiar with your destination's dress code. When in doubt, it's always best to dress conservatively, and keep the standards for international business attire top of mind. Even if you work in an industry where casual dress is the norm (like, technology) it may not be the norm in the country you're visiting. For example, work attire in Dubai tends to be quite formal, and women should dress modestly, covering shoulders, upper arms and knees. For more clothing etiquette rules by country, read Kwintessential's free international etiquette guides.

Be Carry-on Savvy: Flight delays, cancelled connections, lost luggage…bottom line: if you don't check bags, there's less room for errors. However, packing for today's overhead bin reality can be easier said than done. In addition to double checking your airline's requirements, try thinking outside the box a bit. A lot of luggage styles waste space in favor of aesthetics, which is why many packing experts recommend a duffel bag or rolling duffel bag as a viable alternative to a rolling suitcase. Why? If your flight is full and you're not among the first on the plane, a flexible bag can fit into any odd space available between roller bags in the overhead bins.
We know what you're thinking—how will your things stay put and wrinkle-free? No worries, there are actually several strategies you can employ to help provide structure and organization if you need it—including the use of packing cubes and mesh bags. And don't forget those good ol' Ziploc® bags—they're not only an economical way to transport toiletries (don't forget to double check TSA's current guidelines!), but are great for waterproofing items as needed. For even more ideas, check out Life Hacker's complete guide to creating a modular to-go bag here.

Mix and Match: To avoid going overboard (remember, your goal is NOT to check luggage!), stick with neutral colors and basic styles of clothing. The key is to bring pieces that you can easily mix, match and layer to create a variety of different outfits. In fact, many travel fashion experts will agree that you can easily get by on 9-10 pieces of clothing for up to 2 weeks. Consider this rule of thumb: 3 bottoms (2 dressy, 1 casual) + 4 shirts + 2 jackets = 9. Optional: Dress and/or suit for women, suit for men. Consider wearing your suit on the plane to prevent it from getting rumpled; otherwise contact your airline to see if they can hang your garment bag up in the cabin. As far as shoes go (ladies, listen up!), try to pack no more than 2 pairs—one dressy and one casual. And instead of packing sneakers for your on-the-road workouts, wear them on the plane or check with your hotel to see if they have a workout gear lending program.
Did you know? You can use jewelry to change up your look and spice up the basic palette without sacrificing much luggage space. Sites like Baublebaur sells great statement jewelry at affordable prices.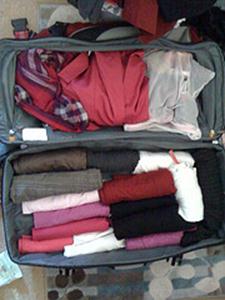 Roll it or Fold it: Now that you've decided which clothes to pack, it's time to figure out how to pack them.
There are two main schools of thought when it comes to efficient and wrinkle-free packing: Roll or Flat. Choose which one works best for you. Here's how they both work:
Rolling Technique
Flat Technique
Go easy on accessories: Plain and simple: If you're not prepared to lose it, don't bring it! Men, if you love wearing watches, consider buying an inexpensive travel watch and pack one or two ties that go with everything—perhaps a small dot or a classy stripe pattern with neutral colors. Ladies, if jewelry is your thing, bring a few pieces of costume jewelry and if applicable, consider wearing a fake wedding band or diamond. For instant polish and flair without a whole lot of effort, a cute scarf in a bright color should do the trick.
Don't go powerless (literally): Play it safe and pack a universal adapter kit—anyone who has felt the panic of realizing they brought the wrong plug converter just as their phone or computer dies won't make this same mistake twice. You can also avoid this conundrum by consulting sites like Countryplug in advance of your trip. They'll show you what type of electrical voltage and which type(s) of plugs and outlets are used at your destination.
Secure Your Electronics: Before you pack your laptop bag or briefcase, be sure to check your company's policy on traveling with electronic equipment. For example, some companies ask their employees to take loaner laptops or tablets that are free of company-sensitive information. Your IT department may also want to take a look at your devices before you pack them—ensuring devices can be locked with PINs or passwords, loading encryption software, and sharing tips for secure wireless Internet connectivity are just a few things they may want to do.
Note: Along with prescriptions, electronics are on the "do not check" list if you decide to check your luggage. Read Smart Traveler's full list of things you should always leave out of your checked bag here.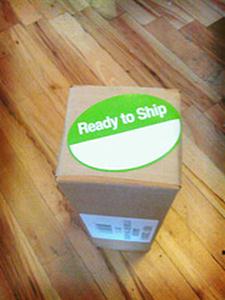 Ship ahead or print onsite: With many airlines restricting and/or charging for additional bags, bringing presentation materials and other important business documents as checked luggage can be expensive. It also runs the risk of your materials arriving damaged…or not arriving at all. The solution? Talk to your employer about printing your materials once you arrive (don't forget your USB drive!) or shipping materials to your hotel ahead of time. Whichever option you choose, contact your hotel to iron out the details. You don't want to show up at your hotel only to realize there are no printing centers in sight or that they don't hold packages for their guests. Plan ahead and you (and your boss!) won't be disappointed.
You've heard our favorite business travel packing tips, but now we want to hear yours! Feel free to share them in the comments below.
Safe Travels!

Photo Credits

Rolled Clothes by Wendyness
Ship It by Mike Castle