Every year the holiday season consistently brings with it an uptick in the number of travelers, which inevitably increases the level of risk. While this is nothing new, it's hard to ignore this past year's events and the corresponding World Wide Travel Caution by the U.S. State Department. In addition, the State Department recently released a European Travel Alert that addresses the increased threat facing Europe this holiday season. In this alert, the State Department urges U.S. citizens to exercise caution at holiday festivals, events, and outdoor markets and to avoid large crowds whenever possible. As such, many travelers may have some questions about their travel security this holiday season and rightfully so. To help answer these questions, we sat down with Watch Officer, Nick D'Intino, to get a pulse on the global travel security landscape and what it means for your travel plans this holiday season.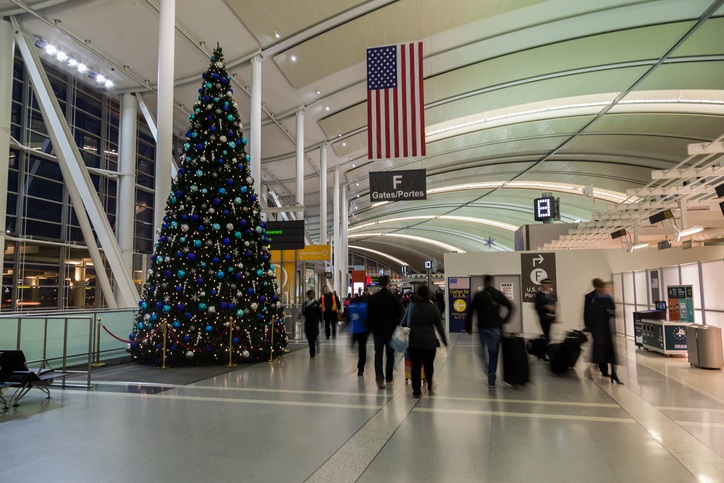 From a security perspective, what should travelers be particularly aware of during this holiday travel season?
Nick: As a result of the evolving international security landscape and the inevitable rise in travel during the holiday season, the public should expect to see a heightened security presence at major transportation hubs (and the delays that come with them!) both domestically and abroad. While there are no credible terror-related threats expected to deter travel during this season, it's important for travelers to remain vigilant. The On Call security team has found that flight delays and labor strikes are much more likely to disrupt one's travel plans. So far this year, we have already seen notable threats to strike from Amazon cargo pilots, O'Hare International Airport's baggage handlers, and the United Kingdom's Southern Railway workers.
The Christmas Day Bomber in 2009 caught the attention of the international community as did the attack at Istanbul's Atatürk Airport earlier this year. Are airports vulnerable to another attack similar to this and should holiday travelers be concerned?
Nick: As I already mentioned, travelers should expect to see an increase in security personnel, both domestically and internationally, during the holiday season. This doesn't just mean more agents at baggage checkpoints; it means airport security officials will be augmented by local and federal law enforcement personnel, in addition to advanced monitoring/surveillance technologies. For example, French authorities just recently cited new techniques and tools that are being used to thwart attacks. Despite expansion of security personnel and advancements in techniques, no security is perfect and there is always some inherent risk when traveling. On Call International's security team regularly encourages travelers to have a heightened sense of awareness at airports and take some basic safety precautions. It is important to remember that the probability of being involved in a terrorist attack is small; if travelers take accountability for their own personal safety, they are unlikely to encounter any problems this holiday travel season.
So if increased security should be expected, should travelers also plan for major delays?
Nick: Interesting question, but not necessarily! Fortunately, Congress has approved a shift in funding aimed at increasing the Transportation Security Administration's (TSA) capabilities during peak travel times by making money available for the hiring of more fulltime employees and investments in technology. TSA will be utilizing a new Incident Command Center this holiday season, meant to identify and properly manage airport surges and strains on TSA personnel. Additionally, technology (like the new automated screening lanes at the O'Hare, Newark and Los Angeles international airports) is making airport security both safer and faster. The TSA Administrator, Peter Neffinger, admits that 2016 was a difficult year but also believes the appropriate investments have been made to ensure the agency is ready for the holiday rush. Now, that's not to say travelers shouldn't allow themselves plenty of extra time at the airport, but we're hopeful these factors will help streamline the airport security experience for many people this season.
Are there any specific countries or regions that provide an increased concern? 
Nick: We're keeping a very close watch on Western Europe. As previously mentioned, the U.S. State Department released a Europe Travel Alert on November 21, 2016 that encourages U.S. citizens to practice extreme caution when traveling to Europe this holiday season.
Additionally, this may come as a bit of a surprise, but New York City could provide a unique security challenge this winter for travelers. In addition to being a hub for holiday activities, what adds a distinct element to the security situation is the fact that President-Elect Trump plans to spend a considerable amount of time in the city over the next couple of months. Mayor Bill de Blasio has touched upon the unique security challenges facing New York City this winter and the extensive security efforts being put into place as a result.
What steps can travelers take for a more seamless and enjoyable holiday travel experience?
Nick: Well for starters, we always encourage our travelers to register their plans with the State Department's Smart Traveler Enrollment Program (STEP) and keep up to date on any pertinent news. Aside from that, if flexible with dates, travelers should consider planning their trips to coincide directly with holidays; transportation hubs on December 25 and/or January 1 are usually a lot less crowded than the days directly before those dates. TSA also has some useful holiday tips available on their blog, including the policy on wrapped gifts and food items.
Registering for TSA Pre√ or the Global Entry program is also helpful in terms of getting through airport security quicker. For frequent travelers looking to further optimize their travel time, a new company called CLEAR is integrating biometrics into the security experience and is at the forefront of advancement in the industry. TSA Pre√, Global Entry, and CLEAR are available at multiple airports across the United States. There are also apps that can help travelers  with navigating transportation hubs and better anticipating security lane wait times at airports.
For more information regarding the current holiday travel security landscape and holistic risk management, contact us today.
Safe Travels…and Happy Holidays!