Post updated on 6/1/17.

Last year, the topic of 'longer than ever' wait times at security checkpoints across the U.S. was all the rage (no pun intended) in the travel sphere. This was likely due to a number of factors including heightened security restrictions, limited staffing and cheaper gas/airfare prices. And while this chatter has seemed to dissipate over recent months, with the upcoming spring break and summer travel seasons on our heels, we can't help but wonder what could be in store. To help answer our questions, we sat down with On Call Security Specialist, Nick D'Intino, to get a pulse on what travelers could expect at security in U.S. airports this spring, summer (and beyond).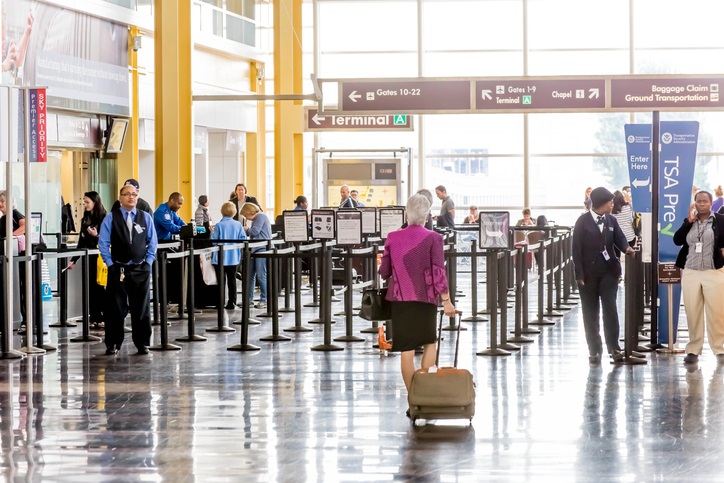 Is there any indication as to how the TSA plans to manage the expected influx of travelers this spring and summer amidst ongoing global security concerns?
Nick: The Homeland Security Committee recently released a report on the increased insider threat facing America's airports, while the Department of Homeland Security Appropriations Bill for 2017 states how there's an effort to fund "all of TSA's layers of security" in response to these threats. This includes (but is not limited to) increasing TSA personnel and passenger screening canine teams at security checkpoints, investing in new Explosive Trace Detection (ETD) systems to increase the overall fleet, and full funding for the Federal Air Marshal Service. Investments will also be made for the research and development of new technologies and innovations, particularly in locations where space available for checkpoints is limited.
How about those full-body scanners—do you think those will be going away anytime soon?
Nick: Although there have recently been some restrictions placed on the "opt out" option (i.e. the ability for a traveler to bypass full-body scanners in lieu of a full-body pat-down), many travelers still have the choice to request a pat-down if apprehensive about the full body scanner. It should also be noted that, after numerous complaints about privacy concerns when full-body scanners were originally rolled out, veiling software has been implemented that provides a generic image of the individual as opposed to a detailed/obtrusive image.
With so many security measures being added or continuing to be employed, this brings up the question: is TSA's Preè something travelers should consider?
Nick: I definitely think this program is a viable option for travelers who are seeking an expedited security experience (and are willing to comply with the mandatory background check and fingerprinting process). I know many time-strapped individuals, particularly those traveling for business, who utilize this program and love it. Considering membership for this program is good for five years, the $85 fee is arguably relatively inexpensive on a year to year basis.
Are there similar, time-saving programs travelers should consider?
Nick: Yes, there are definitely alternative programs out there. For example, many airlines have expedited security lanes available at certain airports for their frequent flyer customers. Those who travel internationally on a regular basis may also want to invest in Global Entry, which affords the same benefits as TSA's Preè but also allows expedited clearance at U.S. Customs and Border Protection checkpoints. There are other options available as well, like CLEAR, which is expediting the process by using biometrics to replace the need to present photo identification at airports.
Speaking of international travel, is it true the TSA will be requiring travelers to show their passports during domestic travel as well?
Nick: There are some complications coming that will change what TSA deems an acceptable form of identification. The REAL ID Act is an ongoing federal initiative aimed at enforcing national security standards for sources of identification (e.g. driver's licenses) and some states are still not in compliance with these requirements. Regardless, identification from ALL states will be accepted until January 22, 2018. On this date, if you have a driver's license or identification card issued by a state that does not meet the requirements of the Real ID Act (check out the TSA's website for current status of states/territories), you will need to present an alternative form of identification (e.g. a passport) to board a domestic flight unless that state has been granted an extension. As of now, travelers can expect that starting on October 1, 2020, they will need a REAL ID-compliant license, or another form of acceptable identification, for domestic air travel. These dates can be subject to change, but looks like travelers still have some time.
Rumors aside, it sounds like the TSA is really looking to improve the airport security checkpoint experience as we know it today. That said, do you think that overall, U.S. airport-goers can expect smooth sailing into the spring and summer months?
Nick: It appears as if TSA's funds have been directed in a way that is meant to enhance the organization's ability to screen travelers and provide security in an efficient way. For example, the hiring of additional TSA agents and deploying of more K-9 teams (as mentioned earlier) are tactics that should provide more security in a way that does not delay the travel experience. So overall, I feel confident that airport security checkpoints in America should reflect the positive efforts the TSA is making both behind the scenes and at the forefront.
Does your organization need more insight into holistic travel risk management and preparing for today's complex travel security climate? Contact us today.