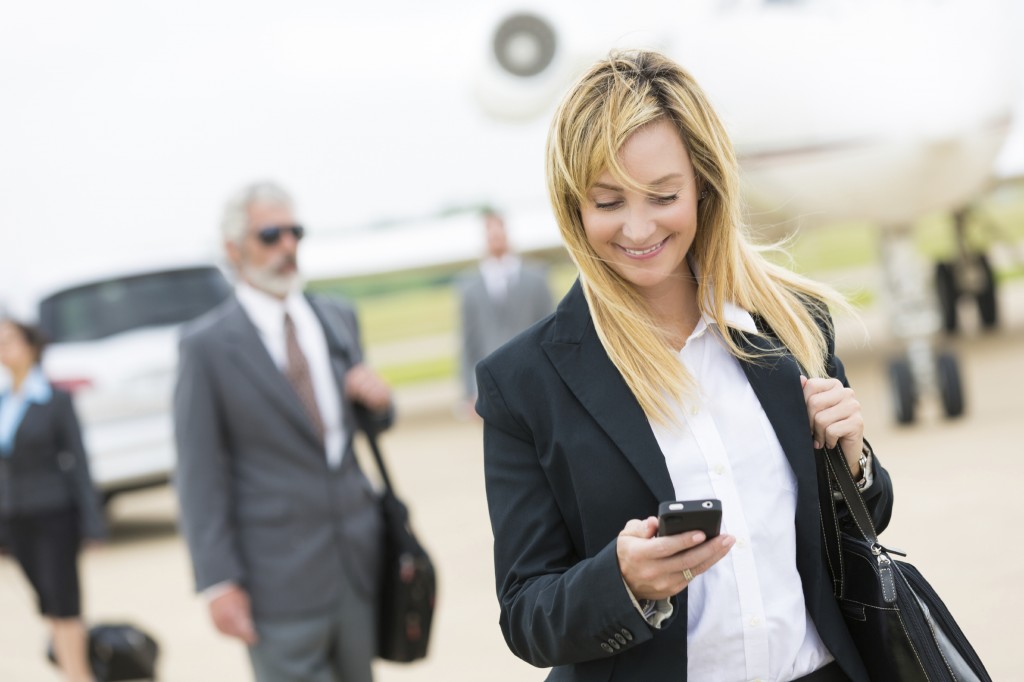 According to a 2014 Google survey of 1,500 business travelers, 63% of respondents admitted to using apps to help their business travel experience. But with all of the app choices on the market, it's hard to know which ones could actually make a difference. Luckily, we put together the following list of apps that can help you save time, money, and your sanity on your next business trip:
Hipmunk – Named the new gold standard in hotel and flight searches by Forbes, Hipmunk allows you to search for flights by time, price range, and airline/class preference. Search results appear in an easy-to-read, color-coded chart and the app's sorting ability is incomparable to its competitors. Even better is its hotel search engine function, especially if your needs are neighborhood-specific. The app will place neighborhood "heatmaps" onto your search results, allowing you to choose by meeting locations, restaurants, or shopping areas. If neighborhood doesn't matter, you can filter your results with business, kid-friendly, or luxury hotel options.
Mynd Calendar – Mynd Calendar, a mobile calendar and time management solution, is like having a virtual assistant. The app even syncs with real-time traffic data to calculate drive times, alerting you when it's time to get on the road. Running behind schedule? Just tap the "late" button to text meeting attendees. Even more impressive: the app connects to LinkedIn, Evernote and your address book to provide photos and bios of your contacts. Mynd's features also include one click dial-in to conference calls and a billable mileage tracker.
MyCityWay – MyCityWay offers a series of city guides that provide a quick run-down on 30+ categories, including dining, public transit, pharmacies, weather, and local events in your area. The app is perfect for short trips to unfamiliar cities.
Curb – Curb (an alternative to Uber and Lyft) is a real-time mobile taxi app, available in 60 U.S. cities. With Curb, you can request your ride in seconds and a reliable driver will pick you up at your location within minutes. The app also provides access to fare estimates and lets you make reservations for later rides. You can even track your taxi so you don't have to wait outside in the cold or rain. Perhaps the best part is that Curb gives you the option to pay your fare so you don't have to worry about pulling out your cash as you exit the car.
MileBlaster –It's easy to lose track of points you accrue through your airline or hotel's rewards program. Fortunately, an app like MileBlaster helps you keep tabs on your points from most major domestic and international airlines as well as car-rental agencies and hotel programs. The app will also alert you if your points are set to expire within the next six months.
Viber – If you're worried about your cellular data (a common concern for those traveling internationally), this app allows you to make calls and send texts, provided you have an Internet connection and the recipient is also a Viber user. Unlike Skype, Viber uses your existing mobile number – allowing folks to easily find and contact you.
Helpful hint: Need assistance making an international phone call? Check out our post offering a variety of helpful solutions.
TripIt – TripIt, a travel itinerary app that keeps track of your flights, hotel reservations, car rentals, meetings, dinner reservations and more, is perhaps one of the most popular on the market. Concur, the company behind TripIt, made a major announcement in January 2015 that proves the app just may have it all: a partnership with CLEAR, a members-only service similar to TSA Pre-check that offers a fast-pass through airport security.
Bing Translator – This impressive app provides language translation via three modes: Point, Type and Speak. Using your mobile device, take a photo of a menu or street sign you don't understand, upload the photo to the app and get an instant translation. The app also allows you to copy and paste or manually type text to receive instant translation in more than 35 different languages. The 'Speak' function allows you to communicate with someone who may not speak English by translating the words you say into the native speaker's accent.
Pro-travel tip: On Call members can always rely on our interpreters for help with critical translation or interpretation services such as help with filing police reports, communicating with local authorities and understanding medical bills
XE Currency – Convert every currency with the XE Currency App – the most downloaded foreign exchange app on the market. It offers live proprietary exchange rates and historical charts. Plus, it stores the latest updated rates so it even works when your Internet connection doesn't.
SeatGuru – This convenient app is dedicated to helping you fly as comfortable as possible, and is especially useful if you're gearing up for a long-haul flight. The free app lets you access over 700 seat maps from more than 100 major airlines. It features advice and insights drawn from more than 45,000 passenger reviews, so you can always find the best seat before you fly. SeatGuru also helps you find great airfares from low-cost carriers, big online travel agencies, and the airlines themselves. You can even set up real-time flight alerts that monitor your flight arrival time and other information.
Which apps make your travels easier? We'd love to hear from you in comments below!

Safe Travels!