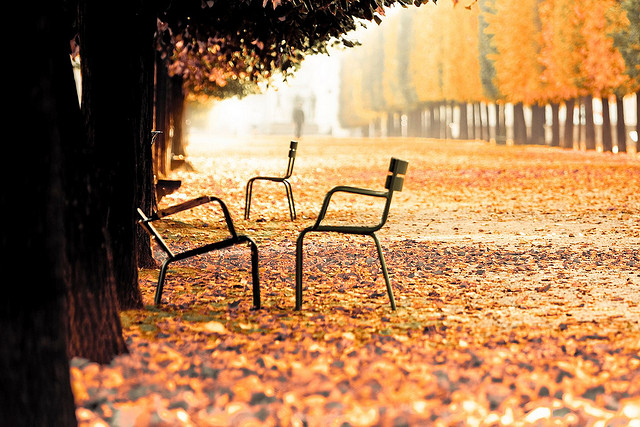 The lazy days of summer have come and gone – along with the busy summer travel season. As temperatures drop and we fall back into routines (no pun intended!), a variety of options present themselves to business travelers. Here are some things to consider if you'll be traveling for work this fall:
Take advantage of shoulder season perks: Worried about your budget?  Fall is not only a great time to save money on your own business trips, but on meetings and group travel as well. The period between Labor Day and mid-December is generally the slowest time of year for travel, with the exception of the short-trip spike around Thanksgiving. Everywhere from Europe and Asia to the Caribbean and many parts of the U.S. see savings of up to half off during fall months.  Airfares are not only more reasonable (fall prices can be up to 30% lower than summer peak rates!), but many hotels rates are lower as well.
Check the weather: If you plan on flying to a destination prone to hurricanes, remember that hurricane season doesn't officially end until November 30th.  Before you book your trip, check with your airline, hotel or resort to see if they offer a hurricane guarantee. Hurricane guarantees vary with each company or property, but typically they will either refund disrupted travel or rebook accommodations without additional charge. It also makes sense to contact your travel insurance provider to see if hurricane coverage is included with your plan. During your trip, it's important to pay close attention to television weather reports and travel alerts issued by the US State Department. There is a current alert for Hurricane Season that expires December 1, 2014—additional information can be found on the Department's "Hurricane Season – Know Before You Go" page.
Pack appropriately:  Autumn weather can be a little unpredictable in many destinations (to say the least!) so it's important to pack wisely. Make sure to bring a jacket that works with all your outfits as well as pieces that you can easily mix and match to create a variety of different outfits. Layers are usually your best clothing option when it comes to fall packing as temperatures can vary so much throughout the day. Unless you know the weather is unseasonably warm where you're headed, pack plenty of long pants and at least one pair of comfortable jeans to wear during downtime. Along with that, you'll need a few short and long-sleeved shirts, two or three light cardigans or jackets and at least one warm sweater. Bring a pair of socks for each day, as well as a travel umbrella for those rainy days. As far as shoes go (ladies, listen up!), try to pack no more than 2 pairs—one dressy and one casual. If you suffer from seasonal allergies, don't forget to pack a supply of your medication (along with your other prescription medications in your carry-on, of course!) especially if you're not certain a drugstore will be right around the corner. Since packing is an art in itself, you'll probably love our additional tips in How to Pack Like a Pro on Your Next Business Trip and 5 Ways to Be a Carry-on Business Traveler.
Make Time for Fun: Your downtime during your next trip could be a great opportunity to check out the sights and immerse yourself in the local culture—sans the crowds! For example, fall is a good time to visit pretty much any major family venue—amusement parks, museums, historical sites, you get the idea. Have a hankering for the beach? Many destinations still have clear skies and warm weather—you may just have to skip out on the swim! And if you want to experience Europe, not only are rates and flights cheaper, but you should see significant savings on many attractions. If leaf peeping is your thing, think outside New England and upstate New York— places like France, Germany and even Japan have some gorgeous colors! Check out these Beautiful Fall Foliage Photos from Around the World for more inspiration. Important Note: Leaf-peeping is serious business—crowds surge on the weekends, making roads more crowded and hotel rooms harder to come by. If you can't plan for a mid-week excursion, make sure to make your reservations well in advance. For even more shoulder season downtime ideas from the US to China, check out this article from Yahoo! Travel. And while you're at it, don't forget about our Guide to Regional Cuisines. We'll tell you what you need to try, and where, when you're in between those client meetings!
Got any additional fall travel tips to share? Let us know in the comments below, we'd love to hear from you.
Safe Travels!
Image Credit