Traveling with your boss may sound intimidating, but if you play your cards right, it could be a great career opportunity. We put together a list of tips to help you make a good impression throughout your trip: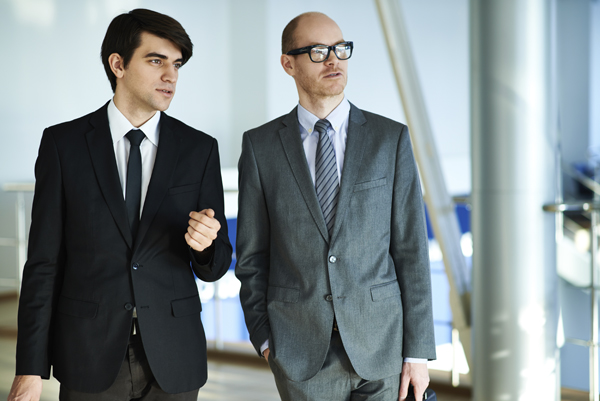 1)    

Determine your responsibilities in advance:


Talk to your manager before the trip to define your role. Who will be in charge of logistics like transportation, directions or reservations? Who will be giving the presentation during the meeting or taking notes and writing up the trip report? Some managers expect junior executives to take care of everything from scheduling meetings to arranging travel logistics, while others prefer to take the lead and expect you to keep up.
2)     Dress appropriately:
A pair of sweatpants and flip-flops may be comfortable for your trek through the airport and international flight, but you shouldn't let your professional guard down. Instead, choose your travel wardrobe with work in mind, and opt for business casual. If you're heading to a meeting as soon as the plane lands, prepare to travel in your meeting attire and shoes. The Huffington Post suggests that women select a travel shoe that allows for long walks through the airport. Consider also packing a pair of heels so you can change en route to your meeting. Looking for additional packing tips? Check out our full post: How to Pack Like a Pro on Your Next Business Trip.
3)    

Arrive early and organized:

Whether you're meeting your boss at the airport or hotel lobby, don't be late; we suggest getting there around 10 minutes early. Try not to arrive looking stressed and/or disorganized – if you look put-together, chances are your boss will be impressed. Keep your travel documents (passport, airline tickets, etc.) handy and in one place. If you're responsible for any meeting materials, be sure you have everything prepared along with extra copies and backups on a USB drive (or otherwise digitally accessible). Have your luggage organized (we always recommend carrying on rather than checking your bag.) However, if you must check your luggage, don't

overpack

– it may lead to you discarding some of the contents of your suitcase in front of everyone.
4)     Follow your boss' lead:
If your boss pulls out a novel or settles in for a nap after the plane takes off, feel free to do the same. But be ready and willing to work if your boss wants to engage in

business conversation

. It's a good idea to keep a tablet or pen and notebook in your carry-on bag so you can be prepared for an impromptu brainstorming session.
5)     Know when to stop:
This should go without saying, but your business trip is not a vacation. If your boss orders an alcoholic drink on the plane, you may opt to order one as well, but know your limits. When entertaining clients at a business meal with your boss, keep drinking to a minimum. Switch to club soda with a twist of lime or "

mocktail

" of your choice instead.
6)     Stay off social networking sites: No one wants to be mistaken for a slacker, but popping on and off on Facebook, Instagram and other social sites while you're on the road never gives off a great impression – and you certainly shouldn't share details about your boss, your business or your clients.  It's also a good idea to refrain from taking notes on your mobile device – while the good intent may be there, it could be mistaken for texting or inattention.
7)     Be prepared to pay: A junior team member may be responsible for taking care of expenses along the way, such as cab fare or the cost of a rental car. Bring your company credit card if you have one, or be prepared to use your personal card. It may also be your responsibility to tip the valet or shuttle driver who assists you both with your bags. Make sure to bring plenty of single bills for gratuity (if overseas, be sure to have the appropriate currency). It's also a good idea to keep all receipts in one place so you'll be organized once you return to the office and have to complete an expense report. Bonus tip: If you keep up with your expense report on your trip, you'll be able to submit your expenses quickly upon your return.
8)     Keep calm in a crisis: Don't panic if something goes amiss – for instance, if the airline loses your luggage or you miss your flight. If your employer has a

travel risk management program

in place with a company like On Call, we can assist you with any travel problem, big or small. It's during moments of stress that your boss can see how well you handle yourself, so let your professionalism and positive attitude shine.
Safe Travels!