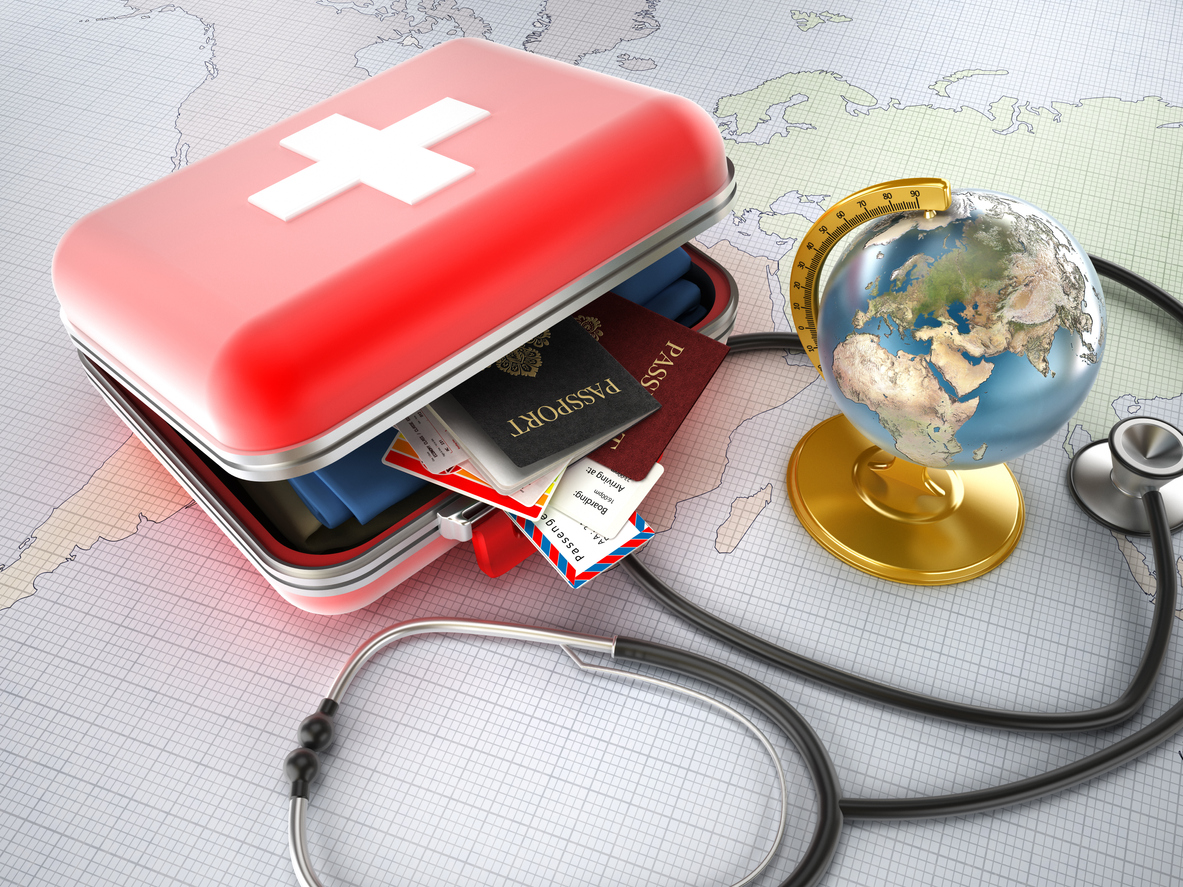 Those who like to travel know that sometimes (perhaps more often than we'd like!) something comes up unexpectedly, and a last-minute trip needs to be planned. While these types of trips can be stressful, the good news is that there are some healthy preparations that can be made so you're not caught completely off guard without a plan. On Call's Chief Medical Officer, Dr. Michelle Nathan, shares some guidance and advice to help prepare for a healthy trip in the short time that you have.
Do Your Research
First, start by researching your destination (the CDC's Travelers' Health website is a great place to start!). Find out if there are any disease concerns or safety concerns in the area that you'll be visiting. See if there are specific vaccines you need before you travel.  Find out if there are resources for obtaining medical care and medications at your destination, particularly important if you have any pre-existing conditions. Learn about any cultural customs that could affect your access to specific types of care (for example, obtaining mental healthcare is more complicated in some countries).
Do a Pre-Trip Health & Wellness Check
Once you've learned a bit about your destination, check your own health, particularly if you have any medical conditions or take medication regularly.  Talk to your doctor about any medical issues and mental health concerns you may have. Ask your doctor for enough medication to last the duration of your trip and get a letter signed by your doctor that lists the medications you take, and why you are taking them. Many countries require a letter for prescriptions at customs and it also comes in handy if you need a refill while you're away. Keep in mind that some medications, particularly psychotropics and pain medications, may not be legal in some countries. Also, if you need vaccines before you travel, your doctor may refer you to a travel medicine specialist or clinic.
Plan for Possible Emergencies
Before you go, know how you'll communicate with loved ones at home and consider downloading an app like WhatsApp to make communications easier (and less expensive!). If you or your loved ones have concerns about safety or health at your destination, consider having a regularly scheduled communication time that can reassure everyone that you're okay.  Designate someone to make decisions on your behalf just in case you can't.  Know the details of your travel insurance and assistance benefits and how to access these benefits if you need them.  Once you've arrived at your destination, find out where your local hospital and pharmacy are located—that way, you'll have the information available just in case you need medical care during your stay.
Plan for Self-Care
Longer trips also mean more time away from home and familiar things, and it's not unusual to feel stressed, homesick, or even lonely.  Make a self-care plan ahead of time by making a list of activities that help you manage stress and how you can incorporate them into your trip.  Practice strategies like breathing exercises and meditation for managing anxiety.  If you need a little guidance, consider using meditation/relaxation apps to guide you through different calming and grounding techniques.
Pack What's Important
If you're traveling with medications, keep them in their original containers and carry them in your carry-on luggage (never put medications in your checked luggage in case your bags get lost or delayed!).  As previously mentioned, make sure you have a letter from your doctor that lists the medications, doses, and reason for taking each medication. Carry a small first aid kit with wound supplies, over-the-counter pain medications, and medications for stomach upset.  Consider taking pictures of important medical documents such as prescriptions, the letter(s) from your doctor, vaccine cards, insurance/assistance benefits information, etc., and upload them to a cloud so you always have a copy if they get lost.
And, last but not least, Dr. Nathan always loves to encourage our travelers to pack a healthy sense of fun, enjoyment, and adventure…because that's what makes travel so special for many of us! Get out there and enjoy…safe travels!
About On Call International:
When traveling, every problem is unique–a medical crisis, a political threat, even a common mishap such as a missed flight. But every solution starts with customized care that ensures travelers are safe and protected. That's why for over 25 years, On Call International has provided fully-customized travel risk management and global emergency assistance services protecting millions of travelers, their families, and their organizations. Contact us today to learn more.