This holiday season many people plan to make up for a lost time, traveling to be with their families, and friends or even to a favorite destination. According to On Call's Chief Medical Officer, Dr. Michelle Nathan, "This is great news! However, it's important for travelers not to let their guards down completely as COVID-19 is still with us as are other respiratory viruses such as influenza and RSV."
If you're planning to travel this holiday season, these seemingly small steps and recommendations from Dr. Nathan can yield big payoffs when it comes to staying healthy and avoiding serious illness this holiday travel season.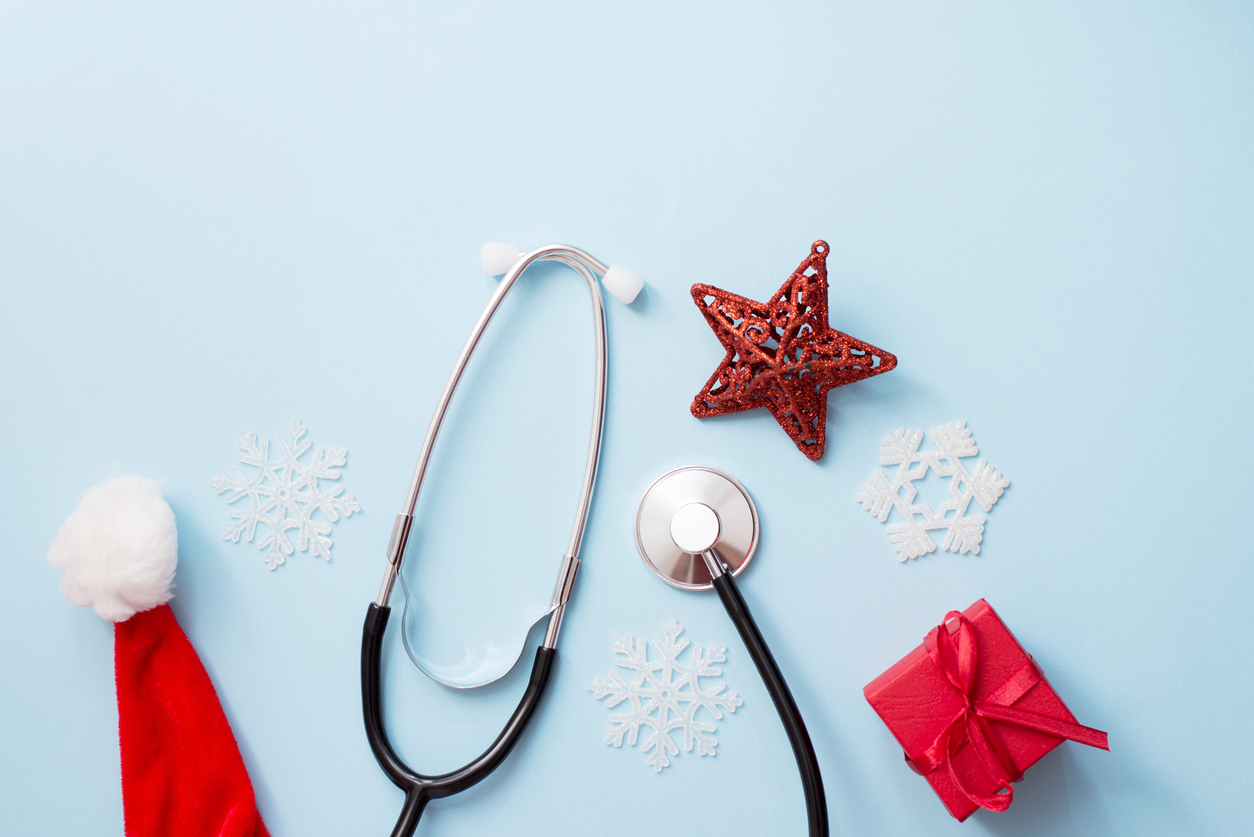 Practice What You Learned During the Height of the Pandemic


One of the biggest things we learned during the pandemic is how important it is to stay home if you're feeling sick or unwell.  This protects everyone around you and forces you to rest so you can heal.  Other important 'pandemic habits' are to wash and sanitize your hands often, avoid touching your face and mouth with your hands, and to consider wearing a mask when you're in crowded or closed spaces.
Stay up-to-date on Vaccinations
Vaccinations are so important for staying healthy, especially when you're traveling.  Before you travel, check for recommended and required vaccines at your destination and make sure you're up to date. Dr. Nathan recommends the flu shot and the most recent COVID-19 vaccinations—and if you're in the appropriate age group, I also recommend the pneumonia and shingles vaccines.  Finally, make sure you're up to date on your routine childhood vaccinations as well.
Remember Self-Care


Travel is fun, but with crowded airports and holiday family gatherings, it can also get stressful.  Before you travel, think about what your stressors might be and how to work around them. For example, give yourself extra time to help mitigate anxious feelings that could come with being rushed when standing in lines or in traffic.  Self-care is also important! Stay hydrated, get plenty of sleep, and keep your usual routine for stress management.  Finally, get outside!  Time in nature boosts your immunity and your mood…even a few minutes outdoors makes a huge difference!
Help Boost Your Immune System


Work to keep yourself healthy in the weeks leading up to your trip.  Stay hydrated and get plenty of sleep.  Cut back on your alcohol intake, especially if you're traveling in airplanes. Eat healthy nutritious food and take your vitamins and probiotics if that is in your normal routine.
Stick With a Healthy Routine


Keeping some of your usual routines from home makes travel health that much easier.  (Try!) to keep your usual exercise routine, even if it's a lighter version of what you would normally do at home and stay on a regular sleep schedule. Eat healthy foods, but still give yourself the space to try local foods and snacks.  If you're outdoors, protect yourself from the sun: it's easy to forget that sun damage still happens, even in colder weather.
Be Careful at Buffets


Buffets are a great way to try different foods, but they can be a breeding ground for germs.  Luckily, you can take steps to keep you safer and healthier when you eat at a buffet.  Avoid eating foods that have been sitting out for more than two hours (one hour in hotter climates).  Avoid easily contaminated raw vegetables such as sprouts, spinach, and lettuce.  Avoid raw or undercooked meats and seafood…some experts recommend avoiding seafood completely at buffets because the risks of bacterial contamination are so high.  Avoid mayonnaise-based dishes, unless you know they are fresh.  And most importantly, wash or sanitize your hands before going to the buffet.
Have a Plan If You Get Sick


It's always a good idea to travel with a small first aid kit that has some basic over the counter medicines.  If you take medications regularly, take extra doses with you when you travel. just in case you have delays getting home. And last but  not least, know your local resources when you travel: the area pharmacy, the hospital, places you can get medical attention if you need it.  And finally, reach out to your travel risk management and assistance company if you need help!
Want to Learn More?
For over 25 years, On Call International has provided fully-customized travel risk management and global assistance services protecting millions of travelers, their families, and their organizations. Contact us today to learn more. You can also stay in touch with On Call's in-house risk management, travel health and security experts by signing up for our quarterly Travel Risk Management (TRM) newsletter.