A canceled or delayed flight can be stressful for anyone from first-time flyers to even the most seasoned travelers. However, the good news is, that there are tips and tricks that anyone can have in their 'travel assistance toolboxes' to help minimize the impacts from these setbacks. On Call's Global Response Center receives several of these inquiries daily, and have some great recommendations for  travelers who need to get back in the air—and back to their trips—as quickly (and as painlessly) as possible: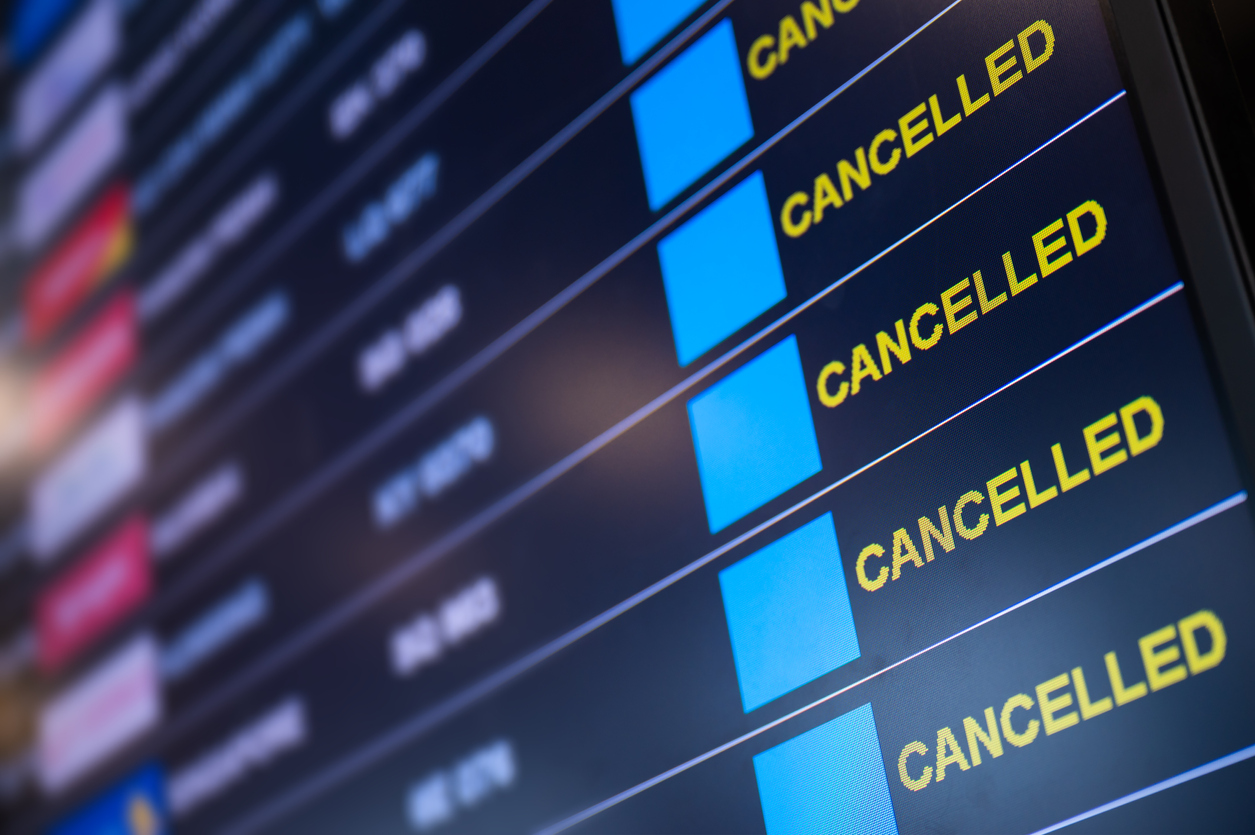 Book Flights Wisely: Reserve nonstop flights (when possible), fly on off-peak days (like Tuesday and Wednesday), and choose morning departures. When flying in the morning, the chances of having a flight affected by problems at other airports are less, and it's also much easier to find a different flight for the same day. Pro tip: When possible, travelers should choose airlines with the most flights to and from their destinations as this will dramatically increase rebooking options if a problem arises.
Make Hotel Reservations Early: Booking a hotel reservation in advance is a great way to prepare for unplanned delays or cancellations—waiting until everyone else is also trying to find a hotel room will make the chances of getting a hotel room much slimmer. Pro tip: for our clients and travelers whose flights have already been delayed or canceled, they can contact On Call's 24/7/365 Global Response Center, and we can help them find and book their accommodations accordingly.
Do Alternate Flight Research (Ahead of Time): Being prepared with alternate options is one of the best tools for successfully rebooking a flight. Also knowing the airline's partner carriers, especially if traveling internationally, helps significantly broaden re-booking options. Pro tip: travelers who haven't checked luggage will often have the most flexibility in rebooking flights.
Join the Line: this is an inevitable part of rebooking a canceled or delayed flight, but we always recommend our travelers be extra productive by also calling their airline's customer service while waiting in line at the gate. Pro tip: On Call's clients and travelers can always call us for help if their original airline can't accommodate their rebooking needs – we'll not only review new flight options with alternate airlines, but we can also assist with booking flights. We can also notify others—such as a boss, colleague, ground transport company, and/or family member—of the new anticipated ETA.
Make the Most of It: Many airports have invested heavily in waiting areas and dining outlets and have branches of popular local restaurants and boutiques to provide travelers with access to regional favorites. For added comforts, such as Wi-Fi access and an escape from the crowded concourses, airport lounges offer additional amenities. Pro tip: Travelers can gain access to various airport lounges with certain credit cards, specific boarding passes (typically first or business class) or for a daily fee, depending on the lounge.
Know Thy Rights: …Did you know? Airline passengers have specific rights when it comes to refunds. The DOT clearly outlines them on their website, should also check their airline's website for more information on their cancellation policies. Pro tip: Keep a written log of why the flight was canceled or delayed and save boarding passes/travel itineraries/receipts as well as any other documentation needed to file a travel insurance claim. This will make it that much easier when it comes time to file a claim. This leads to our next point:
Don't Forget Insurance: when flights are canceled or delayed, travel insurance can pay for itself via the financial reimbursement one can receive for any expenses that are a result of the canceled/ delayed travel plans. Pro tip: On Call's Global Response Center can assist our clients and travelers by providing them with information on how to file a claim, and even tracking down claim forms on their behalf.
Want to Learn More?
On Call's clients and travelers are encouraged to contact us if they need assistance with any travel problem—no matter how big or how small. For everyone else, please feel free to get in touch with us for more information, as well as how On Call can help protect your travelers with our customized travel risk management and assistance programs.
For over 25 years, On Call International has provided fully-customized travel risk management and global assistance services protecting millions of travelers, their families, and their organizations. Contact us today and watch our video to learn more. You can also stay in touch with On Call's in-house risk management, travel health and security experts by signing up for our quarterly Travel Risk Management (TRM) newsletter.