Post updated on 3/12/18.
As universities continue to develop more robust travel risk management plans, they are often confronted with uncertainties that identify a need to further define the extent of their duty of care obligations. Throughout the course of an academic year, numerous situations can cause administrators to reevaluate their roles when it comes to student travel and when to provide travel risk information to students. Spring Break provides a particularly unique situation, as students depart campus on personal travel for destinations where threat levels vary drastically depending on the specific location. Even if Spring Break travel falls outside the purview of an institution's travel risk management program, administrators may still want to consider providing some basic travel safety advice as a public service to their students. In this blog, we will discuss the safety and security situation in some popular Spring Break destinations and address some considerations for higher education administrators.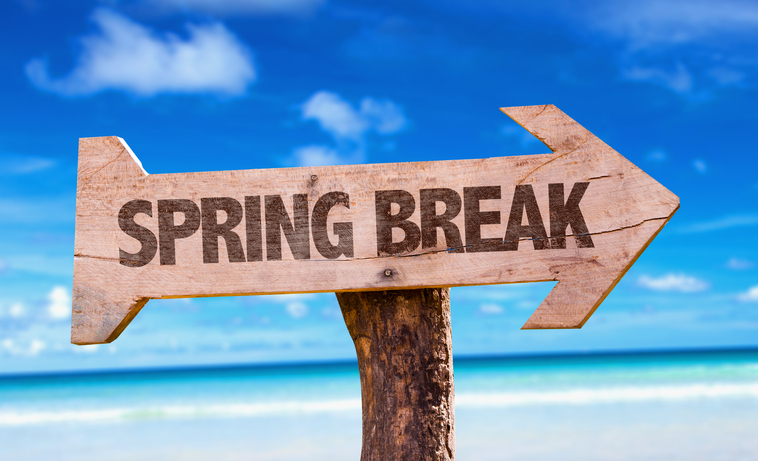 Popular Spring Break Locations Impacted by Volatility
It is worth noting that the resorts many spring breakers will be staying in remain very safe. Local police agencies typically concentrate efforts on securing these tourism hotspots that are vital to their countries' economies.  Further, most reputable establishments/resorts employ in-house security teams. That being said, travelers looking to venture off their resorts and outside tourist centers need to be aware of the increased risk.
Throughout the last year, reports of crime, gang activity, and violence have increased on the periphery of some popular resort locations, including many that are common destinations for Spring Breakers. See below for some of the most prominent examples:
Cancun Area & Cabo San Lucas, Mexico: Many regions throughout Mexico have seen a significant uptick in crime and violence over the last several years, and the areas surrounding popular tourist destinations in the country are no exception. Last year, notable shootings occurred at a Mexican government office in downtown Cancun and at a popular nightclub in Playa del Carmen. A gun attack in a crowded area of downtown Cancun resulted in one death. In response, there is currently an increased police presence in the Cancun area, including in the hotel zone. Compounding issues are reports of tainted alcohol-related deaths at several tourist resorts and drink spiking. Furthermore, on March 7th the U.S. State Department issued a Security Alert regarding Playa de Carmen, Mexico. The alert stated that effective immediately, U.S. Government employees are prohibited from traveling to a number of neighborhoods in Playa del Carmen until further notice because of an ongoing security threat in the area
The Bahamas:  In the Bahamas, violent crime, armed robberies, and sexual assault are becoming increasingly common. On February 8, 2018, the U.S. Embassy in Nassau released a Security Alert stating that a U.S. citizen had been assaulted near the Goodman's Bay Park area of the island. Further, U.S. government personnel are currently prohibited from visiting the Sand Trap area of Nassau due to the increased risk of crime. The Sand Trap area of Nassau is situated directly next to Fish Fry – a popular tourist area that has numerous restaurants and shopping options. Even popular tourist areas can become high crime areas after dark and should be avoided. Also worth noting is that jet ski operators are specifically identified by the State Department as being notorious for committing sexual assault and targeting tourists.
Montego Bay, Jamaica: On January 18, 2018, a limited state of emergency was issued for St. James Parish, which includes the city of Montego Bay–home to many of the island's most popular tourist destinations and largest luxury resorts. The 2017 year-end crime and homicide statistics in Jamaica indicate a deteriorating security environment, and authorities are targeting high-crime areas of the city in an effort to reduce risk. Specifically, St. James Parish recorded 335 murders last year, and this limited state of emergency allows the authorities to heighten security measures and take a more heavy-handed approach in reducing crime around tourist areas. Recently, the Jamaican House of Representatives extended the state of emergency in St. James Parish until May 2, 2018. The U.S. Department of State currently places a Level 2 Travel Advisory on Jamaica, indicating that travelers "exercise increased caution in Jamaica due to crime." On Call International's Caribbean regional analyst offers the following advice, "At this time, I highly recommend that travelers to Montego Bay stay on resort property and do not venture into any of the surroundings areas after dark." College students can be adventurous and may not think twice about wandering around an unfamiliar destination, only to unwittingly find themselves in an unsafe area of the city.
Considerations for Administrators
First and foremost, higher education administrators must define their roles when it comes to Spring Break travel. On one hand, students embarking on Spring Break vacations are doing so as part of their personal plans, and the argument can justifiably be made that it falls outside the purview of a university's travel risk management program. Nevertheless, Spring Breakers still identify as constituents of their institutions when traveling, which results in an element of reputational risk for their respective schools if something were to go amiss.
Although Spring Breakers may, in theory, fall outside the scope of a travel risk management policy, colleges and universities should consider offering some basic risk management advice as a community service and best practice. Providing some general information about popular Spring Break locations and corresponding security tips can go a long way to reducing risk. Reaching out with a newsletter or some other form of communication also provides a unique and beneficial touching point for risk administrators to engage with the university's traveling population.
If planning to engage with travelers ahead of Spring Break, consider encouraging them to take some of these basic security precautions:
Enroll in the State Department's S-T-E-P Program prior to travel and consult the State Department's website for more information on their destinations.
Review the CDC webpage for the country you are headed to for any health related risks and/or needed vaccinations prior to travel.
Never accept beverages from a stranger, never leave food or beverages unattended, and always monitor drinks to prevent drink-spiking. Refrain from overindulging to maintain situational awareness. Utilize the buddy system.
Maintain a low profile to help avoid being targeted by criminals. Avoid wearing expensive jewelry, limit the amount of cash or credit/debit cards being carried, and leave expensive electronics in the hotel room.
Arrange travel to and from the airport beforehand by coordinating with the hotel/resort or hiring a professional car service.
Plan to spend the majority of time on the resort. If venturing away from the premises, research the safety of the area beforehand, travel in groups, and make sure to return to the resort before nightfall.
If embarking on excursions, ensure it's a reputable tour provider.
If something doesn't feel right, don't be afraid to engage with the resort employees. Resorts are customer service focused and generally have the guests' best interests and safety of top of mind.
Local authorities at common spring break destinations are typically responsive to reports of crime submitted by tourists; engage with the police and the U.S. Embassy if you are a victim of a crime.
With many popular Spring Break locations experiencing increased risk levels, institution administrators should take the opportunity review the scope of their travel risk management programs and consider how opportunities like Spring Break provide a chance to promote safe travel throughout the community.
For more information about travel safety and holistic risk management, contact us today.