Fall's pleasant temperatures and gorgeous leaves have a lot of outdoor enthusiasts ready for a hiking vacation. Whether you're hiking international trails, or staying close to home, these tips will help you plan a safe and enjoyable hiking adventure.
Research your options. The home page of the National Park Service is a great place to start if you want to travel within the U.S. Here you'll find information on the numerous national parks and monuments scattered throughout the country, often with admittance for little to no cost. Click on "find a park" and you'll be able to search the site's database of locations by state, park name or even the type of activity you're looking for.
Get an early start. While you might lose a little sleep, an early start can work out in your favor. Sometimes high altitudes can be prone to afternoon thunderstorms.  Starting early means you can probably miss any downpours during vulnerable afternoon hours, not to mention you'll be finished before dark when it's easier to get lost. An early start also means lower temperatures, keeping you cool and reducing the amount of water you'll need in your pack.
Know your environment and terrain. Whether you are hiking in an exotic location or not, it's essential to be familiar with the environment. It's good to know which plants and animals in the area should be avoided, as well as typical weather patterns and forecast. Don't hike near a country's border. If you get lost, you could unintentionally wander across the border into another country, which could potentially lead to your arrest or capture.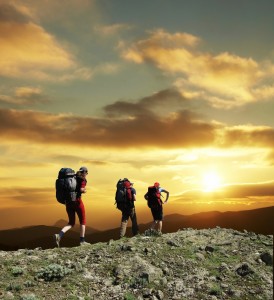 Be safe with water. That beautiful mountain stream may be much more dangerous than you think. Although it may appear t be safe and clean to drink, most natural water sources have high levels of bacteria that can make you very sick. Play it safe and bring your own water or water filter for drinking.
Be smart with food. From bears encounters to sloshing through streams, keeping your food in tightly sealed containers is a smart practice. If animals can smell your food, they may want to explore further, meaning you could find your meal ravaged by a hungry raccoon or, worse, find yourself facing a hungry bear.
Be careful with fire. It's a good idea to appoint someone as the official fire guru. This person should be well-educated in fire safety regulations, as well as where they can build fires in the park. Never leave a fire unattended.
Learn first aid and carry a kit. Have a plan in case of emergency, complete with a list of who to contact. Even simple first aid techniques can go a long way in saving the day, or even saving someone's life. Be sure to carry a first aid kit with remedies for basic illnesses and injuries, as well as any specific treatments for common ailments in your destination.
Know how far you are from the nearest hospital.
Always be aware how far you may be from proper medical attention. If hiking in the U.S., ask your Ranger for this information. They will be able to direct you to the nearest hospital or clinic. Knowing this information in advance could save someone's life. As always, be sure to pack your On Call membership card  for help in an emergency.
Don't hike alone. It's just too risky to do major hikes by yourself. If you're in unfamiliar territory, the chances of becoming lost, injured, or losing supplies is much higher when alone. Hike with a group, and be sure to tell someone where you are going and when you plan to return. It's also a good idea to check in at the ranger station so they are aware of your location.
What are your safe hiking tips? Share in the comments below!