We're all aware that during the winter, weather conditions like blizzards and ice storms can cause widespread flight delays and even bring your business travels to a halt. Now that summer is officially here, your biggest concern is packing some sunscreen for any downtime between meetings, right? Wrong! In fact, weather-related delays are typically worse in the summer because storms can form quickly, stretch for hundreds of miles and move rapidly over large areas of the country.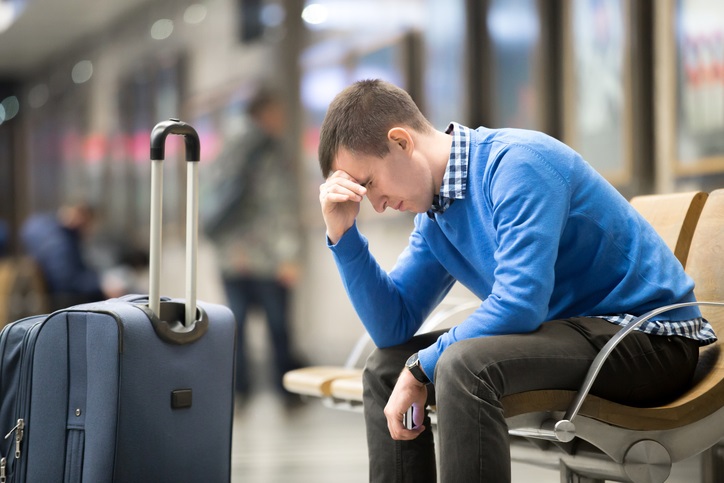 According to the Bureau of Transportation Statistics, around 40% of all flight delays are caused by weather, and summer weather conditions such as extreme heat, heavy downpours and unexpected pop-up thunderstorms are all common culprits. We know traveling for work can be stressful enough on its own, so we've put together the following tips on how to keep summer weather problems from compromising your upcoming business trips.
Choose your Flights and Connecting Airports Wisely: As we mentioned earlier this year in our post on tips for air travel in bad winter weather, flying direct is a great way to avoid time-consuming layovers or possible connecting flight delays. Choose an early morning flight, before the day's heat begins to create problems with convection (which produces moisture in the air that can lead to hail, strong winds and heavy rains). The chances of having your flight affected by problems at other airports are lessened, and if your flight is cancelled or delayed, you'll have a head start in finding an alternate flight than travelers who got a later start. When delays hit the busiest airports, they tend to "cascade," getting worse throughout the day, because there's no spare capacity to catch up once delays creep into the schedule.

Helpful Hint: To give yourself an even more of a head start, ask your employer if you can fly out the day before your business commitments to allow extra buffer time.


Check the Forecast(s): Think outside-the-box when checking the weather forecast for your trip; don't just look at the weather in your departure and arrival cities. You should also check any layover cities. For example, it may be sunny and beautiful in New York and Los Angeles, but if you're connecting in Chicago where a thunderstorm is expected, you could run into a delay or cancellation that could keep you from getting to your destination (and that important meeting!) on time. Call your airline as soon as you see potential for bad weather and see if you can get a connecting flight through a different part of the country. This may complicate things a bit, but at least you won't be sleeping in a chair at the airport. It's also a good idea to avoid connecting airports that have a reputation for weather delays if at all possible (check out this list from the Weather Channel). Staying on top of the weather is easier than ever these days with websites and mobile apps providing real-time updates and notifications 24/7.


Prepare for Delays: Unfortunately, the summer tends to be the worst season for air travel delays. Since demand is higher from June to August than for the rest of the year, airlines schedule more flights. If severe thunderstorms – or worse, tropical storms – slow departures and arrivals in some of the major hub cities, the potential result is a domino effect of delays and cancellations nationwide. If you're already at the airport and your flight gets delayed or cancelled, don't just count on a gate agent to search the schedules of other airlines. If you have an On Call membership, we can help you find flights and hotel accommodations if you're stuck somewhere. Try to research alternate flights ahead of time and make sure to keep all of the information, including airlines' phone numbers, handy (calling an airline's customer service number is often much quicker than waiting in line at the airport). It's also always a good plan to follow airline updates on your carrier's website and on Twitter. You'll find that many airlines regularly post flight updates and are quick to respond to customer service inquiries on their social media pages.

Remain Accessible: In case your initial or connecting flight does end up being delayed due to weather conditions, it's important to remain accessible during the delay. Stay near the departure kiosk to ensure you can hear all flight updates clearly. Follow the instructions of the kiosk personnel, including leaving legible name and contact information in cases of extended delays. Keep your cell phone on and within reach to avoid missing important updates, as many airlines will give you the courtesy of notifying you of flight delays and cancellations. Be sure to alert colleagues of your flight delay and provide timely updates as you learn new information.
Summer weather can be unpredictable, but don't let a glitch like an unforeseen thunderstorm rain on your business travel experience. . When it comes to flying in weather conditions that are often unpredictable during the busy summer travel season, being prepared is the best step you can take to ensure a successful business trip.
Safe Travels!