Author: On Call International's Global Security Team
On Call International's Monthly Risk Spotlight highlights events of heightened importance in assessing risk to travel and operations abroad.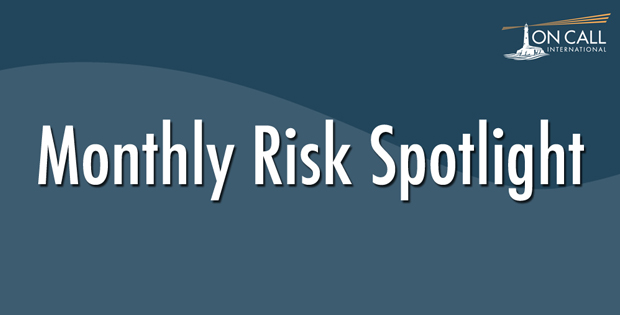 Americas
Russia Attempts to Buoy Maduro Regime as Venezuela Collapses
In December 2018, Russian President Vladimir Putin and Venezuelan President Nicolás Maduro met in Moscow to discuss their nations' alliance. The result was an announcement that Russia will invest more than U.S. $6 billion in Venezuela beginning in 2019. This includes some $5 billion to be injected into Venezuela's struggling oil sector and another $1 billion for mining investments, mirroring Russian investment in natural resource extraction in other regions of the world. Additionally, the two leaders announced the delivery of 600 tons of wheat to Venezuela and the continued provision and maintenance of Russian military equipment to Venezuelan security forces.
Russia is one of a handful of allies remaining by Maduro's side as the U.S. continues to tighten its sanctions on the regime. China and Turkey also extend support to Venezuela through various channels, with China investing in telecommunications and oil production and Turkish business interests involved with Venezuelan gold mining. Prior to the latest announcement, however, Venezuela was already behind in making payments on $6 billion in Russian loans. Notably, Russia's announcement regarding a decision to double its risky investment in the failing state was not accompanied by details of what Venezuela is offering Putin in return. One clue might be the nearly simultaneous announcement by Russia's Defense Minister, Sergey Shoygu, who stood alongside his Venezuelan counterpart as he revealed that Russian ships will continue to use Venezuelan ports and Russian aircraft will stop in Venezuelan airfields.
Behind these geopolitical games lies a humanitarian catastrophe, the likes of which Latin America has not seen in generations. Almost 10% of Venezuela's population, approximately 3 million people, have fled to neighboring South American countries that are struggling to provide for the desperate refugees. The United Nations asked for $738 million to help these states address the problem in 2019. Food, fuel, and medicine are virtually inaccessible to the Venezuelans who remain in country, almost 90% of whom live in poverty. Violent crime is soaring, with the latest available statistics reporting the murder rate at 89/100,000 people—this makes Venezuela the second most murderous country per capita in the world, behind El Salvador. The International Monetary Fund predicts that the inflation rate in Venezuela will reach 1,370,000% by the end of 2018 and will near 10,000,000% in 2019. Russian investments will hardly be noticed by most Venezuelans.
Middle East and North Africa
Qatar Leaves OPEC
On December 3, 2018, Qatar announced it will be leaving the Organization of the Petroleum Exporting Countries (OPEC) in January 2019 to focus its efforts on natural gas. Qatar is notably the first Middle East nation to leave OPEC, after nearly six decades of membership. While Qatar's departure has little impact on global oil markets, accounting for less than 2%of OPEC's total production, its decision to leave OPEC underscores Gulf divisions and the institution's declining influence from the 1970s.
Although Qatar has repeatedly denied that politics influenced its departure, it is evident Qatar's decision to leave OPEC was likely influenced by growing tensions with Saudi Arabia, which has dominated the group. Qatar is currently enduring a 20-month economic, diplomatic, and political boycott by Saudi Arabia, Egypt, the United Arab Emirates, and Bahrain that has worsened relations. The Arab Quartet has placed an embargo on Qatar in 2017, amid claims and counter-claims of state-sponsored hacking, the promotion of fake news, and support for terrorism. Qatar has repeatedly denied the charges, claiming the boycott aims to impinge on its independent foreign policy. This political friction was exposed more recently at the annual Gulf Cooperation Council (GCC) meeting in Riyadh, Saudi Arabia. Saudi Arabia and its allies criticized Qatar for snubbing a personal invite from King Salman and sending a relatively junior foreign minister to the annual meeting. Qatar's surprise decision to leave OPEC has inevitably raised questions about whether the country might also quit the GCC.
Qatar's departure further underscores the waning influence of OPEC since the 1970s. There is a growing consensus that non-OPEC countries, specifically Russia and the United States, are playing a larger role with regard to influencing global oil policy. Earlier this year, the U.S. regained its spot as the top shale oil producer in the world since the 1970s. Accordingly, OPEC oil ministers have looked to Russia as a key non-OPEC player. On December 7, 2018, OPEC and Russia reached a deal, agreeing to cut oil production targets to boost oil price.
Asia-Pacific
Sri Lanka – External Geopolitical Aspirations Fueling Internal Political Crisis
This past October, President Maithripala Sirisena dismissed Prime Minister Ranil Wickremesinghe and replaced him with former president Mahinda Rajapaksa, triggering political uncertainty and a constitutional crisis in Sri Lanka. The move also corresponded with Sirisena's Sri Lanka Freedom Party (SLFP) exiting a majority coalition (United National Front coalition) and hoping to leave the Wickremesinghe party, the United National Party (UNP) without a majority to continue. However, the decision backfired, viewed by most members of parliament as unconstitutional, and led to the dissolution of parliament.
The Supreme Court on December 7, 2018, then issued a reserved verdict regarding the dissolution of parliament and stated a final verdict will be issued in December on the constitutionality of President Sirisena's actions. It has since halted government preparations for snap elections Sirisena called for in early 2019. The snap elections were allegedly an attempt by President Sirisena to shift the political balance of parliament, which has largely ruled against him. Sirisena's new choice for government, under Rajapaksa, already lost multiple votes of no confidence, but still refuses to cede. In response, members of parliament have, so far, voted to block the Prime Minister's office from spending any government funds.
These developments highlight ongoing divisions within the country–a country that is still recovering from a civil war that ended in 2009 between the majority Sinhalese and the Tamil populations. The appointed Prime Minister, Rajapaksa, faces widespread allegations of human rights abuse committed against Tamil civilians during the final stages of the civil war during his presidency.
The dismissal of Ranil has been attributed to personal differences between Sirisena and Wickremesinghe, a refusal by the latter to back Sirisena in the next elections. There is also a host of other issues, including an alleged assassination attempt on Sirisena by unnamed opponents. Despite real internal divisions, regional observers–in tandem with comments recently issued by Sirisena–have indicated that due to Sri Lanka's strategic geographical location, the latest political crisis is a result of the wider geopolitical wrangling between China and India (and other partner countries), and their perceived intentions for where Sri Lanka's allegiances should lie. Indeed, it must be telling that China is the only country in the world that has so far recognized Sirisena's choice for Prime Minister
Sub-Saharan Africa
U.S. Returns to Somalia
The United States has renewed a "permanent diplomatic presence" in Somalia, nearly 28 years after the U.S. Embassy in Mogadishu closed amid the outbreak of civil war. Somalia has been trying to recover from the conflict that engulfed the country in 1991, when clan warlords overthrew the dictator and then turned on each other. Although the U.S. has supported peace-building and relief operations in Somalia in the past, its activities have largely been based in Nairobi, Kenya. The U.S. has taken a low-key approach since President Clinton ended Operation Restore Hope, following the tragic downing of two U.S. Black Hawk helicopters and the deaths of 18 marines on October 3, 1993. The recent announcement to restore a permanent diplomatic presence in Mogadishu reflects growing U.S. interest, optimism, and a more aggressive stance in Somalia—which is underscored by increased drone strikes against al-Qaida affiliate al-Shabaab over the past year. According to U.S. State Department spokeswoman Heather Nauert:
"This historic event reflects Somalia's progress in recent years and is another step forward in formalizing U.S. diplomatic engagement in Mogadishu."
Nevertheless, the State Department still lists Somalia as "Level 4: Do Not Travel," emphasizing that Mogadishu remains dangerous. Al-Shabaab withdrew from Mogadishu in 2011 but retains a strong presence in areas outside the capital. Furthermore, many embassy staffers will reportedly remain at the U.S. diplomatic mission to Somalia based in Nairobi, Kenya.
Although many parts of Somalia continue to be plagued by militant violence, a degree of stability in the capital has drawn investment to the country, providing some optimism regarding the country's progress. In September, the World Bank approved $80 million US in grants to Somalia to fund public finance reforms, the first disbursement to the country in 30 years.
Europe And Central Asia
French Yellow Vest Protests Heat Up
A French movement nicknamed the "Yellow Vest Group" has been staging ongoing protests throughout France since November 2018, surrounding President Macron's intentions to raise the French fuel tax. Protests took place in Paris on November 24, 2018, and December 1, 2018. The protests on December 1st turned significantly violent, with protesters climbing and damaging the Arc de Triumph, burning cars, looting shops , and attacking police officers . The violence is believed to have been implemented mostly by radical left- and right-wing protestors who hijacked a normally peaceful movement to propagate violence and chaos. The French government took various mitigation measures to prevent the protests on December 8th from becoming violent and/or damaging public landmarks and property.
The mitigation measures they took included doubling the number of police officers, putting the French military on backup in case of escalation, and holding numerous emergency meetings. Most major landmarks and museums in Paris closed for fear of potential vandalism. In addition, police advised businesses, shops, and restaurants to close for fear of looting. Despite these measures, violence still occurred on December 8th. However, police were determined to ensure that violence did not reach the heights of the previous week, and arrested 1,200 individuals on December 8th.The French government and law enforcement have since vowed that violence and vandalism will continue to be punished, and they will continue to contain future protests.
Nevertheless, the protests have forced Macron's government to take Yellow Vest-related concerns seriously, and Macron has enacted a series of compromises. These compromises are hoped to appease moderate protestors and significantly decrease the size of future protests while further exposing radical elements. Macron addressed the public directly on December 10, 2018, vowing once again to suspend the fuel tax and raise the minimum wage. Amongst criticism that Macron is the "president of the rich" and out of touch, it is hoped that these measures will soften the population's views towards Macron. It is evident Macron should walk a fine line between appeasing protestors while also not appearing to bow down to violence. Time will tell in the coming months if Macron's government can successfully navigate this new crisis.
Need help assessing the global risks affecting your travelers? Contact us today.