On Call International's Monthly Risk Spotlight highlights events of heightened importance in assessing risk to travel and operations abroad.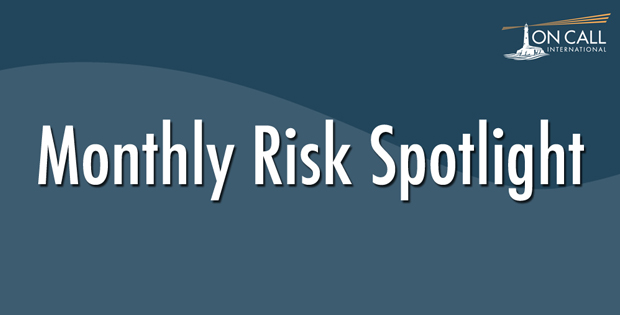 AMERICAS
Deadly Incidents Demonstrate Lack of Rule in Mexico
A fierce gun battle in Culiacán in October and a deadly massacre in rural Sonora in early November laid bare the lack of rule of law in much of Mexico. The two incidents are just a few of the more publicized cases; cartel shootouts, dismembered bodies, and massacres occur on a daily basis in much of Mexico. As 2019 draws to a close, the country's homicide rate is skyrocketing. If the trend continues, it will be the deadliest year for Mexico since the country began reporting crime statistics. The deaths, brazen daytime attacks, and rampant corruption all demonstrate that the government does not have a grasp on the growing violence.
In October, Mexican military forces, accompanied by state police, attempted to arrest a son of an infamous former drug kingpin, Joaquín "El Chapo" Guzmán Loera, in Culiacan in the state of Sinaloa. What followed was an all-out assault on the security forces by hundreds of cartel gunmen in broad daylight in a major Mexican city. The crisis escalated so quickly that federal forces, in an attempt to relieve pressure by cartel gunmen, seized another son of Guzmán and forced him to attempt to call off the cartel soldiers. This did not work, and Mexican soldiers soon released both of Guzmán's sons after at least 14 people were killed in the violence. Photos and videos of the citywide confrontations circulated widely online, depicting scores of cartel gunmen armed with military-grade weapons, ballistic vests, and armored vehicles.
In November, cartel gunmen ambushed three vehicles along a road in the state of Sonora, riddling the cars with bullets and setting one on fire in the process. Three women and six children who belonged to a nearby community of breakaway-Mormons, all of whom were dual U.S.-Mexican citizens, were killed. The Mexican government claimed the attack was likely a case of mistaken identity, believing that dueling cartels in the area had mistaken the civilians for rivals. Families and neighbors of the victims were less certain, noting prior threats and a recent history of violence with local gangs. What is clear is that the attack has prompted much of the affected community to flee Mexico.
These attacks, and scores of others like them, are prompting many observers to call into question Mexican President Andrés Manuel López Obrador's "Hugs, Not Bullets" strategy. AMLO's call for abandoning the government's more aggressive kingpin strategy of targeting cartel leaders in favor of addressing the wider issues driving violence, like poverty and lack of education, ignores the fact that much of Mexico is effectively under the thumb of organized criminal groups engaged in drug trafficking and countless other illicit enterprises. The violence demonstrated in recent incidents has become an everyday reality for Mexicans, and absent a comprehensive approach from the government, is unlikely to abate anytime soon.
MIDDLE EAST AND NORTH AFRICA
Uncertainty in Lebanon as Protests Continue for Second Month 
A month has passed since angry protesters in Lebanon first took to the streets to denounce the announcement of new tax measures. The protests have since evolved into a nationwide protest movement against an elitist ruling class perceived as corrupt and incapable of running the country.
On the 17th of October, mass protests surfaced across Lebanon after the government approved a daily twenty percent extra cost for messages and calls on WhatsApp, a mobile phone messenger application widely used in Lebanon. The imposition would be a breaking point for many Lebanese frustrated with government corruption, poor governance, and economic mismanagement. Lebanon suffers from an estimated twenty-five percent unemployment rate, a looming financial crisis and waste crisis, water and electricity shortages, and a sectarian political system that struggles to provide citizens with the most basic services. In response to the announcement, protesters turned out in larger numbers calling for reforms blocking highways and prompting the closure of banks, schools, and universities.
Despite the government's quick reversal of the proposed tax, attempts to quell protests with economic reforms, and the resignation of Prime Minister Hariri, demonstrations are likely to continue across Lebanon. The protests have evolved into a nationwide movement calling for a complete overhaul of the sectarian political system where power is legally shared among different ethnic and religious groups. The ruling elite has been exploiting these sectarian divides since the signing of the 1989 Taif power-sharing agreement at the end of the Lebanese Civil War. Protesters, in turn, have demanded the government resign and called for the formation of an independent technocratic government to tackle the country's worsening financial crisis and improve access to basic services, such as electricity and water.
The protests In Lebanon have largely been peaceful, reflecting a sense of unity among the public and the Lebanese Army. Nevertheless, some clashes have broken out between protesters, counter-protesters, and security forces. At least five protest-related casualties have been reported since the protests began. In late October, supporters of Iran-backed Hezbollah and the Shiite Amal movement, which is closely allied with Hezbollah, clashed with protesters in Beirut.
ASIA-PACIFIC
Bushfires in Australia 
Recent bushfires across New South Wales and Queensland states in Australia have been some of the worst seen in the country for decades. The vast devastation caused by these bushfires highlights the risks posed by such natural disasters, particularly in these southeastern Australian states. As of the writing of this report, there are approximately fifty-five bushfires in New South Wales and seventy in Queensland. Four deaths due to the bushfires have been reported, more than three hundred homes have been destroyed, and over one million hectares of land have been burned.
Australian authorities have declared a state of emergency due to the latest bushfires, allowing the deployment of additional resources and the activation of military forces that can be used to contain the flames. Despite these efforts, the bushfires will likely continue to scorch Australia's southeast and even threaten Australia's most populous city, Sydney. Anyone in the vicinity of the current or future bushfires is advised to monitor relevant government notices of evacuation and, if ordered to evacuate, leave the area under evacuation order immediately.
Australia has long been affected by bushfires, particularly New South Wales and Queensland states. Dry weather in this region between the months of November and April does much to increase the likelihood of bushfires developing. Temperatures in excess of 100 degrees Fahrenheit and high winds have all combined to provide the perfect environment for bushfires to develop. In addition to the natural causes behind the creation of bushfires, there have been several instances of people intentionally setting fires. Most recently, a sixteen-year-old was arrested after starting a bushfire in Queensland State. Additionally, the effects of climate change in Australia, including lower rates of rainfall and thus an overall dryer environment, have had the effect of further exacerbating the threats posed by bushfires.
As for Australia's future outlook regarding bushfires, authorities warn that the expected high winds, high temperatures, and a continued lack of rainfall will likely continue to foster an environment in which new brushfires will spread and develop. Resources continue to be pushed towards containing and preventing bushfires but this will likely continue to be a major problem through the remainder of Australia's dry months and into the coming years.
SUB-SAHARAN AFRICA
Continued State of Terror in Burkina Faso and the Challenges of Response
Since the infestation of extremist ideology in Burkina Faso became apparent in 2016, jihadist violence in Burkinabe territory has shown no signs of slowing down. From 2016 onwards, the West African country has consistently been hit by large scale and sophisticated deadly attacks, such as the high profile 2016 siege and mass shooting at the Splendid hotel, and Cappuccino restaurant in the capital city, Ouagadougou, which left several foreign nationals dead, including one American. This event highlighted the failure of the common perception that the jihadist threat was contained in the north, where Burkina Faso meets Mali and Niger in the Sahel. The threat of terror now seems ubiquitous in the country. Insecurity is at an all-time high, and the situation appears to be deteriorating due to a weakened security apparatus.
In November of 2019, a Canadian mining convoy was targeted near the town of Boungou, in the east, resulting in the death of people and leaving an additional 60 injured. Although no group has claimed responsibility for the attack, the techniques used in the attack point to the Islamic State of Iraq and the Levant (ISIL). The attack stands as the third deadliest in less than two years. The Canadian mining company, Semafo has since announced the suspension of all mining activities until the security environment in the country allows for normal operations to resume. Other foreign companies are likely to follow suit and possibly terminate all business. The current climate in Burkina Faso is uninviting to both tourism and foreign investment. As a result of the convoy attack on the 6th of November, Bloomberg reports that Semafo's market value is already down thirty percent.
The jihadist problem of Burkina Faso is clear, however, the appropriate methods of response are unclear. Taking lessons from Iraq, Afghanistan, Syria, etc., the threat of terrorism is one with disputable solutions. The United States and its allies have claimed many victories in battling the threat, from the assassination of al-Qaeda leader, Osama bin Laden, to the recent assassination of ISIS leader Abu Bakr al-Baghdadi. These victories have value for justice but mean little to containment; terrorism continues to spread like mercury. For Burkina Faso, much like for other African nations, the death of al-Baghdadi has meant little.
Counterterrorism efforts in Burkina Faso, to date, have failed to curtail the problem. Along with France, the country recently announced joint counterterrorism cooperation at the borders of Mali and Niger; an announcement met with mixed reviews. Many resist any French involvement in Burkinabe territory due to tensions of colonial roots and concerns that Western actions may further spread jihadist ideology in the fragile nation. Yet, the current Burkinabe armed forces have demonstrated a lack of training, finances, and equipment to respond proportionally on their own. It is unclear which direction the crisis in Burkina Faso will take, but draconian military action has the potential to do more harm than good.
EUROPE/CENTRAL ASIA
Massive Floods in Italy
During the month of November, Italy experienced an unusually high level of rainfall leading to countrywide destruction including widespread flooding, landslides, and power outages. The Italian government, which has already been facing infrastructure complaints from the population, has struggled to respond effectively to the crisis. Thousands of citizens were temporarily evacuated from their homes. Additionally, numerous schools and businesses across the country temporarily closed, anticipating potential damage. Italian authorities are estimating tens of millions of damages that have been done to agriculture and fishing industries due to the floods.
Venice remains the most severely affected city in Italy, having experienced the worst week of flooding in over fifty years during the first week of November. Venice was declared to be a major flooding risk by global scientists in past years due to rising sea levels caused by climate change and the consistent sinking of the city into the mud base it was built upon. On the 17th of November, it was estimated that seventy percent of Venice was submerged underwater, with overall water levels 1.5 meters above sea level. St Mark's square, numerous museums, and tourist destinations remained closed for over a week, as officials work to mitigate damage and ensure safe conditions for residents and tourists as they navigate the city. In response to the flooding, the city of Venice declared a state of emergency and called for volunteers to mobilize to "protect" buildings and monuments from further damage. A significant impact on infrastructure is expected over the coming months and will likely lead to renewed calls for a flood barrier to protect the city from future threats.
Other cities in Italy have also experienced significant damage. Numerous roads in Rome have been submerged due to flooding, leading officials to close banks and entrances along the Tiber River. Florence experienced 62 milliliters of rain in twenty-four hours, leading officials to advise barricading all banks of the Arno raver which traversed through the city. The River Arno also reached high levels that threatened a burst in Tuscany and Pisa, leading officials in Pisa to call in army reinforcements to barricade the river banks. Damages in these cities have yet to be assessed, but it is likely that significant repairs will need to be made to infrastructure in the coming months.
On the 18th of November, three regions of Italy remained on the highest red flooding alert including Tuscany, Emilia Romagna, and Venzia Gulia, while Venice was lowered to level orange. Most of the remaining regions in Italy remained on a yellow alert, which indicates a possibility of damage and disruption to normal services. Firefighters were able to rescue up to eighty-one thousand individuals throughout the country and continue to remain on high alert to assist in further rescues. Further flooding is expected in the coming months, and travelers should be prepared for the possibility of travel disruption or delays.
Need help assessing the global risks affecting your travelers? Contact us today.