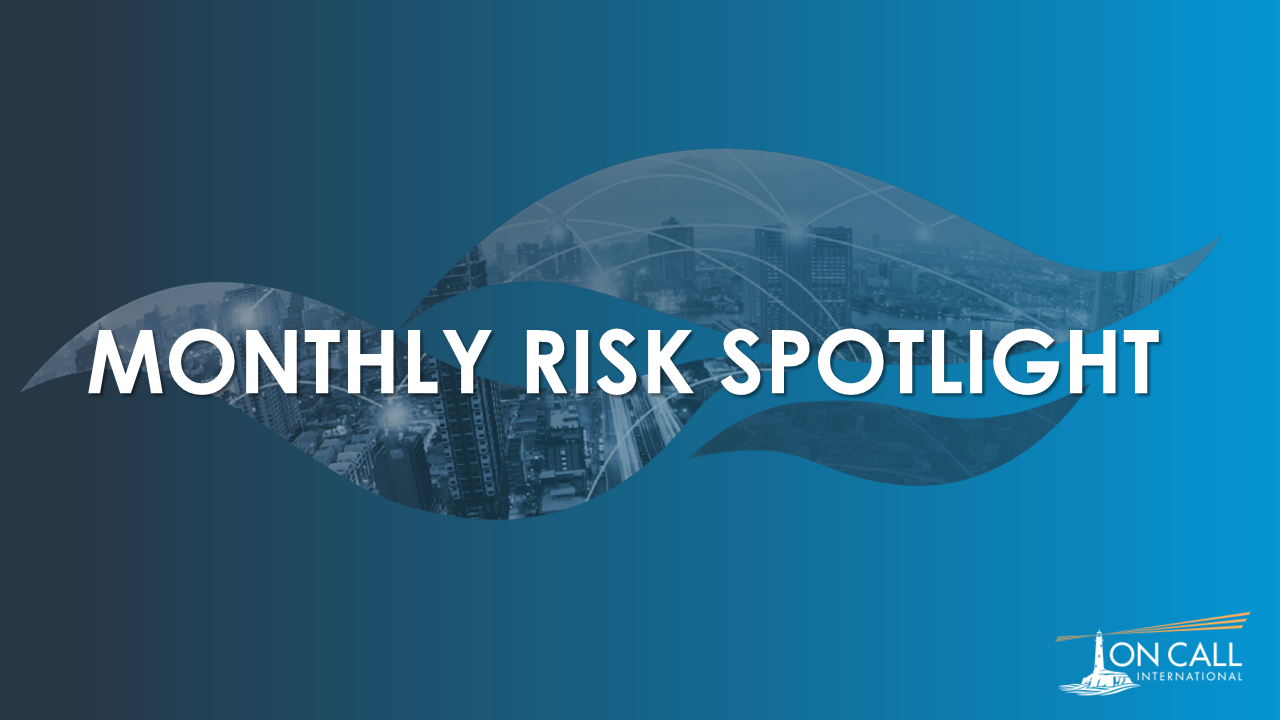 AMERICAS
Atlantic Hurricane Season
This month marks the midpoint of hurricane season in the Atlantic, which has the potential to be one of the most active hurricane seasons in recent decades. The hurricane season has not only been active but also powerful. For the first time since the 1950s, there have been two Category 3 hurricanes in August simultaneously. The first, Hurricane Franklin, impacted Hispaniola and then veered off into the Atlantic. The second, Idalia, impacted northern Florida, Georgia, and the Carolinas, causing major damage. Understanding why hurricanes are formed and what can be done to minimize risks from them is something travelers to the Caribbean, Central America, or the Southeastern United States should know.
Hurricanes form in hot tropical waters, where warm waters evaporate, creating moist, wet air that acts as fuel for the storm. Wind is the next key ingredient in the formation of hurricanes. For most Atlantic hurricanes, strong warm winds which originate in Africa, accelerate the evaporation of warm water over the Atlantic. The warm air then rises high into the atmosphere, where it cools and forms dense thunderstorm systems. As more air rises, the winds begin to blow in a circular pattern. At this point, the storm may intensify if there is enough warm water and warm wind to continue to feed its development. If the maximum sustained winds within a storm exceed 74 MPH (120 km/h), the storm is considered a hurricane. 74 MPH (120 km/h) may seem arbitrary, but it is at this wind speed that waves in the ocean break and their tops get sheared off, leading to a massive increase in the available moisture that can evaporate, which in turn feeds the hurricane more moisture, its fuel. At this point, the destructive power of the storm is such that it is categorized as a hurricane. Hurricanes weaken when they make landfall, as the source of their energy, warm water, is no longer available. Nonetheless, hurricanes that reach land can cause major destruction. Coastal communities can see water surges as the strong winds of the hurricane push large amounts of ocean water onto the shoreline. The hurricane, which is carrying very large amounts of moisture, will likely cause severe rain inland. This major rainfall can be problematic as most of the water has nowhere to drain as the coastal regions have been flooded with the storm surge.
Hurricanes and their lesser 'siblings'–tropical storms and tropical depressions—pose a variety of threats to people across a variety of vectors. The best way to stay safe is to follow the simple rule of running from water and hiding from wind. Although hurricanes are best known for their destructive wind speeds, it's the water, more specifically the storm surge as the hurricane pushes vast quantities of water onto the shoreline, that causes the most deaths each year. Evacuation of coastal regions, flood zones, or any other area prone to flooding is recommended. Although the wind may still be destructive, most buildings today are able to sustain the high winds of typical hurricanes. Taking precautions such as sheltering away from windows and doors in a central part of the structure is recommended. Like many other disasters, the dangers do not end when the hurricane has passed. Many deaths during a hurricane occur when people attempt to drive to or out of a hurricane-damaged area by crossing flooded roads. If a roadway or area is submerged in water, do not cross, even if the water appears to be moving slowly.
Forecasts for this year's hurricane season are complex. El Niño, a weather phenomenon that began this year, does not create ideal weather for hurricane formation in the Atlantic. With these factors in mind, we should have expected to see a less active 2023 hurricane season, however, most meteorologists today forecast that the 2023 hurricane season will have an above-average number of hurricanes. It is still unclear as to why the El Nino phenomenon has not had the expected reduction in Hurricane activity in the Atlantic. With tropical storms Gert and Katai currently dissipating in the Atlantic, and three storms off the coast of Africa that may gain strength in the coming days and weeks, this year's hurricane season is far from over.
MIDDLE EAST AND NORTH AFRICA
Libya's Future Unclear as Foreign Minister Dismissed
Libya's internationally recognized government dismissed its Foreign Minister after Israel's foreign ministry announced that a confidential meeting had taken place between the two countries' representatives. Foreign Minister Najla Mangoush met with her Israeli counterpart, Eli Cohen, while in Rome. This comes as many Arab nations look to normalize relations with Israel. Libya currently does not have diplomatic relations with Israel and normalization of relations with the two remains a controversial issue within Libya.
Libya's foreign ministry rejects reports that suggest the meeting was officially sanctioned, saying it was an informal meeting and Libya's representative was unprepared. Meanwhile, an Israeli source argues the meeting was planned and news of the meeting was supposed to be made public at some point in the future. Israel's Foreign Minister, Eli Cohen described the meeting as the first step in normalizing relations between the two countries.
Upon the announcement, Libya's Prime Minister Abdul Hamid Dbeibah dismissed Mangoush and referred her for an investigation over the first-ever meeting between top Libyan and Israeli diplomats. Shortly after being dismissed, Mangoush fled to Türkiye as news of the meeting prompted anger and scattered protests in the country. Dbeibah is also facing scrutiny as reports suggest he was aware of the meeting between Mangoush and Cohen, although he denies such knowledge.
Reports suggest the United States is furious with Israel for revealing last week's meeting between the two diplomats and that President Joe Biden's administration expected the meeting to remain secret. Multiple Hebrew media outlets say U.S. officials have told Israeli officials that this incident will deter other countries from embarking on a normalization process with Israel. An unnamed source in the Mossad, Israel's spy agency, says Cohen's conduct has caused serious damage to ties formed in recent years and that what he has caused is irreparable.
Dbeibah is currently working on damage control, vowing no relations with Israel publicly, citing Libyan law. In 1957, Libya imposed a strict law prohibiting individuals and companies from trading with Israel, therefore prohibiting normal relations with the country. Violation of this law can bring a sentence of three to ten years in jail.
This comes after the capital Tripoli experienced significant clashes between rival militias in recent weeks. The political stability in Libya is faulty at best. Two vying factions, the Government of National Accord (GNA) and the Libyan National Army (LNA) have their own recognized interim prime ministers, which underscores the fraction ongoing in Libya. The GNA recognizes Abdul Hamid Dbeibeh as the legal prime minister as do several Western nations and international-based actors, while the LNA has recognized Fathi Bashagha as the rightful leader. Amidst the disagreements between the leaders, clashes between groups aligned and affiliated with the two opposing administrations have continued.
This latest controversy will only continue to degrade the confidence Libyans have in their government. In June, Libya politicians from the country's two rival legislatures met to agree on draft electoral laws. Optimistically, the move was seen as a plausible step towards choosing a new Libyan government to end the country's long political stalemate as the scheduled 2021 presidential elections failed to occur. Disappointingly, the two sides ended up backing out last minute, stoking further doubts that elections in the country could materialize and dashing any hopes of economic and political improvement.
ASIA-PACIFIC
Thailand's Elections – Return of the Old or in with the New?
August 22 was a day filled with lasting implications for Thailand. Srettha Thavisin secured the role of Thailand's new prime minister. At the same time, former Prime Minister Thaksin Shinawatra returned after 17 years abroad in self-appointed exile and is set to face jail sentences handed down in absentia for abuse of power and more.
These two significant events are intrinsically linked and are likely to set the platform for the Thai political landscape almost immediately. The Pheu Thai Party and its political allies formed a new government with some of its biggest rivals whose coups disposed of governments consisting of Thaksin and his party in recent years. Srettha Thavisin's tenure begins aggrieved following the byzantine process that in three months has taken Thailand full circle. Following the victory of the reformist Move Forward Party (MFP) there was hope for a new dawn in Thai politics after winning the most seats in the May election. Alongside seven other parties, it formed a coalition and won the election against pro-junta parties. However, the leader of the winning party, Pita Limjaroenrat, was blocked from leading his prospective government following two failed bids.
MFP initially formed a partnership with Pheu Thai, but the coalition now includes almost everyone but them, including a deal it swore it would never make, with two parties led by former coup-makers, namely the military-backed United Thai Nation and Palang Pracharat parties. Considering the army's years-long efforts to undermine Pheu Thai there is considerable skepticism for how firm that support is. To have such backing from its adversaries indicates some kind of unthinkable power-sharing agreement was made behind the scenes.
Almost certainly Thaksin is the collateral in any deal made between rival camps. Thus, it's highly likely there will be doubts about the effectiveness of such a coalition, how long a Pheu Thai-led government might last, and whether the military and allies in key institutions might try to push Pheu Thai out later.
Despite the establishment's efforts to portray Move Forward as a dangerous, radical fringe group, the election results are a clear indication that Thai society is changing and aspirations for a more pluralistic political order are growing. If electoral participation fails to effect change, people may be drawn to other means, if not at this stage, then in the future. Conversely, the sooner conservative elites can begin to accommodate demands for change – ideally, by permitting the first-place political party to form a government and erase the legacy of coups by allowing a participatory constitution–drafting process – the better positioned they should be to forestall a potentially damaging confrontation.
Ultimately, for the royalist powerbrokers, the perceived threat posed by MFP, and by a younger generation of Thais demanding a conversation about the power and wealth of the monarchy, eclipsed their long feud with the Shinawatra family. For the Shinawatra family, and Pheu Thai's more conservative, business-minded elements, getting into government again and guaranteeing the deal to bring Thaksin back, have been bigger priorities than worrying about the party's reputation.
SUB-SAHARAN AFRICA
Gabon Joins List of African Countries Experiencing Military Coups
In contrast with the military coup of Niger in late July that drew regional and international condemnation, a military takeover of Gabon in late August is notable for both occurring without any violence reported and for receiving almost instant public support due to the corruption of the ousted administration. The coup represents the eighth military coup to take place in Central and West Africa since 2020.
Prior to the presidential elections being held on August 26, government officials had imposed nighttime curfews, cut internet access, and suspended some foreign news broadcasts after polling indicated concerns for the transparency of the election. Officials justified the restriction of information as being necessary to prevent the dissemination of false or inaccurate information about the upcoming vote. No international election observers were confirmed to have monitored voting. Allegations of corruption and suppression surrounding the election aligned with mounting public discontent with President Ali Bongo and his family due to their 56-year hold on political power and their monopoly of the country's oil wealth. President Bongo survived a previous military coup attempt in 2019 after he suffered a stroke while traveling abroad.
On August 30, military officials referring to themselves as the Committee of Transition and the Restoration of Institutions appeared on national television to announce they had taken control of the country following President Ali Bongo being declared the winner of the August 26 presidential election. They announced the results of the election were being canceled, all state institutions were being dissolved, and all borders were being closed until further notice. The group's statement declared the decision to take over was prompted by the August 26 election not being transparent and credible. By the morning after the announcement, several hundred people could be seen outside of the presidential palace demonstrating in support for the takeover as internet access was being restored, an action notably against trends where military coups result in tighter restrictions on communication. While the military has removed former President Bongo from power, nine of his relatives are facing criminal investigations in France with some relatives already receiving preliminary charges for embezzlement, money laundering, and other charges of corruption in a sharp illustration of the family's international reach.
A great deal of international attention on the military coup in Niger and neighboring countries stemmed from their role in combating ongoing Islamist militant insurgencies attempting to destabilize the wider West Africa region. While Islamist militant conflicts do not factor into Gabon, the wider Central Africa region remains volatile with ongoing violence in areas of the Democratic Republic of Congo and the Central African Republic, both of which are east of Gabon. Even though a situation such as that in Gabon can occur when a military takeover receives popular support and violence does not take place, it is still extremely important to be mindful that the ability to move freely across borders as well as access to the internet and public services may be disrupted or shut down entirely for an indefinite period.
EUROPE
The Risk Surrounding the Death of the Wagner Leader
Tensions reached a peak on August 23rd after the death of Wagner leader, Yevgeny Prigozhin. Prigozhin was reportedly killed in a plane crash along with Dmitri V.Utkin, who was the founding commander of Wagner, five other high-level Wagner passengers, and three crew members. A few days later genetic analysis of the bodies at the crash site confirmed that it was Prigozhin who had been on the private jet destined for St. Petersburg.
Tensions had been increasing within the Wagner group, the Kremlin, and Belarusian leadership since Prigozhin was banished to Belarus after mounting an armed insurrection towards Moscow. After Wagner's forces turned back around, Prigozhin insisted the aim was not to remove Russian President Putin from power but to overthrow the Kremlin's military leadership. After Prigozhin's banishment, there was concern that he would be killed by the Kremlin, particularly on orders from Putin whose adversaries occasionally have a murky history of banishment and even death. The Belarusian president reported that he warned Prigozhin twice, after the attempted insurrection, to watch out for threats to his life.
As the news of the plane crash broke, there was a near-instant wave of blame towards the Kremlin. Most of the blame and speculation was simply that and was not expected to provoke unrest among the Russian civilians or within other nations. With that said, there were concerns of unrest, triggered by Wagner members, throughout Belarus, Russia, and potentially African countries where Wagner has a presence and influence. Concerns of attacks from Wagner mercenaries were prevalent as well as a renewed attempted coup towards Moscow.
At the time of the crash, the Wagner group had a large camp in Tale Village, Belarus. Directly after the plane crash was reported, the Belarusian authorities shut off the internet to Tale Village in what was likely an expected attempt to stop the coordination of a quick response within the mercenary group.
Analysis of the dialogue of Wagner mercenaries at the time and an understanding of the geopolitical significance of the group showed the highest risk of unrest was throughout Belarus, Russia, and potentially some countries in Africa. In the initial few hours when tensions peaked, the neighboring nations such as Poland showed increased concern for the stability of the region, however, that risk has significantly decreased since clashes have not occurred. With that being said, the risk of unrest and destabilization of the region does remain. If there are signs of an attack or technological warfare between the Russian military and the Wagner group, or by association with Belarus or a Wagner-hosting African nation, the associated countries are at risk of an increased security environment.
For over 25 years, On Call International has provided fully-customized travel risk management and global emergency assistance services protecting millions of travelers, their families, and their organizations. Contact us today to learn more. 
The information provided to you within this report has been compiled from a multitude of available sources and is based on current news and analysis at the time of writing. The security team at On Call International, LLC has provided this analysis, supporting advice, and recommendations in good faith to assist you in mitigating risks that could arise. However, no implied or express warranty against risk, changes in circumstance, or other fluid and unforeseen events can be provided. By reading this report, you will agree that any reliance you place on this information is therefore strictly at your own risk and that you will not hold On Call International, LLC or the authors responsible for any inaccuracies, errors or oversights here-in. No part of this publication may be reproduced, stored in a retrieval system, or transmitted, in any form or by any means, electronic, mechanical, photocopying, or otherwise without the prior permission of On Call International, LLC.