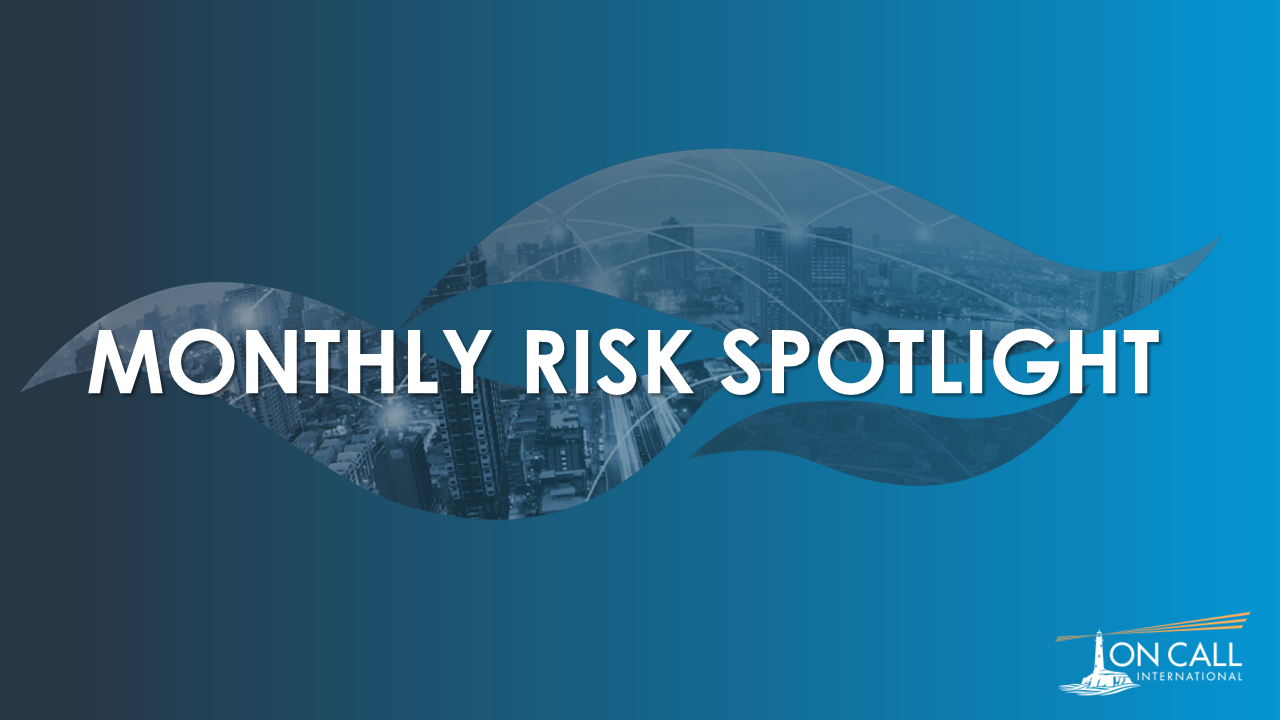 AMERICAS
Increased Volcanic Activity in Colombia
April started with the slow awakening of the Nevado del Ruiz volcano in Colombia, which began to spew ash and has shown increased levels of seismic activity, indicating an eruption may be imminent. Many travelers to the continent are aware of the dangers of the vast Amazon rainforest; however, the other major striking feature of the South American continent, the towering Andes Mountain Range, which runs from Colombia to the southern tip of Chile, holds its own unique safety concerns, especially when volcanic eruptions occur.
The eruptions of volcanoes themselves can be very dangerous events. Famously, the eruption of Mount Vesuvius during the Roman Empire nearly two thousand years ago is still remembered as a tragic natural disaster of apocalyptic proportions. Andes volcanoes are unique in that they are quite tall and steep, and they also contain large amounts of water in the form of ice caps. In 1985, the very same Nevado del Ruiz volcano in Colombia erupted, instantly melting its ice cap and forming what is known as a lahar flow, a mixture of debris, dirt, steam, water, lava, ash, and rock that can quickly travel down the slopes of a volcano and carry enough force to destroy whole towns and ecosystems. In fact, when the Nevado del Ruiz erupted in 1985, the lahar flow that was formed rushed down the slopes of the mountain and nearly completely destroyed the town of Armero, bringing a death toll of 25,000 and becoming the worst natural disaster event in Colombian history.
There are some critical steps that travelers can take to protect themselves from potential volcano eruptions in the Andes. The most important step is to be proactive and create a disaster plan. This includes figuring out where to go, what supplies they will need, and how to communicate with family and friends in case of an emergency. Next, listen to local officials; these officials have the most up-to-date information available and will often indicate which areas around a volcano should be evacuated. When a potential disaster may be imminent, if staying in the area, be sure to gather supplies such as food, water, first aid supplies, and battery packs to charge communication devices. Additionally, sealing doors and windows and having a plan to access high ground are crucial. If caught in the eruption itself, travelers should protect themselves from the ash, as it can cause respiratory problems. Wear a mask or cloth over the mouth and nose, and keep the cloth wet to lower the temperature of the air entering the lungs.
Colombian officials have warned that the increased seismic activity around Nevado del Ruiz has triggered an orange alert, meaning an eruption is likely in weeks or even days. Travelers in the area, or in any other volcanic area that may also experience eruptions, should remain calm but be attentive. Volcanic eruptions can be devastating, but they can also be predictable. By understanding the risk and being prepared, travelers can stay safe.
MIDDLE EAST AND NORTH AFRICA
Israeli Protests Continue in Response to Proposed Judicial Reform
Protests have erupted across Israel over the past thirteen weeks in response to Prime Minister Benjamin Netanyahu's proposed judicial reform plan. Opponents of the plan have staged protests primarily in Tel Aviv but have continued to grow momentum over time and there is no sign of the protests abating. On March 27, 2023, protesters took to the streets which resulted in the largest single-day turn out with over 700,000 people across Israel. The protests at times have severely disrupted travel and aligned with large-scale strikes which significantly impacted everyday life in Israel. While the protests have been predominantly peaceful, clashes with the police have occurred as police use heavy-handed tactics in attempts to disperse the protests.
After the judicial reform plan was announced, protests began on January 7, 2023, and have been occurring weekly. Prime Minister Benjamin Netanyahu's plan aims to redistribute power within the government. Prime Minister Netanyahu, and the government, have argued that the Israeli judiciary has granted itself more power over the years and that the supreme court does not adequately represent the diversity of the Israeli people. The reform plan would severely limit the supreme court's ability to reject or throw out any laws by the government, and the government would have control over judicial appointments, including choosing the judges. Additionally, it would allow the government to pass laws that have already been ruled out by the Supreme Court. One section of the reform plan has already been passed which amended the law that specified the grounds on which a prime minister can be removed from office. It amended the word "incapacity" since the original law did not specify situations on which a prime minister can be removed. The law now specifies that three-quarters of the cabinet or the prime minister himself must agree that the prime minister is physically or psychologically unfit for office.
Since the start of the protests, hundreds of thousands of Israelis have protested weekly against the reform plan. On March 27, seven-hundred thousand protesters took to the streets after Prime Minister Netanyahu fired Defense Minister Yoav Gallant after he had spoken out against the judicial reform and called for Netanyahu to stop pursuing it since it is opposed by most of the country. Yoav Gallant said that the push of the judicial reform plan could cause security risks as many of the Israeli military reservists have gone on strike over the reform plan. Not only was there a record number of people protesting, but mass strikes also took place across the country severely impacting everyday life. University staff, teachers, banks, airport staff and flights at Ben Gurion International Airport (TLV) were also grounded for a some. . The protests have routinely blocked the Ayalon highway in Tel Aviv and impacted traffic. Following the nationwide protests and strike that took place on the 27th, Netanyahu announced a delay to the reform to give time for potential negotiations on the reform. However, the announcement has not stopped protests across the country. Many protesters have stated the protests will continue until the judicial reform is stopped completely.
While protests have been relatively peaceful over the last twelve weeks, clashes with the police have occurred as police use heavy handed tactics. Those protesting are concerned that there would no longer be any checks and balances, which was the predominant role of the supreme court, and worry that it is an attack on democracy. The Labor party leader stated that the party will only hold discussions with Netanyahu after the judicial reform bill is canceled entirely. It is likely that protests and significant division within the government will continue until Netanyahu cancels the reform all together or makes significant changes to it.
ASIA-PACIFIC
Repatriation of Rohingya Refugees
In August 2017, an outbreak of violence in Myanmar's state of Rakhine forced hundreds of thousands of Rohingya Muslims to flee their homes to seek sanctuary. Every year since then, hundreds of Rohingya take to the sea in poorly provisioned boats, in an attempt to flee to nearby countries. It's been over five years since the attacks, and more than a million Rohingya remain internally displaced in Myanmar while another million remain in temporary shelters away from home, with the majority residing in Bangladesh. The influx of refugees to Bangladesh has protracted an emergency for the Rohingya living there, as living conditions deteriorate.
Many shelters have collapsed leaving refugees exposed to Bangladesh's elements, such as cyclones and monsoons. In Cox Bazar, where thousands of Rohingya reside, refugees are kept in unsanitary conditions, stuck with criminal elements. In early March, a large fire swept through the camp, destroying almost 3,000 shelters, leaving 15,000 refugees homeless, once again. The fire was said to be a planned act by militant groups to establish dominance in the camps. Although there were no casualties, the blaze gutted key infrastructure networks such as medical clinics and schools. The refugees residing there are stuck, unable to work legally and start a life in Bangladesh, and unable to return to the civil war battlefield that they once called home.
A recently announced repatriation project implemented jointly by Bangladesh's government and Myanmar's military has stirred controversy as many believe the country is not safe for the return of Rohingyas. Additionally, leaked emails reveal that the United Nations refugee agency plans to participate in this controversial project, despite their official position stating the country is unsafe and unsustainable. The United Nations stated that every refugee has the right to return home, based on an informed choice.
Many organizations such as Human Rights Watch are calling for a halt to this repatriation project as they see it as a way to deceive and coerce refugees to return to their home state. About 600,000 Rohingya remain in Myanmar under the military's oppressive rule, facing systematic abuses such as apartheid and persecution. The military regime has also imposed movement restrictions and aid blockages in Rohingya villages, increasing the scarcity of resources.
It is unclear if repatriates will be granted citizenship and other freedoms upon return. Additionally, the delegation in charge of the project refuses to answer questions about whether their land would be returned or not.
Despite the United Nations and Bangladesh's efforts, a dignified return of Rohingya refugees to Myanmar is unlikely, while the military junta continues to carry out massacres around the country and apartheid state. Additionally, fully informed and voluntary return is not possible when information is being withheld.
SUB-SAHARAN AFRICA
Odinga Calls for Opposition Protests in Kenya
Often, a country that sees a sudden surge in public unrest over one singular issue has actually been experiencing several factors leading up to unrest. All it takes is one event or change to spark the unrest. Kenya is facing such a collision of multiple factors as public frustration and unrest collided with political aspirations.
Kenya has been facing growing public unrest for several months due to the end of multiple government subsidies on goods and a rising cost of living. Additionally, there is growing public opinion that President William Ruto has failed to live up to promises made before and after winning re-election in 2022 to correct such societal problems. On the other side of the rising tensions is opposition leader Raila Odinga who lost his fifth bid for the presidency against President Ruto in a contentious election. Odinga has since decried President Ruto's victory as illegitimate and maintained assertions that cheating in the election occurred after a Supreme Court challenge to the vote resulted in President Ruto's victory being upheld.
Monday, March 20, saw the collision of growing public unrest and Odinga's continuing pursuit of his presidential aspirations as thousands of Kenyans answered his call to take to the streets in the capital of Nairobi and multiple other cities nationwide to hold protests against the rising cost of living. The protests resulted in clashes with police that left a university student dead and six police officers injured as protesters lit fires in the streets and pelted officers with rocks before police used tear gas and water cannons in efforts to disperse the gatherings. Odinga's convoy from which he was addressing protesters was also targeted by such efforts. The university student died when police began using live ammunition after running out of non-lethal rounds. Four members of parliament were also arrested during the protests and charged with unlawful assembly in addition to over 200 other participants being arrested. In the aftermath, Odinga called for protests to be repeated weekly to apply pressure on President Ruto and his administration.
A second wave of protests began the following week on March 27 in defiance of police bans on further protests being held and government calls for protests to cease. Further violence related to the protests included vandalism of a church and a mosque and property belonging to Odinga's family in apparent retaliation against the opposition protest movement resulting in both the government and opposition trading blame for the attacks. The vandalism also drew religious leaders into public discourse as they called for the situation to calm before protest violence escalated into ethnic fighting and requested the government engage in dialogue with the opposition.
Respite from the weeks of ongoing protest violence came on April 2 as Odinga announced that anti-government protests were being suspended following an appeal from President Ruto for Odinga to engage in dialogue. Odinga replied that he would participate in talks but cautioned that protests would resume if President Ruto failed to meaningfully engage and respond by April 10. President Ruto has signaled a willingness to hold bipartisan election commission reforms while Odinga has also pushed for dialogue on bringing back subsidies on electricity, fuel, and maize to combat the cost of living. It remains uncertain if the government and opposition will move forward in productive engagement or if the protests will resume. With the next presidential election years away, it is unlikely Odinga would be able to seize momentum from the cost of living dispute that would carry him through a sixth presidential campaign if it is effectively resolved and put firmly in the past.
EUROPE
Finland Becomes 31st Member of NATO
In early April, Finland became the 31st member of the North Atlantic Treaty Organization (NATO). Finland began its official application to join NATO on May 18, 2022, with a heightened interest after Russia, with whom it maintains an 830-mile land border, invaded Ukraine. The Russian invasion of Ukraine pushed both Finland and Sweden to abandon their neutrality and seek protection within NATO, but Sweden has been unable to finalize its membership due to stalling efforts by alliance members Turkey and Hungary.
Russian President Putin's dialogue has been continually one of fearmongering, mostly focused on the growing power of the West and the expansion of NATO. Even prior to the Russian invasion of Ukraine, Putin had demanded no further expansion of NATO. Specifically, to Finland becoming a NATO member, Putin has portrayed additional aggravation seeing as they share a land border. The fear comes with the potential implication of a NATO military presence near said land border.
Finland already maintains the largest artillery force of all NATO members, including 7,000 howitzers, 7,000 heavy mortars, and 100 rocket launcher systems. Regardless of their already potent supplies, it is likely that Russian President Putin will view the acceptance of foreign troops by Finnish soldiers as more threatening than any weapon they already possess. The Russian Deputy Foreign Minister, Alexander Grushko, has already stated, "We will strengthen our military capabilities in the west and northwest if NATO members deploy forces and equipment on Finnish territory." Regardless of any debate about NATO troops in Finland, NATO forces will eventually have access to all Finnish ports, airspace, and sea lanes.
Immediate Russian reaction took the form of diplomatic shots, with Kremlin spokesman Dmitry S. Peskov calling Finland's membership in NATO an "assault" that "forces us to take countermeasures in tactical and strategic terms,". However, early diplomatic statements such as these, when looking at the mass of statements like this that come out of Russia, leave most threats hanging.
In the same week of its acceptance into NATO, Finland's left-wing Prime Minister Sanna Marin was defeated in the country's parliamentary election as the right-wing National Coalition Party (NCP) obtained the majority in parliament. So though Finland is in a transitional period now, its introduction into NATO provides a significant safety net and power that it did not have before. In a meaningful ceremony at NATO headquarters in Brussels, when the Finnish flag was raised among the ranks of fellow member states, the Finnish President, Sauli Niinisto, proudly stated, "Finland has today become a member of the defense alliance NATO. The era of military non-alignment in our history has come to an end. A new era begins.".
For over 25 years, On Call International has provided fully-customized travel risk management and global assistance services protecting millions of travelers, their families, and their organizations. Contact us today to learn more. You can also stay in touch with On Call's in-house risk management, travel health and security experts by signing up for our quarterly Travel Risk Management (TRM) newsletter.
The information provided to you within this report has been compiled from a multitude of available sources and is based on current news and analysis at the time of writing. The security team at On Call International, LLC has provided this analysis, supporting advice, and recommendations in good faith to assist you in mitigating risks that could arise. However, no implied or express warranty against risk, changes in circumstance, or other fluid and unforeseen events can be provided. By reading this report, you will agree that any reliance you place on this information is therefore strictly at your own risk and that you will not hold On Call International, LLC or the authors responsible for any inaccuracies, errors or oversights here-in. No part of this publication may be reproduced, stored in a retrieval system, or transmitted, in any form or by any means, electronic, mechanical, photocopying, or otherwise without the prior permission of On Call International, LLC.