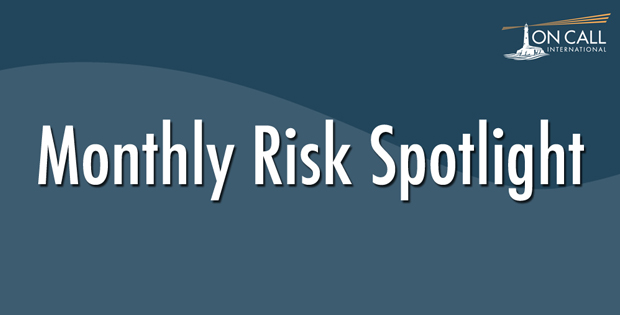 AMERICAS
Devastating Fires in Brazil's Amazon Persists
In 2019, the world's attention was drawn to devastating fires in the Brazilian Amazon. In 2020, as the world's focus shifted on the pandemic, the destruction to Brazil's rainforests and wetlands persists, and is on track to be on par with last years' losses. Between January and August 2020, National Aeronautics and Space Administration (NASA) scientists have documented the burning of more than 7,800 square miles of Brazil's wetlands in the Pantanal region, in the southwest of the country.
The backlash against the government of Brazilian President Jair Bolsonaro, who campaigned on pledges to loosen environmental regulations and allow large-scale mining and logging operations to proceed in the country's vast rainforests, was significant in 2019. Calls for boycotts, and the potential undoing of a trade deal between the European Union and Brazil, over the president's (anti)-environmental policies, prompted the government to declare a 120-day prohibition on the setting of fires by landowners, and the deployment of the army in environmental enforcement operations. However, environmental watchdogs and nonprofit organizations continue to report significant habitat loss.
The burning of the Pantanal wetlands is a significant development. The region is a crucial source of freshwater for southwestern Brazil, and this year's fires have ravaged almost 10% of the total wetlands area. Despite the government's attempts to appease international criticism, Bolsonaro continues to launch tirades against environmentalists and criticizing the practice of fining Brazilian businesses and landowners for infractions.
At a time when the world is preoccupied with a pandemic and resulting economic fallout, the continued wide-scale destruction of ecosystems of global importance like the Amazon are at risk of facing even greater obstacles than before.
MIDDLE EAST AND NORTH AFRICA
Implications of UAE's Peace Deal With Israel
On 13 August, a joint statement was released by the United Arab Emirates (UAE), Israel, and the United States that the leaders of the UAE and Israel agreed to normalize diplomatic relations between their two countries. In exchange for peace and further business ties, Israel has pledged to "suspend declaring sovereignty over" parts of the West Bank, which Netanyahu had previously promised to annex. This deal is a significant deviation from a widely held policy among Arab countries, which made requisite the liberation of Palestine. A few factors may help explain why the UAE may have chosen this path.
Firstly, this deal can be seen as an attempt by the UAE to prevent the imminent annexation of the West Bank. Secondly, there are enticing economic and security gains to collaborating with Israel, such as sharing technology and intelligence. However, these advantages have always existed, and the sudden and unilateral nature of the deal indicates that other factors must have spurred the UAE. The third potential benefit of this deal is illustrated in part by its consequences. The UAE received strong condemnation from the Palestinians, Turks, and particularly Iranian officials. Noticeable abstainers from these critiques were the UAE's neighboring states, with the Gulf Cooperation Council actually issuing a statement condemning "threats" made by the Iranian President Hassan Rouhani against the UAE. As Iran continues to be a destabilizing force in the region, this peace deal could become the beginnings of a new alignment of regional powers with Sunni Arab states and Israel on one side, and an increasingly aggressive Iran and its regional proxies on the other.
The terms of the deal appear to be contingent upon Netanyahu not annexing the West Bank. That said, Netanyahu has stated that annexation is only on "temporary hold." Though Netanyahu remains under domestic pressure from Israeli settler groups, the potential for this peace deal to serve as a bridge to further normalization with the Gulf countries and a realignment of the region against common enemies may be sufficient incentive to prevent annexation. Whether or not this move by the UAE is explicitly aimed at counterbalancing Iran, something the Minister of State for Foreign Affairs, Anwar Gargash, has denied, the deal could have significant implications for the future of the region.
ASIA-PACIFIC
Calls for Political and Monarchial Reform Fuel Protests in Thailand
Protests in Thailand, demanding political and monarchial reform, drew thousands in July following the decision by the current government to dissolve the progressive Future Forward Party back in February 2020. Protesters, dissatisfied with a constitution favoring the military establishment and the monarchial privileges of King Maha Vajiralongkorn in Thai society, have been continuously holding peaceful demonstrations, calling for certain demands and concessions be met by the end of September. While there does appear to be some willingness by the Thai political elite to negotiate with protesters, the long history of military intervention in Thai politics, and the revered status of the monarchy suggest that little progress might be made towards political and monarchial reform.
The military and monarchy have long held sway over Thai politics and society. Following a coup d'état in 2014, former Thai army general Prayut Chan-o-cha was appointed as Thailand's next Prime Minister. He was later elected to that position during 2019's contentious general election. The new Thai Constitution, ratified in 2017, essentially ensured that the military establishment would maintain a dominant role in Thai politics, much to the dismay of rival political factions. The military's continued influence over Thai society has also been a contentious issue. The Thai monarchy, for its part, is provided a large degree of privileges including legal immunity, protection from criticism under Thailand's lèse-majesté laws, and a generous stipend allocated from the government budget. There have been several instances of monarchial critics being detained under the Thai lèse-majesté laws or, in more extreme instances, critics disappearing or being murdered.
Protesters have made ten demands regarding monarchial reforms, including the revocation of legal immunity, the revocation of the lèse-majesté laws, increased transparency of royal assets and spending, and investigations into the deaths of monarchial critics. Protesters make it clear that their intention is to reform the monarchy, not to overthrow it. Additionally, demands aimed at the current government include the dissolution of parliament and the ratification of a new constitution, which does not favor the military establishment over rival political factions. The revered status of the monarchy in Thailand and the broad influence the military establishment currently holds over Thai politics indicates that both groups are unlikely to concede too much power to rival factions. In the meantime, however, demonstrations calling for political and monarchial reform in Thailand are expected to continue to draw in thousands.
SUB-SAHARAN AFRICA
Widespread Rain-Triggered Disasters Throughout Africa
This year, several African countries have experienced disastrous rainfalls. About 12 countries on the continent are currently facing the consequences of excess rain: flooding, mudslides and landslides, damage to infrastructure, loss of crops and livestock, power outages, etc. These in turn result in widespread displacement, growing hunger, loss of human life, disruption of transport and communication, etc. In addition, heavy rains create favorable conditions for desert locusts to multiply. A devastating locust outbreak is currently ravaging crops and threatening food security in many East African countries.
Flash floods in Senegal's capital, Dakar, over the weekend of 5 September, left thousands of people homeless. The government reports that a year's worth of rainfall came down in a single day. Several people were left injured, and a few deaths were reported. Inundated health centers create a challenge for health workers to assist those in need of medical attention. Similar scenarios are unfolding throughout the continent. In Cameroon's coastal city, Doula, many neighborhoods are reported submerged, and an approximate 900 families are currently displaced. In August, torrential rains led the Niger River to overflow, causing the capital to shut down. Local media reported an approximate 226,000 homes wrecked, and 45 associated causalities. In May, Kenya reported 194 associated deaths, Rwanda 55, and Somalia 16. Sudan, South Sudan, Niger, Nigeria, Chad, Somalia, Uganda, Kenya, and Chad are amongst the most affected countries. Although these countries are prone to rain-triggered disasters, emergency response services are often ill-prepared and ill-equipped to respond to these types of emergencies.
Meteorological Centers throughout the region are warning that more heavy rains are expected in the coming weeks, worsening already dire crises. The rainy season is expected to come to a close in October for some countries, while others can expect to receive rain until December.
EUROPE/CENTRAL ASIA
Recent Violent Incidents in England 
Shortly after midnight, on Sunday, 6 September, a series of stabbings occurred in a busy nightlife district of Birmingham, England. Seven people were reported injured, and one dead. The attacks appear to have occurred in several different areas of Birmingham's city center, among them the Chinese Quarter, Irving Street, and Livery Street. The suspect, a 27- year-old man, was arrested the next day in the Selly Oak neighborhood. The detectives on the case report that the attacks were random, and that there no signs were pointing to a hate crime, an act of terror, gang activity, or explained by a possible mental disorder.
A murder investigation is underway, but as of the writing of this piece, the motive of the crime has not yet been determined. The detectives on the cases are attempting to find if a common denominator exists between the victims. One of the attacks having occurred in the Gay Village, pointed to the possibility of a hate crime, but would not explain the other attacks.
There has been a rise in knife crimes in England in the last couple of years. The Home Affairs Committee reports that knife attacks have risen by 70% in the last 5 years.  Most of these crimes were reported to be assaults and robberies. Crimes in England are heavily concentrated in busy cities, such as London, Manchester, and Birmingham. The pandemic is said to be a contributing factor to this year's violent attacks. This past June, a stabbing attack occurred in a public park, in the city of Reading. This incident was quickly categorized as a terrorist attack. The offender had long been suspected of planning terrorist activity abroad. This case appears to be more challenging.
England has experienced several knife attacks in recent history, whether crime or terrorism-related. This points to a clear need for a new government strategy to grip this growing problem. Crime involving knives are becoming one of England's biggest threats, regardless of motive.
For over 25 years, On Call International has provided fully-customized travel risk management and global assistance services protecting millions of travelers, their families, and their organizations. Contact us today and watch our video to learn more. You can also stay in touch with On Call's in-house risk management, travel health and security experts by signing up for our quarterly Travel Risk Management (TRM) newsletter.
The information provided to you within this report has been compiled from a multitude of available sources and is based on current news and analysis at the time of writing. The security team at On Call International, LLC has provided this analysis, supporting advice and recommendations in good faith to assist you in mitigating risks that could arise. However, no implied or express warranty against risk, changes in circumstance, or other fluid and unforeseen events can be provided. By reading this report, you will agree that any reliance you place on this information is therefore strictly at your own risk and that you will not hold On Call International, LLC or the authors responsible for any inaccuracies, errors or oversights here-in. No part of this publication may be reproduced, stored in a retrieval system, or transmitted, in any form or by any means, electronic, mechanical, photocopying, or otherwise without the prior permission of On Call International, LLC.