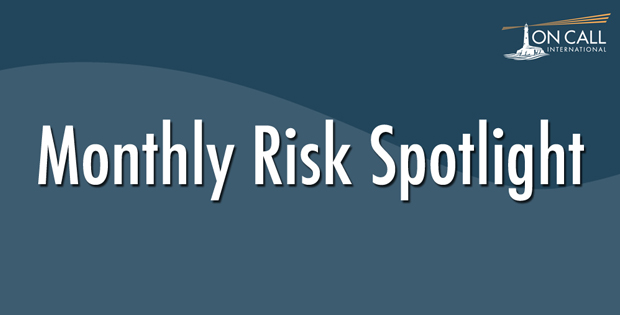 AMERICAS
Canada's Vaccine Passports
Canada began its COVID-19 vaccine rollout on 14 December 14, 2020, and roughly nine months later 74.1% of Canada's population has received at least one dose of the COVID-19 vaccine and 67.9% of the population is fully vaccinated. As the vaccine rollout continues an increasing number of Canadian provinces are implementing "vaccine passport" programs providing systems for both proving vaccination status and regulating who is allowed access to social sites according to that status.
At the national level, Canada has so far not implemented such a program, though it is expected to provide such vaccine passports for the purposes of international travel and as a requirement for interprovincial air, rail, and cruise ship travel at some point this fall. In the meantime, it has fallen to the regional governments to decide whether or not to create their own, and often disparate, vaccine passport programs.
Of the ten provinces and three territories of Canada, the 6 provinces of Alberta, British Columbia, Manitoba, Newfoundland & Labrador, Ontario, and Quebec have elected to create vaccine passport programs. Almost all of these programs are expected to be in full effect by the end of September, with the exception of Newfoundland & Labrador which plans to begin supporting and requiring its status check system in the October time period. Under these programs, travelers are required to provide proof of vaccination in order to access things like restaurants, bars, gyms, sports venues, and other large events. Access to retail stores and things like barber shops is not impacted under these plans, however, private businesses can make such requirements on their own.
What proof of vaccination looks like differs across the provinces/territories? Some of the relevant provinces/territories have developed their own QR code generating platform, such as Quebec's VaxiCode app, while others are requiring just a photo ID and copy of an individual's vaccine receipt. It is predicted that as the federal government rolls out its own digital vaccine passport that provinces/territories will recognize and adopt that version as well.
Provinces and territories that have come out stating they will not implement vaccine passports include Alberta, New Brunswick, Northwest Territories, Nova Scotia, Nunavut, Prince Edward Island, Saskatchewan, and Yukon. Policymakers in these provinces/territories have expressed varied opinions on the subject, with some believing it to be an overstep by the government, others expressing concern it may divide society or further marginalize particular communities, and some simply believe that containment can be achieved without it.
While the eventual rollout of the federal program could influence access to interregional travel, rules regarding access to restaurants, bars, and gyms are likely to remain in the hands of province and territory level policymakers for the foreseeable future.
MIDDLE EAST AND NORTH AFRICA
An Arab Spring Democracy in Peril
In December 2010, Tunisia was suffering under the thumb of a brutal dictator. Everything came to a head when Mohamed Bouazizi, a street vendor, lit himself on fire after being harassed by municipal officials. The country soon found itself protesting against President Zine El Abidine Ben Ali and weeks later succeeded in removing him. Tunisia's protest ignited the rest of the Arab Spring. Egypt, Libya, Syria, Yemen, and Bahrain revolted. Ten years later, Tunisia is regarded as the only successful democracy to emerge from the Arab Spring.
Following its revolution, Tunisia implemented a progressive new constitution in 2014 and built institutions to protect freedoms. The 2015  Nobel Peace Prize was awarded to the Tunisian National Dialogue Quartet, a group of four civil society organizations that helped mediate efforts to consolidate pluralism. Tunisia stood out as a democratic example in the Arab world.
In 2019, President Kais Saied was elected in the country's second democratic presidential election since the Arab Spring. Saied promised to build a new Tunisia. He ran a campaign on a message of integrity and anti-corruption. With all the promises Saied made, no one could have predicted his move on 25 July 2021. President Saied announced the suspension of parliament for 30 days, dismissed the Prime Minister, sacked cabinet members, and assumed emergency powers. He also ordered security forces to raid the offices of Al Jazeera. Some Tunisians praised this move and believed something drastic had to be done. At the time, Tunisia was suffering one of the worst COVID-19 mortality rates per capita in Africa and the Middle East. Unemployment in the country stood at around 17%. The Islamist party, Ennahda, and independent observers denounced the move as a coup.
On 23 August 2021 President Saied extended the suspension of parliament indefinitely. Authorities have placed several officials and former ministers under house arrest and prevented politicians from traveling. The government has launched investigations into political figures and parties suspected of corruption. This move gives Saied all legislative, executive, and judicial powers.
As of this writing, President Saied has still not appointed a new prime minister or announced a roadmap that Western allies are demanding. Saied said his intervention was needed to save the country from collapse. The president's move has raised concerns among some Tunisians about the future of the democratic system that the country adopted after the 2011 revolution. President Saied disagrees with those who call his power grab a coup, however, the constitution could prove him wrong. Article 18 of the 2014 constitution states that the army is required to remain completely impartial and to support the civil authorities in accordance with the provisions set out in law. Saied violated this article on 25 July when soldiers accompanied by military tanks implemented his order to close the Prime Minister's office and all of the parliament. In addition, Article 80 states the president does not have the authority to close parliament was also violated. The Tunisia that so many people fought for may now be in danger. Dismantling democracy should not be the solution. The solution should be to strengthen it.
ASIA-PACIFIC
The Islamic State-Khorasan: Who Are They and Why Should You Know Them  The Islamic State – Khorasan (IS-K) rose to international prominence in August 2021 following their suicide attack at a gate outside the Kabul International Airport while the compound was at the time under the control of the United States military. The attack ultimately resulted in the deaths of thirteen U.S. service members as well as an estimated 170 Afghan civilians. An unknown number of foreign troops and Afghan civilians were also wounded during the incident. The U.S. military would respond a day later by conducting a drone strike in Afghanistan resulting in the deaths of what the U.S. intelligence community described as two IS-K commanders and the wounding of a third IS-K member. While this retaliatory strike by the U.S. certainly had an adverse effect on IS-K, it is unlikely that the strike has any significant effect on eroding their growing capabilities in Afghanistan. Indeed, taking into consideration these capabilities, IS-K is not a threat that should be taken lightly.
Established in Afghanistan as an offshoot of the Islamic State of Iraq and Syria (ISIS), IS-K's name denotes its relationship with the larger Islamic State (IS) terror group while also incorporating the historical name of a region within Afghanistan: Khorasan. The group was founded in 2015 by disaffected members of the Afghan Taliban who believed that the tactics of their former organization were not extreme enough. IS-K would quickly gain a reputation for not just carrying out attacks against the now-former Afghan government and international forces in Afghanistan, but also for targeting humanitarian organizations. This includes an attack on a Kabul hospital's maternity ward in May 2020 and several attacks against schools catering to Afghan girls. It is estimated that IS-K currently has approximately three thousand members with their base of operations being located in Afghanistan's eastern Nangarhar Province. While most of IS-K's attacks have thus far occurred in Kabul and Nangarhar, the terror group is also suspected to have conducted attacks in the Afghan provinces of Herat, Jowzjan, Kunar, Kunduz, and Paktia.
Following the takeover of Afghanistan by the Taliban and the complete withdrawal of international forces in August, it is somewhat unclear who IS-K may target next. U.S. politicians have increasingly stated how the Taliban and IS-K oppose each other, sometimes referring to the two groups as "mortal enemies"; however, the rivalry between the Taliban and IS-K has in many instances been exaggerated. The two groups may have somewhat opposing methods and have at times clashed, but some Taliban and IS-K members see an alignment between the goals and ideologies of the two groups. Also, while IS-K has expressed its intent to conduct additional attacks outside of Afghanistan, it is unlikely that they currently have the capability to extend themselves any further abroad than neighboring Pakistan. Nevertheless, the withdrawal of foreign forces from Afghanistan combined with the takeover by the Taliban may provide IS-K with a perfect environment in which to grow their capabilities and possibly expand their regional influence.
SUB-SAHARAN AFRICA
Death in India Sparks Protests in the DRC
Mob violence erupted in the Democratic Republic of Congo earlier this month in response to the death abroad of student Joel Shindani Malu, calling attention to long-standing racial tensions and grievances between Congolese citizens and Indians living in the country. The situation calls attention to the often-unanticipated occurrence whereof one country may find itself targeted for retaliation in a different country due to international events and how such events could impact not only residents but those traveling abroad as well.
Joel Shindani Malu was studying abroad in India when he was taken into police custody in the city of Bangalore in the early morning hours 2 August. According to police reports Joel had been arrested overnight on suspicion of drug possession. Local sources reported that at 05:10 AM Joel began complaining of chest pains to police officers and was transferred to Chiraayu Hospital for treatment. Following examination and attempted medical intervention, Joel was pronounced dead around 06:45 AM due to suspected cardiac arrest.
Later that day, protesters assembled at the local police station following news of Joel's death that traveled among the local Congolese and larger African community in India. They demanded a detailed inquiry into the circumstances surrounding the death. Protesters were identified as members of the Pan African Federation, a local organization established to protect the rights of African nationals working and studying abroad in the area. After an officer was attacked by a protester, police responded by dispersing the protest. Bangalore Police Commissioner Kamal Pant stated that per protocols the case had been transferred to the Crime Investigation Department for a full investigation.
Following the initial protest in India after Joel's death, tensions reached the Democratic Republic of Congo (DRC) when individuals began looting several Indian businesses in the capital of Kinshasa in a largely unorganized effort. The violence escalated further on 12 August, as a mob began attacking and looting Indian businesses in Kinshasa's Limete neighborhood. Police reports cited various shops and warehouses being looted in addition to one car being set on fire and three being pelted with stones. Three suspects were arrested as a result. Local sources reported that the mob attack was fueled by false reports that a second Congolese national had died in India. While the violence has settled, full results of the investigation in India have not been revealed yet and renewed violence may occur as a result of the outcome in the future.
EUROPE
Fishing for Russian Mercenaries
It was just another day at the Belorusochka Sanatorium, a tranquil resort located 15 minutes outside of Minsk, Belarus. The Hotel staff was surprised when 33 burly, tattooed men that looked like they walked off the set of "The Expendables" checked in, but the intimidating group kept to themselves and did not seem to want any trouble. The night before they were scheduled to check out, a caravan of law enforcement vehicles and a heavily armed tactical police unit raided the resort, with Belarusian state media close behind. The entire group was arrested and paraded on camera, and it soon came out that they were Russian mercenaries suspected of being sent to interfere with the upcoming election. What Belarusian authorities did not realize was that they had just accidentally saved the Russian mercenaries from a Ukrainian kidnapping plot.
Russian mercenaries have been linked to multiple operations around the world, including Syria, Libya and Mozambique. Many are linked to the Wagner Group, a private military company that has alleged ties to the Kremlin. These mercenaries have also been linked to war crimes committed in Ukraine alongside pro-Russian separatists, such as the downing of Malaysian Flight MH17. To bring these fighters to justice, Ukrainian intelligence officials began planning an elaborate sting operation designed to bring the mercenaries back to Ukrainian territory to be tried for war crimes.
The first phase of the plan was to develop a website claiming to be a Russian private military company that was offering security contracts to protect a Venezuelan oil facility. Ukrainian intelligence agents posed as Russian recruiters and lured in Russian military veterans by offering higher-than-average rates for the advertised positions. The agents then reached out to applicants that were suspected of war crimes and asked for proof of prior service. Hundreds of applicants voluntarily submitted military IDs, documents, and video footage as proof of combat experience, many verifying they had been involved in war crimes in Ukraine. The Ukrainian agents selected 28 Russians that had the closest links to Ukraine, and five more with no connections to avoid suspicion, and offered them contracts for the Venezuela posting.
The original plan was to fly the mercenaries to Turkey, where they would board a plane allegedly going to Caracas but would actually fly them to Ukraine. Before this could happen, COVID-19 prompted Russia to close its borders, forcing the Ukrainian agents to change the plan. Instead, the Russian mercenaries were transported by bus to Belarus, where they were told to stand by for a few days at a resort until they could board a flight to Venezuela. It was during this time that Belarusian authorities caught wind of Russian mercenaries right outside the capital city, two weeks before a major presidential election. When an investigation revealed that the mercenaries had real combat experience and ties to the Russian government, Belarusian authorities acted quickly to prevent what they thought was a mission to destabilize the country prior to the election.
The arrests caught everyone by surprise. The Ukrainian operation was blown, Belarus thought their Russian allies were turning against them, and Russia had no knowledge of the situation. Ukrainian president Volodymyr Zelensky requested the extradition of the mercenaries from Belarus, but Belarusian president Alexander Lukashenko rejected the request and safely returned the mercenaries to Russia. While President Zelensky denies any Ukrainian involvement, anonymous Ukrainian intelligence sources say the failed operation was a major blow to an 18-month operation that could have brought the war criminals to justice.
For over 25 years, On Call International has provided fully-customized travel risk management and global assistance services protecting millions of travelers, their families, and their organizations. Contact us today and watch our video to learn more. You can also stay in touch with On Call's in-house risk management, travel health and security experts by signing up for our quarterly Travel Risk Management (TRM) newsletter.
The information provided to you within this report has been compiled from a multitude of available sources and is based on current news and analysis at the time of writing. The security team at On Call International, LLC has provided this analysis, supporting advice, and recommendations in good faith to assist you in mitigating risks that could arise. However, no implied or express warranty against risk, changes in circumstance, or other fluid and unforeseen events can be provided. By reading this report, you will agree that any reliance you place on this information is therefore strictly at your own risk and that you will not hold On Call International, LLC or the authors responsible for any inaccuracies, errors or oversights here-in. No part of this publication may be reproduced, stored in a retrieval system, or transmitted, in any form or by any means, electronic, mechanical, photocopying, or otherwise without the prior permission of On Call International, LLC.