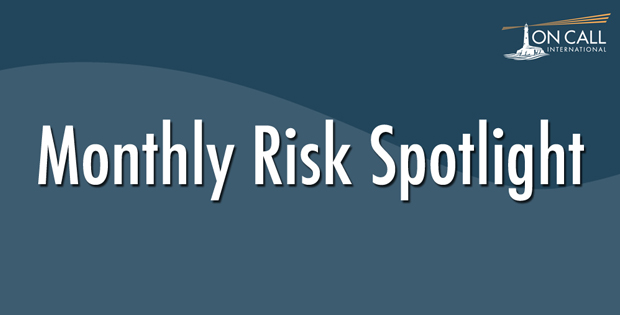 AMERICAS
Death of ELN Leader in Colombia Sparks Threat of Retribution
On 28 September a prominent leader of the Colombian armed group the National Liberation Army (ELN) was killed. Angel Padilla Romero (alias Fabian) was declared deceased in a Cali hospital 10 days after being injured in a military bombing of ELN targets in the jungles of Colombia's western Choco province. Romero was considered a senior regional leader in the ELN who commanded an estimated 450 fighters across rural northwestern Colombia, approximately 20% of the ELN's total estimated forces. Following Romero's death, the ELN released statements condemning the military bombings and promising to respond with "disproportionate force and explosives." As of 7 October, no such attacks have been forthcoming, but the regional analyst community is in consensus that there is a significantly increased risk of an attack targeting Colombian government or military facilities in the short to medium term.
The ELN identifies as a Marxist-Leninist group, originally founded in 1964 following the Colombian Civil War. The group reached peak strength in the late 1990s when it was estimated to have 4,000 fighters throughout the country. It declined in prominence in the years following, but over the past decade has harnessed involvement in the transnational drug trade and the neighboring Venezuelan economic crisis to grow economically, find shelter from the Colombian military, and slowly rebuild its operational capabilities. The modern ELN is characterized as a hierarchically diffuse group when compared to peers like the Revolutionary Armed Forces of Colombia (FARC), with a community of regionally segmented groups with varied capabilities and varying degrees of allegiance to the original ELN ideology.
ELN attacks have often taken the form of bombings of government and military-associated infrastructure as well as intermittent attacks on military and police groups. While civilians have been injured and killed in such attacks, they have not been the primary targets. The most notable recent attack was the 2019 car bombing of a police academy in Bogotá which killed 21 and wounded dozens more. With this in mind, the primary risk following the death of ELN leader Romero is to military and police targets, including in urban settings. While significant progress towards a diplomatic compromise between the Colombian government and ELN has stalled since the previously mentioned 2019 police academy bombing, the recent killing of Romero signifies yet another setback in efforts towards reconciliation.
MIDDLE EAST AND NORTH AFRICA
Beirut Port Explosion Investigation
On 4 August 2020, Beirut experienced one of the largest non-nuclear explosions in history as tons of improperly stored ammonium nitrate caught fire and later exploded in the port of Lebanon's capital. The explosion killed 218 people and injured 7,000. It damaged over 77,000 apartments, displacing over 300,000 people and plunged the country further into catastrophe. The ammonium nitrate entered Beirut's port in November 2013 when a Moldovan-flagged ship, the Rhosus, made an unscheduled stop. The vessel was banned from leaving Lebanon because of a legal dispute over unpaid fees and ship defect. The chemical was later offloaded into the port hangar in October 2014 after the vessel was deemed unseaworthy.
High-level Customs and Port Authority members said they warned about the danger posed by the ammonium nitrate but claim they were continuously ignored. So far, over 20 people have been arrested as the investigation continues. Most are port and customs officials, some of whom warned others of the danger. Current evidence indicates that multiple Lebanese authorities were criminally negligent under Lebanese law in their handling of the ammonium nitrate, at minimum. Evidence also suggests that some government officials foresaw the death that the chemical's presence in the port could result in death and accepted the risk of the deaths occurring.
It's been over one year since the devastating blast and the investigation has already been obstructed. Soon into the investigation, some politicians invoked parliamentary immunity in an attempt to protect themselves. The first lead judge, Fadi Sawan, decided in December 2020 to charge the prime minister at the time of the incident, Hassan Diab, and three former senior officials with negligence. They all denied any wrongdoing and refused to cooperate. The judge was removed from the case the following February in response to complaints from two of those charged and therefore paused the investigation. The decision was reportedly based in part on the fact that Judge Sawan's home was damaged by the blast. The two charged questioned his impartiality. The replacement judge, Tarek Bitar, also attempted to question those men as well as Nohad Machnouk, a former interior minister. Last month, Machnouk requested Judge Bitar's removal alleging "legitimate suspicion" of bias over his handling of the case. The result of the complaint was yet another investigation suspension.
One week later, the Beirut Appeals Court rejected requests to remove Judge Bitar from the investigation, but the damage done to public opinion is damning. Victims and families are demanding justice as no high-ranking officials have been convicted yet. Most recently, Beirut experienced violence when snipers opened fire during a Hezbollah supported rally. Hezbollah called on supporters to protest against Judge Bitar and demand his removal. At least six people were killed.
The Lebanese people are growing angrier by the day as they fear no one will face any accountability. The belief is that the investigation is being obstructed by senior officials as efforts to shield politicians from scrutiny continue. Senior government officials were aware of the chemical's existence and the danger it presented but failed to secure, remove, or destroy it. Current evidence points to endemic corruption and incompetence. Lebanese authorities promised a swift investigation but have instead obstructed attempts at seeking any real justice.
ASIA-PACIFIC
China's Hostage Diplomacy Strategy
Relations between the West and China are at the lowest point they have been in decades. One recent dispute that epitomizes this decline in relations relates to the recent case of Huawei Chief Financial Officer Meng Wanzhou, a Chinese national, who was ordered to remain under house arrest in Canada for three years before her recent release. Meng was originally arrested by Canadian law enforcement at the behest of the United States government in December 2018 while attempting to depart Canada for China. Charged by the US government with bank and wire fraud and for violating US sanctions against Iran, US officials requested the Canadian government extradite Meng so she could face trial for these crimes in the US.
In the days following the detention of Meng, law enforcement in mainland China would subsequently detain two Canadian businessmen on charges of espionage: Michael Spavor and Michael Kovrig. While the Chinese government has denied that Spavor and Kovrig were detained for anything other than espionage, it is no coincidence that both were imprisoned for the same duration in which Meng remained under house arrest in Canada; although, both Spavor and Kovrig were held under much more austere conditions in comparison to Meng who on occasion was allowed in public with a GPS monitoring device. It was also no coincidence that both Spavor and Kovrig were recently released on the same day the US government dropped its extradition request for Meng after allowing her to enter into a deferred prosecution agreement. Contrary to statements made by the Chinese government that these three cases are not related and that Spavor and Kovrig were released for "medical reasons", the retaliatory detention of Spavor and Kovrig was in fact a classic case of 'hostage diplomacy', a term which can be defined as the arbitrary detention of an individual by a government in order to coerce another government into making a diplomatic concession or to facilitate an exchange of detained individuals.
Even as the recent instance of apparent hostage diplomacy ended in September 2021 with the release of the two Canadians and Meng, the future threat of this tactic against foreigners in China cannot be completely ruled out. Were another high-profile Chinese national to be detained while abroad, there is the distinct possibility that the Chinese government may detain an individual of that country under dubious charges in an attempt to coerce an exchange. This is especially the case now that the Chinese government has apparently seen their hostage diplomacy strategy bear fruit. However, it is important to make clear that the majority of foreigners in China are not expected to be affected by this threat. Nevertheless, the threat posed by hostage diplomacy in China is legitimate.
SUB-SAHARAN AFRICA
Risking a Movie Night in Mogadishu
For the first time in 30 years, the National Theater of Somalia in Mogadishu had a public screening. Two short films were shown to an excited crowd with a lot of security. With 6,000 plush red seats, the theater hosted 1,500 people on 22 September for a night at the theater. The Somali civil war began in 1991 and it was then that the warlords took over the National Theater. The first attempted reopening was in 2021 but it was shut down two weeks later when a suicide bomber attacked the building. The terrorist group, Al-Shabaab, claimed the attack that killed four people and injured more than 12.
Security for the public screening was heavy as guards patrolled the entrance while guests experienced a handful of checkpoints within the Theater. Knowing that Al-Shabaab has historically attacked the Theater, organizers and attendees recognized there was a risk associated with reopening. Analysts contend that Al-Shabaab's prior targeting of the Theater can be attributed to their belief that the entertainment industry, including movies and music, goes against their religious interpretation and is seen as morally wrong. Increased signs of aggression towards the entertainment industry in Mogadishu and across Somali by Al-Shabaab continues to be a relevant risk for travelers, security and those who live in Somalia. After two hotel bombings this past year, claimed by Al-Shabaab, the terrorist group is still operational, capable, and willing to attack the public.
While recognizing the danger, attendees from Mogadishu paid 5,850 Somali Shillings ($10) to enjoy the screening of the two short films. Kaif Jama, the writer and star of both films, is a Somali-born celebrity who has lived between Kenya and Uganda, before settling in Cairo. Jama was present for the National Theater screening of her movies, along with the Somali director of the films, Ibrahim CM. Both made history as the first Somali film team to screen their films at the National Theater of Somalia. The first film, Hoos, is a short film about Somalian youth growing up away from their home cultures. The second film is titled The Date from Hell and is a dramatic comedy.
In addition to security risks, COVID-19 precautions were also addressed at the screening with many attendees wearing masks, though there is no government mandate to do so at this time in Mogadishu. As of 30 September, Somalia had 19,980 confirmed cases of COVID-19 and 1,111 deaths with Mogadishu being a hot spot within the country. Given the turnout for this event, it demonstrates the elevated risk tolerance for many Somalis who, after years of war and continued Al-Shabaab threats, still attended and supported the public screening of new entertainment films by Somali-born artists.
EUROPE
Serbia and Kosovo Clash Over License Plates
Tensions between Serbia and Kosovo were reignited in late September when a dispute over license plates escalated into the closing of border crossings and government buildings being set on fire. Kosovo sent police special forces to the border, Serbia responded by sending tanks and fighter jets. After an intervention by NATO troops followed by two days of negotiations, the two countries reached an agreement that included special stickers to use on license plates for both countries.
Kosovo, a former province of Serbia, declared independence nearly ten years after a NATO intervention to a Serbian crackdown on civil rights. Serbian police and military carried out a series of war crimes, including a campaign of ethnic cleansing that resulted in thousands of ethnic Albanians fleeing the country. The conflict ended with the Kumanovo Agreement that was signed in 1999 that demanded the withdrawal of Serbian military from Kosovo. NATO forces were then assigned to Kosovo for security, and Kosovo became the only UN protectorate in Europe.
The latest conflict between the neighboring countries began 20 September when Kosovo began requiring drivers with Serbian plates to purchase temporary plates while driving in Kosovo. Serbia has required drivers with Kosovo plates to do the same since 2016 when the countries agreed on a license plate deal, but the Serbian government does not recognize Kosovo as a sovereign nation and therefore did not recognize their right to implement a law regarding license plates. The Kosovar government claimed that the decision was simply an enforcement of the agreement that was made between the two countries in 2016. The situation escalated when Kosovo sent a heavily armed special police force to the border to enforce the new license plate requirement.
The border crossing area is home to a large population of ethnic Serbs, who felt threatened by the increased presence of heavily armed units in their area. Their response was to create barricades out of trucks and trees at two of the border crossings. With tensions heating up between the ethnic Serbs and the Kosovo police units, the Serbian government deployed military units to the border, allegedly to protect the ethnic Serbs. After several days of protests, two vehicle registration centers were set on fire. In the following days, videos began appearing on social media of Serbian military units and tanks heading toward the Kosovo border. Two fighter jets also flew in proximity of the border for the first time since the withdrawal of Serbian forces from the Kosovo border in 1999.
With tension building on the border, the European Union sent a special envoy to mediate discussions between the two countries. After two days of negotiations, a temporary agreement was reached to replace law enforcement and military forces with NATO peacekeepers for border security. Additionally, the two countries agreed on a sticker to be placed on license plates instead of requiring drivers to purchase temporary plates.
While the tensions seem to have been at least temporarily resolved, it has reignited the discussion of the international status of Kosovo. Serbia, China, Russia and even a few European Union member states do not recognize Kosovo as a country, while the U.S. and the majority of the European Union do. The latest temporary solution closely echoes solutions of the past that left many questions unanswered. This is a situation that would easily lead to future aggression, and neither country seems to be interested in discussions to stabilize the region.
For over 25 years, On Call International has provided fully-customized travel risk management and global assistance services protecting millions of travelers, their families, and their organizations. Contact us today and watch our video to learn more. You can also stay in touch with On Call's in-house risk management, travel health and security experts by signing up for our quarterly Travel Risk Management (TRM) newsletter.
The information provided to you within this report has been compiled from a multitude of available sources and is based on current news and analysis at the time of writing. The security team at On Call International, LLC has provided this analysis, supporting advice, and recommendations in good faith to assist you in mitigating risks that could arise. However, no implied or express warranty against risk, changes in circumstance, or other fluid and unforeseen events can be provided. By reading this report, you will agree that any reliance you place on this information is therefore strictly at your own risk and that you will not hold On Call International, LLC or the authors responsible for any inaccuracies, errors or oversights here-in. No part of this publication may be reproduced, stored in a retrieval system, or transmitted, in any form or by any means, electronic, mechanical, photocopying, or otherwise without the prior permission of On Call International, LLC.